July 11, 2009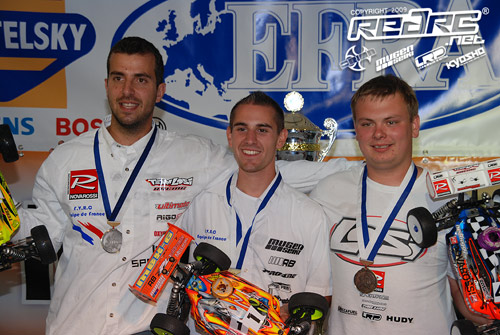 'We achieved our objective' was how Renaud Savoya summed up winning back to back European titles here in Austria this evening. The Mugen ace withstood intense pressure from fellow countryman Yannick Aigoin to win the title by 7 seconds after 45 minutes of thrilling action.
The result came close to being very different however when Savoya's RB powered MBX6 started to run out of fuel on his in-lap for the last pit stop. Flaming out just as he reached his pit crew he fell back in to the clutches of Aigoin with both cars leaving the pitlane for the final 9 minutes racing together.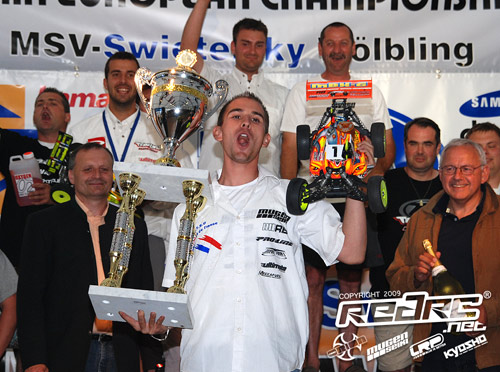 Entering the first corner the pair clashed but in a great sporting gesture Savoya waited for his great rival and the battle between these two ultra professional drivers resumed.  Aigoin hounded Savoya for two laps but rolled giving the reiging champion the break he needed to go on and take a very popular victory.  Asked if there would be big celebrations Savoya replied, 'I think now we deserve a party tonight'.
Aigoin was quick to pay tribute to his arch rival, 'It was very close and I did my best. I won the Warm-up race and Renaud has won today. He deserves it.'  Asked if he felt pressure from Martin Bayer in the closing laps the 2006 Champion said, 'Martin was very fast but he is a very fare driver so I just tried to make no mistakes so as to not let him passed. Having the two of us on the podium is a good result for Losi.'
Taking third, Bayer was delighted with his first ever European Off Road podium finish. 'I'm so happy, everything was perfect'. After a bad start the Czech driver slowly worked his way through the field closing right up with Losi team-mate Aigoin in the closing moments of the race. 'When I saw the gap closing to Yannick I really started to push hard but in the end my tires weren't so good.'
Missing out on the podium, last year's runner up Robert Batlle was clearly unhappy with his performance. Opting for a 7:30 fuel strategy the Associated driver needed to do one extra stop over his rivals and the 2007 Champion said this forced him to push too hard to try and make up the time.  The result was many driver errors and excessive tyre wear leaving the Spaniard to finish a frustrated fourth. Summing up the event he said afterwards, 'Next year we'll be back'.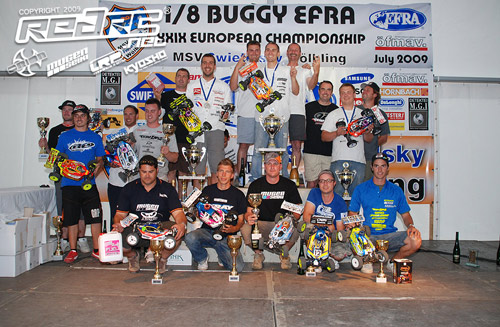 The other former champions in the final also had difficult races. Having changed the set-up on his car for the final German Daniel Reckward said they went the wrong way with diff and shock oils and his car was difficult to drive resulting in 8th position. Fellow Mugen driver Daniel Vega felt his JConcept shod MBX-6 was the best it had been all week but intermitent radio problems were to hamper him throughout the race.
Having shown plenty of promise in qualifying Darren Bloomfield was left visably frustrated when a jammed open throttle robbed him from challenging for a first European title. Eventually freeing itself, the British driver went on to set some very fast lap times recovering from 11th to end the race in seventh behind the Kyosho of Jerome Aigoin who recorded the fastest lap of the final with a 43.814.
So the dust has settled on another EFRA 1:8 Off Road European Championship and the title is once again heading back to France.  Could Savoya become the first driver to win three back to back European titles? We will have to wait 12 months to find out but its a bet seriously worth considering.  Roll on Portugal.
Provisional finishing order
1. SAVOYA Renaud – Mugen/RB – 60 Laps in 45:39.284
2. AIGOIN Yannick – Losi/Novarossi – 60 Laps in 45:46.429
3. BAYER Martin – Losi/Novarossi – 59 Laps in 45:00.232
4. BATLLE Robert – Associated/GRP – 59 Laps in 45:05.483
5. CRAGG Neill – Associated/Reedy – 59 Laps in 45:21.939
6. AIGOIN Jerome – Kyosho/Sirio – 59 Laps in 45:32.076
7. BLOOMFIELD Darren – Losi/Novarossi – 58 Laps in 45:05.754
8. RECKWARD Daniel – Mugen/RB – 58 Laps in 45:17.219
9. LEINO Teemu – Xray/Orion – 58 Laps in 45:40.521
10. VEGA Daniel – Mugen/Ninja – 57 Laps in 45:19.230
11. HÖNIGL Hubert – LRP/LRP – 57 Laps in 45:44.832
12. RABITTI Riccardo – Losi/Sirio – 17 Laps in 14:48.218
We would like to thank Team Orion, Mugen Seiki, LRP and Kyosho for supporting our coverage here in Austria and congratulate the MSV Wolbing club on doing a superb job running a great event.  Finally a special word of thanks to Carlos Gomez of EFRA for his efforts.
View our event image gallery here.
---