July 10, 2010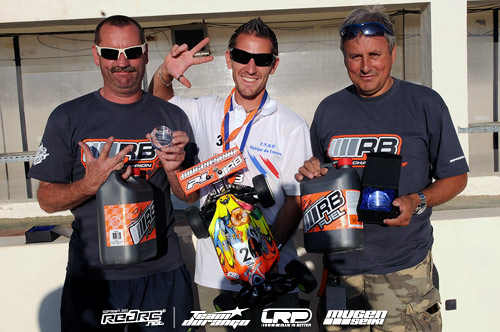 Three is a magic number and today Renaud 'The Shark' Savoya entered the sport's history books as he notched up his third consecutive EFRA 1:8 Off Road European Championship.  The 30th running of these championships, the French ace won here in Portugal from Robert Batlle, the man whom he took the title from back in 2008.  Having struggled by his standards in qualifying, ending up only fourth, Savoya bounced back on the day it counted most. Switching to a Proline combination of Crimefighters on the front and Bowties on the rear of his RB powered MBX-6, he kicked off the day with an easy win in his Semi final even though he ran out of fuel on the last lap.  This cost him pole for the Main race, which went to Batlle, but Savoya made his intentions clear during the practice start for the big race.  'I made sure I passed him during the practice start to add a little more pressure on him ahead of the race'.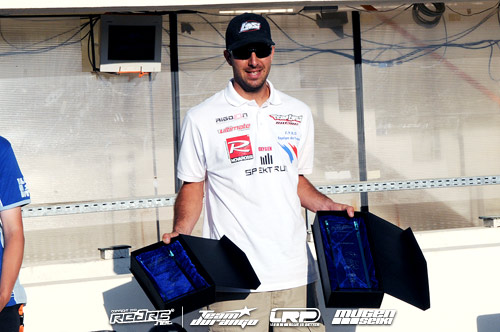 The race started out very much as a three way battle with Top Qualifier Yannick Aigoin joining the pair as they left the rest of the field behind.  Savoya, having found a way passed the pole sitter in the opening laps, described the conditions as very difficult and they caught him out handing the lead back to Batlle.  Having learnt his lesson the Mugen driver said he switched his focus to making safe clean laps rather than pushing hard to catch his Spanish rival and risk another mistake.  Knowing he had one less fuel stop to make he continued with his plan and it worked as he took the lead 1/3 of the way into the race and never looked back.  Delighted to become Europe's most successful buggy driver he said the last lap was full of tension but once passed the line his body went through the most amazing release of pressure.  Achieving this great feat of three in a row, Savoya was quick to thank his father Jean Michel 'Moustache' and Antoine Bernardo for the great work in the pits and his main sponsors Mugen, RB, Proline and Ultimate Racing.  With one of his two 2010 objectives achieved, the Shark's attention now turns to adding a World title to his CV later this year.
Another driver to really turn up the heat today, Batlle was very dejected at having come so close to getting back his 2007 title.  The Associated driver was very short on words saying they had a great car today but a clutch problem in the final meant he could do nothing about challenging Savoya once he got out front the second time.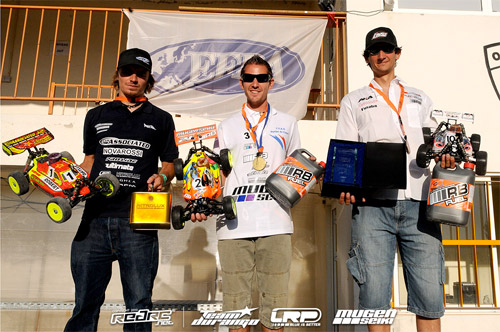 Completing the podium in front of a very enthusiastic home crowd, Miguel Matias said he was very happy with third. The tall Portuguese ace said as always the start was a problem with his Losi 8ight having 'some special magnetic field that always helps it to find crashed cars on the track', but coming from last twice in the early part of the 45-minute encounter he said third was a great result. This completes a full collection of podium trophies for the 2003 Champion having finished 1st, 2nd and 4th in previous finals.
Missing out on a repeat of his 2009 podium finish Martin Bayer said he didn't choose a good set-up for the race and over the opening 15-minutes he didn't drive very well either so at the end fourth was not all that bad.  The big shock of the race was Yannick Aigoin's seventh place finish.  The Frenchman, who looked so in control yesterday, said he didn't make a good start but still felt he had the package to take the win despite Savoya and Batlle stepping up the pace.  Unfortunately at 19 minutes the 2006 Champion, and a great ambassador for our sport, had a flame which as he put it himself 'killed his brain'.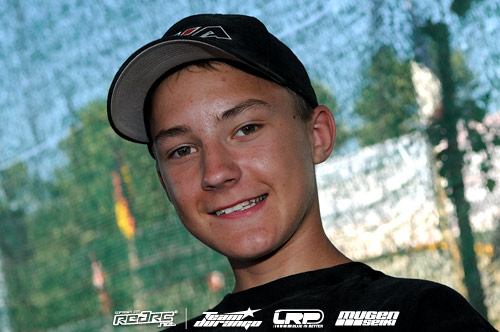 Making his Main Final debut here this week, the new European Junior Champion David Ronnefalk was very please with finishing sixth and at being the top Kyosho driver.  Not in anyway phased by the pressure of competing in the big race for the first time, the 14-year-old ran as high as third in the race but damage to the rear right shock, which lost all its oil, hampered the pace of the Swede's Team Orion powered MP9 .
So 30 years on from the first every European Championship race for 1:8 Buggy the race here in Portugal has been a historic one and shows that Off Road is in a very healthy state.  Red RC would like to thank EFRA's Carlos Gomez for his support during our coverage of this event and also our sponsors Team Durango, LRP and Mugen Seiki who made our trip here possible.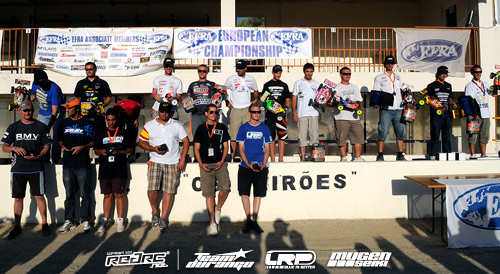 Final results
1. Renaud Savoya (FR) – 65 Laps in 45:13.018 (Mugen/RB)
2. Robert Batlle (ES) – 65 Laps in 45:31.867 (Associated/NR)
3. Miguel Matias (PT) – 64 Laps in 45:28.502 (Losi/RB)
4. Martin Bayer (CZ) – 63 Laps in 45:00.230 (Losi/NR)
5. Jérôme Sartel (FR) – 63 Laps in 45:09.122 (Xray/RB)
6. David Ronnefalk (SE) – 63 Laps in 45:20.342 (Kyosho/Orion)
7. Yannick Aigoin (FR) – 63 Laps in 45:25.102 (Losi/NR)
8. Elliott Boots (GB) – 63 Laps in 45:34.519 (Mugen/RB)
9. Lee Martin (GB) – 63 Laps in 45:38.030 (Losi/NR)
10.Jérôme Aigoin (FR) – 62 Laps in 45:05.695 (Kyosho/NR)
11.Alberto Garcia (ES) – 60 Laps in 45:16.068 (Mugen/Reds)
12.Rodrigo Luis (PT) – 50 Laps in 37:16.472 (Mugen/OS)
Full results can be found online here.
View our event image gallery here.

---