April 12, 2011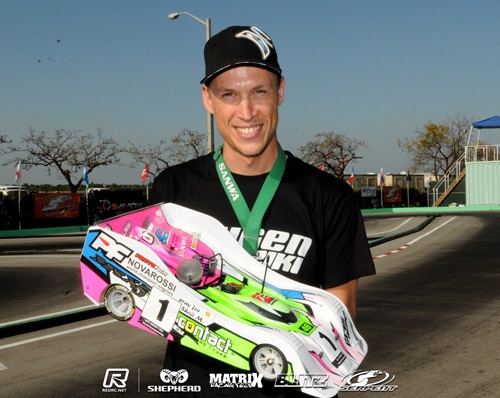 Just as he did at the last 1:8 Onroad World Championship before going on to become the Top Qualifier, Mugen's Robert Pietsch has set the pace in the final practice in Miami, Florida.  After the 37 lap run, the reigning European Champion said the run was not perfect.  Running his engine slightly safe it was too rich and switching to softer shock oil he said he got the order wrong with the softer oil better suited to cooler morning conditions. Pietsch also felt his driving could have been better as he made a number of small mistakes and ran too much over the kerbing.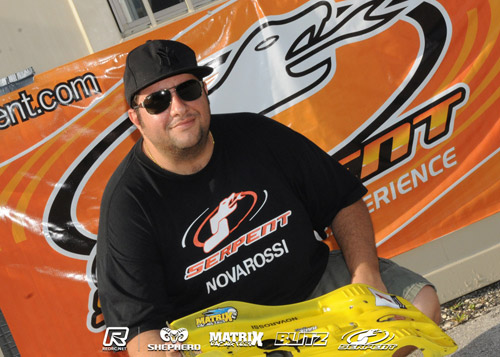 The only other driver to post 37 laps and setting the fastest lap with a 15.958, Serpent's Paolo Morganti was happy with his day.  The American said while he would like a little more rear traction on his Novarossi powered 966, the new parts Serpent have for the car here this week are working really well.  Not planning to change his set-up for tomorrow, when the faster half of heats will run twice in the evening, he did express slight caution about tomorrow's weather which is set to be even warmer than today which will mean the cars are going to slide around a lot more.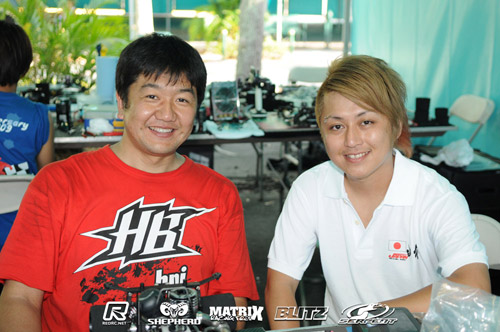 Atsushi Hara was fastest of the drivers on 36 laps, the Japanese ace missing out on 37 laps by just .523 of a second. Really happy with the third fastest time Hara ran only one stop after his pitman changed the original plan of two fuel stops to a single refueling unknown to the driver.  Having reverted back to a set-up he tried in an earlier practice session he said the Mugen was much better than in CP1 when he was eight fastest.  Making a couple of mistakes during the run the former electric Touring Car World Champion said he needs to run more consistent laps tomorrow.
Running Capricorn's LAB-C801, Dario Balestri was very happy with his new car as he set the fourth fastest time in CP2.  Sixth in Lostallo, the Italian says he expects he can get more from the car in qualifying tomorrow.
Making his 1:8 Worlds debut here at the Homestead R/C Raceway Takehiro Terauchi ended the day sixth just behind Brazil's Flavio Elias whose CP1 topping time was good enough for fifth overall. The 19-year-old, who was one of the stars of the 200mm Worlds in Texas last year where we was runner-up, said he was happy with how his MRX-5 was working but gave the impression he was slightly disappointed to not have been nearer the top of the time sheets.  Mugen team-mate Keisuke Fukuda was eight fastest for the day, the 2006 200mm World Champion suffering a little understeer in CP2 which he hopes to cure for tomorrow by running a softer front spring.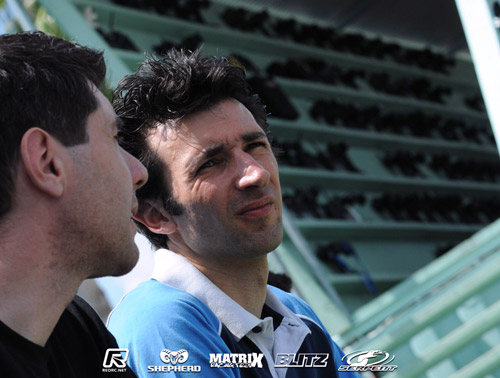 Not featuring strongly on the time sheets defending champion Lamberto Collari described his day as 'average' but the Italian who is chasing an unprecedented tenth 1:8 Onroad World title said it is better to look now at solutions for the coming days.  Confident for tomorrow he said the aim is make the magical Top 4 in qualifying so as to guarantee his place in Saturday's main race.  Asked if 22-years after winning his first World title he his getting bored of racing, the Kyosho/Novarossi driver replied, 'Of the racing I am not bored but the politics I am starting to get tired'.  Collari feels as the Formula 1 of our sport 1:8 should have little rules and be the place for manufacturers of the various products to showcase their goods and innovate like it was in the early days.  With tyre additive still the big talking point in Miami despite IFMAR spraying every competitors tyres with alcohol before they go out on track, the nine time World Champion feels the subject will overshadow the final result.
Practice times (Controlled Practice 1 & 2 combined)
1. Robert Pietsch (D) – Mugen/Novarossi – 37L/10:14.490 (2)
2. Paolo Morganti (US) – Serpent/Novarossi – 37L/10:15.143 (2)
3. Atsushi Hara (JP) – Mugen/OS Speed – 36L/10:00.523 (2)
4. Dario Balestri (IT) – Capricorn/Novarossi – 36L/10:01.395 (2)
5. Flavio Elias (BR) – Mugen/Max – 36L/10:05.081 (1)
6. Takehiro Terauchi (JP) – Mugen/Novarossi – 36L/10:05.525 (2)
7. Walter Salemi (IT) – Motonica/Max – 36L/10:06.401 (1)
8. Keisuke Fukuda (JP) – Mugen/Novarossi – 36L/10:07.088 (1)
9. Daniele Ielasi (IT) – Shepherd/Picco – 36L/10:07.089 (1)
10.Mark Green (GB) – Serpent/Novarossi – 36L/10:07.905 (1)
View our event image gallery here.
---