Defending 1:8 Champion Salven bumps up from Semi Finals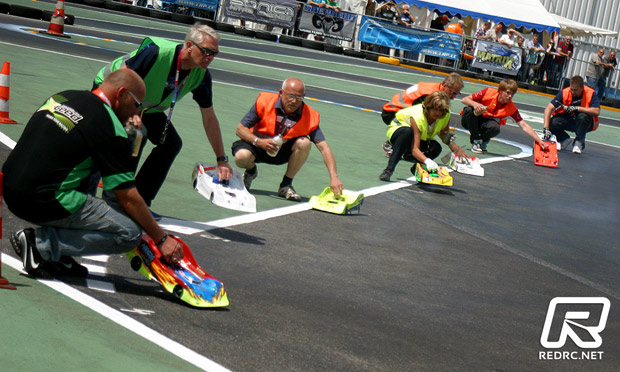 Defending European Nitro Challenge Champion Michael Salven has made it through from the Semis with 'Mr Serpent' set to line-up 7th on the grid.  Running in the second of the 20-minute finals Salven finished second to fellow 966 driver Merlin Depta who started from pole position in what was to be the fastest winning time of the Semis securing him 5th on the grid, the same position he was at at the end of yesterday's three rounds of qualifying.
A good afternoon for Serpent, current 40+ European Champion Andreas Giesa won the first of the Semis ahead of Toni Gruber meaning four 966 chassis will line up on the grid.  Unfortunately for factory Shepherd driver Marco Muller an engine failure while leading the Semi B means the Swiss Champion will play no further part in event. Making the grid due to their race times Mugen driver Nicolai Bahr starts 9th having come from the Semi A while fellow MRX5 driver Thilo-Alexander Todtman bumps up from the Semi B to complete the grid for this evenings Main final.
Grid for 1:8 Main Final
1. Robert Pietsch – Mugen/Novarossi
2. Oliver Mack – Shepherd/Picco
3. Alberto Picco – Mugen/Picco
4. Lars Hoppe – Shepherd/Novarossi
5. Merlin Depta – Serpent/Novarossi
6. Andreas Giesa – Serpent/Xceed
7. Michael Salven – Serpent/Xceed
8. Toni Gruber – Serpent/Xceed
9. Nicolai Bahr – Mugen/OS
10.Thilo-Alexander Todtmann – Mugen/RB
View our event image gallery here.
Categories - Events, Gas, International, On Road, Racing