Ronnefalk takes Q3, Bloomfield is overnight TQ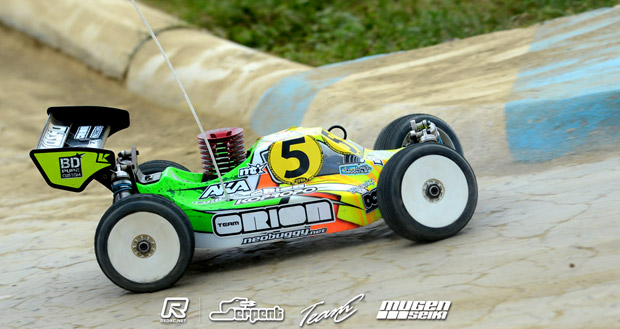 Kyosho's David Ronnefalk ended the first day of qualifying at the 1:8 Offroad European Championships with a TQ run in the third round but it is Team Losi Racing's Darren Bloomfield who is the provisional overnight Top Qualifier in Fehring, Austria.
A slower track for Q3 after a short rain shower that arrived at the end of Q2 but stopped again shortly into the start of Q3, reigning European Junior Champion Ronnefalk was happy to return to the top of the time sheets having set the pace on the opening day of practice for the event on Tuesday.  Having come to the event with the set-up he used at the Warm-up race, the 16-year-old said he hasn't had to make any changes to his Orion powered MP9 as 'everything is working well'.  The 16-year-old said with a TQ run under his belt he is confident he can challenge for the overall TQ honours tomorrow.  While very happy with his set-up Ronnefalk said he might make a small change as once or twice he could have done with a little more steering at the 180 degree corners.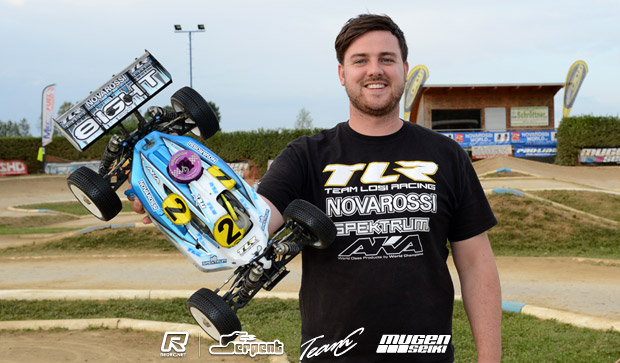 Setting the fastest lap of Q3 to claim second overall backing up his Q1 TQ run, Bloomfield was very happy with his performance today on a track which the former British Champion described as the 'best European track' he has been to in a long time.  After struggling with new tyres in Q2 when he could only manage 10th, he ran a used set of AKA Enduros on his modified 8ight.  Asked if having US star Adam Drake as his mechanic was a contributing factor to his performance Bloomfield said having someone you can trust working on your car is great and it also gave him more time to talk to other Losi drivers and gather useful information. With very little turn around time between his Q2 & Q3 run he said it was great not have to rush to get the buggy prepped leaving him time to go up to the drivers stand a lot more relaxed than usual.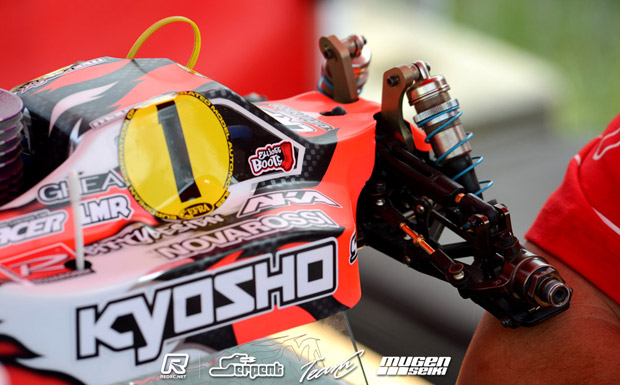 The fastest man in Q2, Elliot Boots said he just made too many mistakes in Q3 leaving him to take only the fifth fastest time for the round. Sitting third in the overnight ranking the newly crowned British Champion said his Novarossi powered Kyosho is up for the job and with better driving tomorrow everything will be fine.
Defending Champion Robert Batlle took his Mugen to fourth in Q3 and that is the position the Spaniard holds in the current qualification standings.  Finishing ahead of the double champion was his great rival and 3-time champion Renaud Savoya.  The Xray driver said the event is going as expected and his RB powered XB9 is really 'enjoyable' to drive. Removing some screws from his buggy for Q3 to give it flex he said the change was good and while the track was slower he was able to post his fastest 5-minute time.  Still following the program they came with he said while little mistakes cost him in terms of his placing for the opening two rounds he said everything is going as expected.
Tomorrow drivers have two final rounds of qualifying in which to secure themselves a place in the all important Semi finals, these spot going to the Top 16 in the final qualification ranking.  One notable driver who will need two good qualifiers tomorrow is last year's podium finisher Daniel Reckward.  The former World Champion who has won the Euros 3-times previously had a tough day and languishes down in 45th position.  Red RC, whose coverage is being supported by Serpent, Team C and defending champions Mugen, will have full updates after each of those crucial qualifiers.
Qualifying Times Round 3
1. David Ronnefalk (SE) – Kyosho/Orion – 9/5:30.054
2. Darren Bloomfield (GB) – TLR/Novarossi – 9/5:30.595
3. Renaud Savoya (FR) – Xray/RB – 9/5:31.849
4. Robert Batlle (ES) – Mugen/Novarossi – 9/5:30.779
5. Elliot Boots    (GB) – Kyosho/Novarossi – 9/5:33.337
6. Borja Hernandez (ES) – LRP/Alpha – 9/5:34.361
7. Miguel Matias (PT) – TLR/RB – 9/5:35.001
8. Neil Cragg (GB) – Associated/LRP – 9/5:35.099
9. Jérôme Sartel (FR) – Agama/Bullit – 9/5:35.248
10.Yannick Aigoin (FR) – Associated/Novarossi – 9/5:36.576
11.Peter Pinisch (AT) – LRP/LRP – 9/5:38.557
12.Rayan Medjoubi (FR) – JQ/JQ – 8/5:00.621
Qualification Ranking after Round 3 of 5
1. Darren Bloomfield (GB) – TLR/Novarossi – 368 pts
2. David Ronnefalk (SE) – Kyosho/Orion – 367
3. Elliot Boots    (GB) – Kyosho/Novarossi – 365
4. Robert Batlle (ES) – Mugen/Novarossi – 363
5. Miguel Matias (PT) – TLR/RB – 363
6. Jörn Neumann    (DE) – Durango/Picco – 362
7. Renaud Savoya (FR) – Xray/RB – 360
8. Joseph Quagraine (FI) – JQ/JQ – 356
9. Borja Hernandez (ES) – LRP/Alpha – 355
10.Christoffer Svensson (SE) – Kyosho/OS – 353
11.Teemu Leino (FI) – HB/LRP – 348
12.Jérôme Aigoin (FR) – Kyosho/Novarossi – 346
View complete event results here.
View our event image gallery here.
Categories - Events, Gas, International, Off Road, Racing