November 15, 2012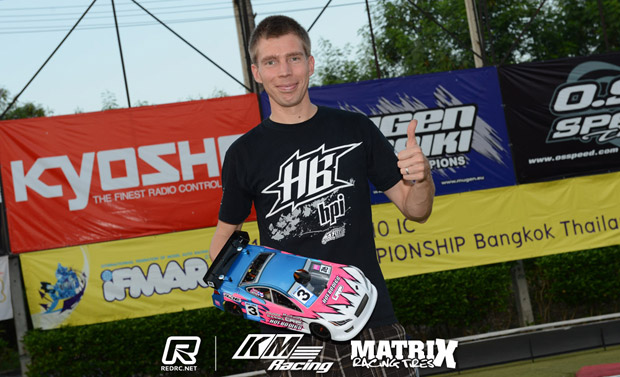 Having been the provisional TQ holder since topping the second round of qualifying three days ago, Team HB's Teemu Leino made the best use of near perfect 'rocket round' conditions in the final qualifier in Thailand to produce a blistering 40-lap run securing himself & HB's brand new R10 chassis the honour of being Top Qualifier for the fifth bi-annual Nitro Touring World Championships. Set to line up on pole position for Saturday's World title deciding final at the beautiful RC Addict track, the Finnish star will be joined in the 60-minute encounter by Jilles Groskamp who was the only other driver to deliver a 40 lap run, his own HB team-mate Atsushi Hara and Thai ace Meen Vejrak with the other 6 drivers going to have to earn their way onto the grid via the Semi Finals.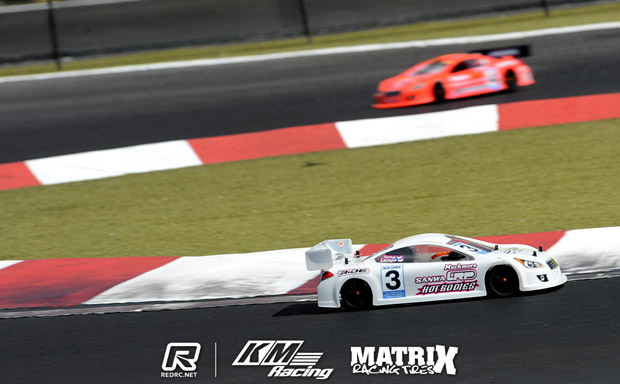 Having complained of a lack of rear traction in his previous qualifying runs, Leino said his LRP powered R10 was near perfect for Q6 with an early spin the result of over excitement on his behalf.  Able to recover from the error, the former European Championship Top Qualifier said his biggest concern was being able to go the full distance having had some engine tuning issues in previous heats.  Pitting earlier than his rivals, Leino said for the second half of the run and particularly the last minute of the qualifier he had to adapt his driving style to try and save fuel, a change that paid dividends.  Like other successful Finnish racing stars Tommi Makkinen, Mika Hakkinen and Kimi Raikkonen, Leino took the achievement in his stride but did add he was pleased for the team that they have at least two of the three R10s in the final. Asked about that final he said he thinks the locals have a big advantage in terms of their knowledge of how the conditions can change over such a long race.  He also believes the weather conditions at the time of the final will be a huge factor.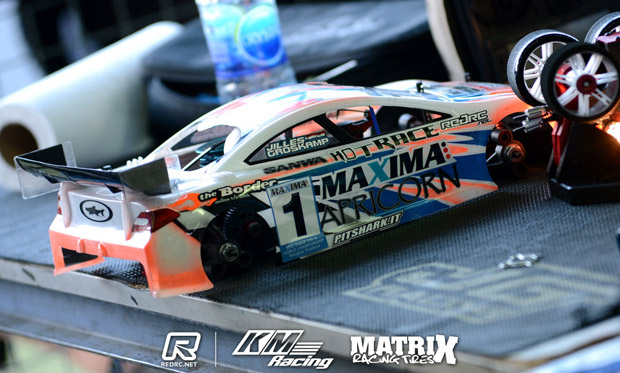 The only driver to have managed a TQ run this week when he took the opening qualifier on Tuesday, Capricorn's Groskamp said he went with the wrong choice of rear tyre on his Maxima powered LAB-C02.  Making the choice he said it was too safe as he thought the traction was going to be higher but it turned out to be not as good as it had been in practice when they ran at a similar time of the day.  Describing Leino's pace as 'just unbeatable', the electric Touring Car World Champion was very happy with his own pace which in the end was 1.918 seconds off the eventual TQ time and said the most important thing was that he made the magical Top 4.  Asked about strategy for the final, Groskamp said he already knows his plan for the race but he wasn't going to tell Red RC as he doesn't want to inform his opposition of it!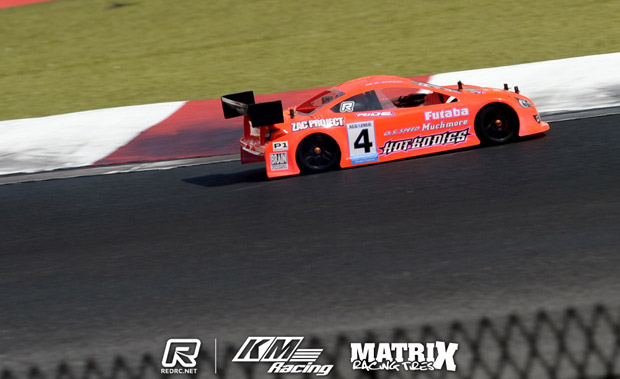 Suffering a half spin and one moment when he got his OS Speed powered HB out of shape & up on two wheels, admitting both incidents were down to driver error, Hara's nerves got the better of him in the first half of the race.  The Japanese ace said his R10 could maybe have done with just a little more steering but overall it was very stable and in the second part of the run he was very happy with his pace. Having tried to follow team-mate Leino after letting him passed he said he had to push too hard to keep up and with the risk of a mistake too high he changed tact to just trying to achieve a 40 lap run which he just missed out on by .149 of a second. Having been based in Bangkok for a number of years the Japanese ace knows the track well and thinks a one stop tyre strategy is going to be the most popular.  Happy with both the performance of his car and engine he said the final is going to be decided by making the right call on the diameter of the tyres something he will decide on after the 30-minute practice session the Top 4 will get Saturday morning.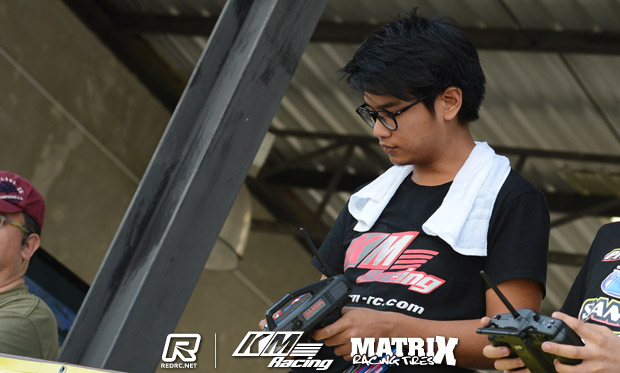 Having missed out on making the final at the last World Championships in Texas when his then prototype KM Racing car stripped a gear while he was holding a bump up position in his Semi, Meen V was disappointed with his Q6 performance.  Going into the final qualifier sitting 3rd overall, the 27-year-old said he had the car for a TQ but pushed to hard forcing two errors and although he still bettered his time he got pushed backed to fourth by Hara. Describing the final as a 'very different' scenario to qualifying the former electric touring car World finalist said he wants to try a number of things on his Novarossi powered H-K1 Evo 2 in the Top 4 practice session.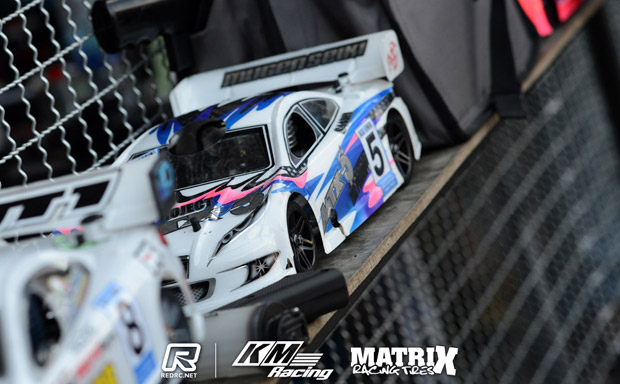 Shaving almost 5-seconds of his Q2 time to move up to 5th just .114 seconds of Meen V's time, 2006 World Champion Keisuke Fukuda will start from pole position in the Semi A final ahead of fellow Mugen driver 17-year-old local Chavit Sirigupta who jumped from 22nd at the end of Q5 to setting the 7th overall fastest time.  In the second of the Semi finals Alexander Hagberg, the fastest Xray in qualifying, will start from pole position having also improved his time by 5 seconds in Q6.  Knocking 9 seconds of his time to move up 10 spots in the final qualification ranking list Serpent's Mark Green will start directly behind the Swede.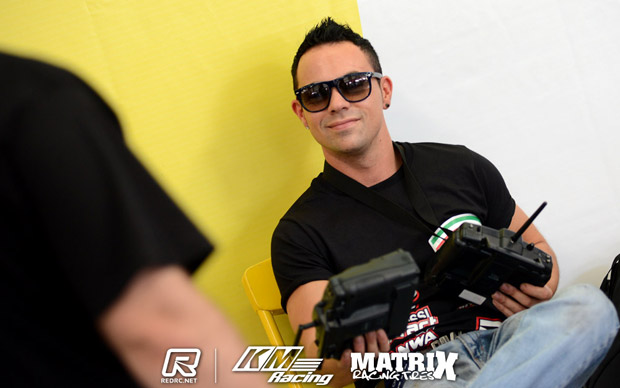 Two drivers to fall foul of the 'rocket round' where early TQ contenders Dario Balestri and nitro Worlds debutant Andy Moore.  Although both improved their times in Q6, they each made mistakes.  Balestri said having run his car too low in the penultimate qualifier he ran it two high in Q6 and this caused him to traction roll the Novarossi powered KM Racing H-K1.  With the cars running a lot softer than nitro drivers are used to, the 2-time former European Champion said for drivers like him and Robert Pietsch its hard to get used to this as when the tyres run low the set-up is so soft that the chassis bottoms out and the electric racers obviously have a solution for this.  Finishing up 10th fastest Balestri will start third in the Semi B.  Moore said in the warm-up everything felt good but when the actual heat started he drove too hard too early.  This led to a mistake that cost him crucial time without which he would have run a pace very similar to Hara, instead he dropped from fifth to 11th to line up fourth in the Semi A final.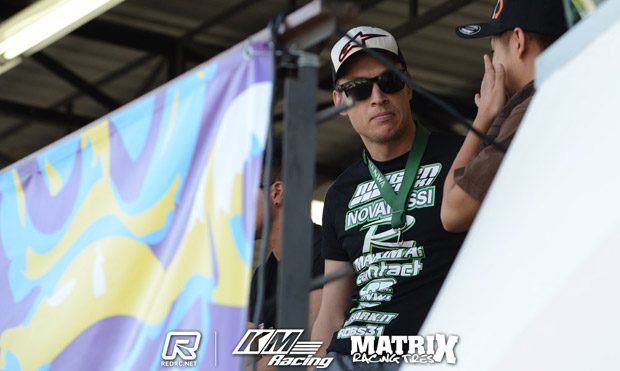 For 2010 Top Qualifier Pietsch he will have his work cut out for him on Saturday as he will start down in the 1/4 finals having ended up 23rd fastest.  The Mugen designer and reigning 1:8 Onroad World Champion was on to improve his time but during his fuel stop his MTX-5 caught the pit wall as it was placed back on the track causing the engine to flameout.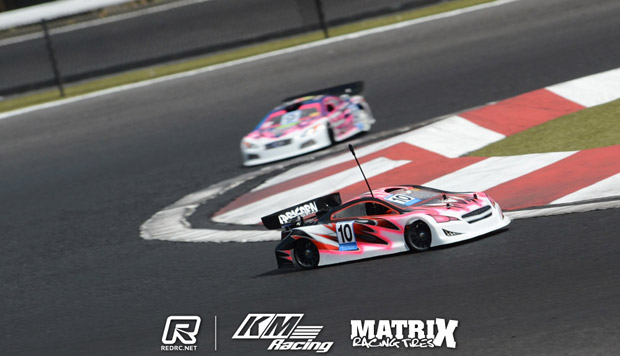 A number of notable performances in the final qualifier were those of Peter Jovanovic, Kyle Branson and Daan Jacobs who all moved up into Semi final position.  Australian National Champion Jovanovic improved his Q5 pace by a full lap to take his Capricorn from 40th to 12th while multiple British National Champion Branson was just 12/1000ths behind to take his factory Sirio powered Mugen from 35th to 13th.  Dutch Serpent team driver Jacobs went from being 47th fastest to 14th and will join Jovanovic in the Semi B final.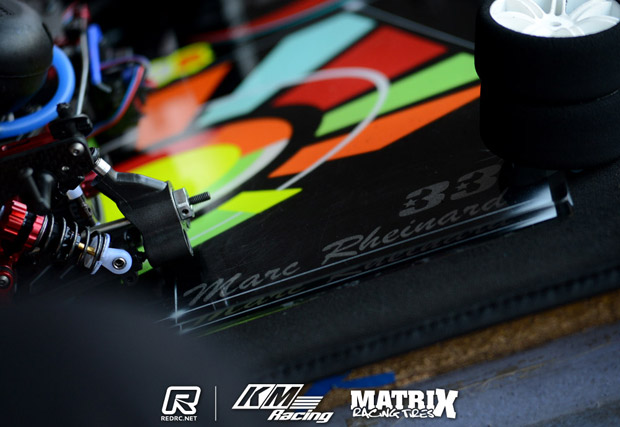 Three time electric Touring Car World Champion Marc Rheinard managed to secure the final direct Semi qualifying position as he improved his time in Q6 to set the 18th fastest time denying American JJ Wang the spot by just less than half a second.  The top American qualifier Wang is on pole for the 1/4 B final while US National Champion Paul Lemieux will be hoping to progress from the 1/4 A final in which he starts second behind Japanese National Champion Takaaki Shimo.
Overall Qualifying Results – Top 18
1. Teemu Leino – HB/LRP – 40/10:11.351 (6)
2. Jilles Groskamp – Capricorn/Maxima – 40/10.13.269 (6)
3. Atsushi Hara – HB/OS Speed – 39/10:00.149 (6)
4. Meen Vejrak – KM Racing/Novarossi – 39/10:02.650 (6)
—————————
5. Keisuke Fukuda – Mugen/Picco – 39/10:02.764 (6)
6. Alexander Hagberg – Xray/Orcan – 39/10:03.305 (6)
7. Chavit Sirigupta – Mugen/Maxima – 39/10:03.414 (6)
8. Mark Green – Serpent/Novarossi – 39/10:04.707 (6)
9. Biagio Spataro – Xray/G-Mar – 39/10:04.915 (6)
10.Dario Balestri – KM Racing/Novarossi – 39/10:05.438 (6)
11.Andy Moore – HB/Maxima – 39/10:05.550 (6)
12.Peter Jovanovic – Capricorn/Capricorn – 39/10:05.743 (6)
13.Kyle Branson – Mugen/Sirio – 39/10:05.755 (6)
14.Daan Jacobs – Serpent/Max – 39/10:06.996 (6)
15.Surikarn C – Xray/Max – 39/10:09.556 (4)
16.Mongkolplan Lomrose – Mugen/Maxima – 39/10:09.576 (6)
17.Paphon Chanyasak – Xray/Maxima – 39/10:09.683 (6)
18.Marc Rheinard – Capricorn/Capricorn – 39/10:10.698 (6)
View the complete event results here.
View our event image gallery here.
---