November 17, 2012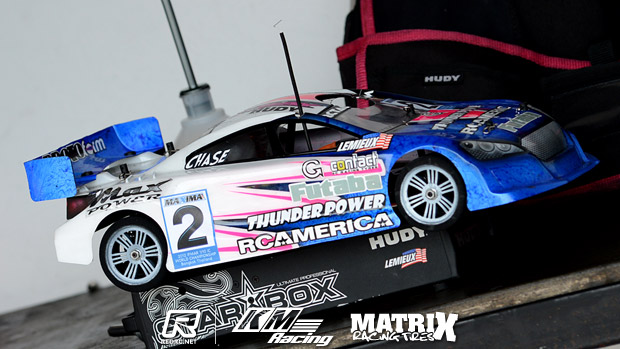 US National Champion Paul Lemieux and 2010 World finalists Robert Pietsch & Takaaki Shimo are through to the Semi finals after finishing in the Top 3 of their respective 1/4 Finals.  In the first of the 20-minute encounters Lemieux's No.2 Xray took the win ahead of Shimo's Kyosho who started on pole position.  The big battle of the race was for third between the No.4 Kyosho of Sinnosuke Yokoyama and the Xray of Guiseppe D'Angelo who looked on target for his third bump of the event having started out in the 1/16 final yesterday.  With 2-laps to go however the young Japanese talent got passed into third bringing the Italian's impressive run to an end. The race brought an end to the World Championship campaign of a number of top European drivers.  Despite contesting that the timing computer had missed one of his laps, an issue that has resulted in manual corrections for almost all the finals run so far, Capricorn driver Francesco Tironi was classified 5th.  European Championship runner up Mario Spinello could only managed 8th just ahead of former European Champion Dirk Wischnewski and Serpent designer Michael Salven, who while not having a good race following an early incident with Tironi, retired 1 minute from he end with a broken rear belt on his 747.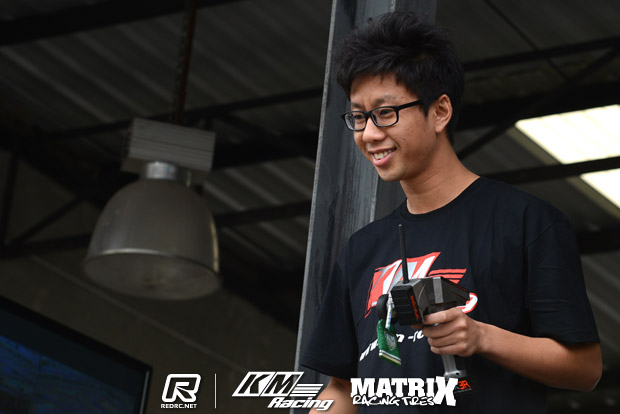 In the 1/4 A final Hong Kong KM Racing driver Cheung Hang Hung, who graduated from the 1/8 A final which he won, put in a very impressive performance to beat Mugen designer & 1:8 World Champion Pietsch.  There was heartbreak for his Mugen team-mate JJ Wang who while holding a comfortable third, the final bump up position to the Semis, crashed coming onto the straight in the final two minutes of the race.  Damaging his car being damaged he made his way back to the pits where his mechanic AI fixed it but there was not enough time to recover allowing Kyosho driver Shoki Takahata to progress.  Casualties of the race included Xray designer & 2008 podium finisher Martin Hudy who had the rear belt come off the pulleys, something he said he has never seen happen before, 2010 finalist Takumi Matsuda and 2010 runner-up Takehiro Terauchi.
Grid for Semi Final B
1. Alexander Hagberg – Xray/Orcan
2. Mark Green – Serpent/Novarossi
3. Dario Balestri – KM Racing/Novarossi
4. Peter Jovanovic – Capricorn/Capricorn
5. Daan Jacobs – Serpent/Max
6. Mongkolplan Lomrose – Mugen/Maxima
7. Marc Rheinard – Capricorn/Capricorn
8. Paul Lemieux – Xray/Max
9. Takaaki Shimo – Kyosho/OS Speed
10.Shinnosuke Yokoyama – Kyosho/OS Speed
Grid for Semi Final A
1. Keisuke Fukuda – Mugen/Picco
2. Chavit Sirigupta – Mugen/Maxima
3. Biagio Spataro – Xray/G-Mar
4. Andy Moore – HB/Maxima
5. Kyle Branson – Mugen/Sirio
6. Surikarn C – Xray/Max
7. Paphon Chanyasak – Xray/Maxima
8. Cheung Hang Hung – KM Racing/Murnan
8. Robert Pietsch – Mugen/Novarossi
10.Shoki Takahata – Kyosho/OS Speed
View the complete event results here.
View our event image gallery here.
---