December 5, 2012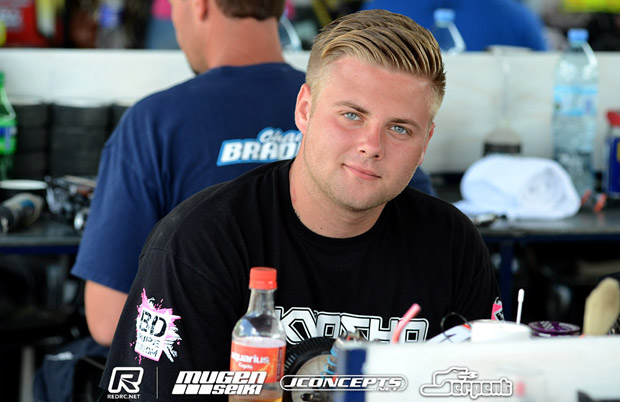 Elliot Boots became the third driver to post a TQ run at the 1:8 Offroad World Championships with the Kyosho driver getting Day 5 in Argentina off to a perfect start by topping Q3 ahead of Q1 pace setter Robert Batlle and Ty Tessmann who was fastest in Q2.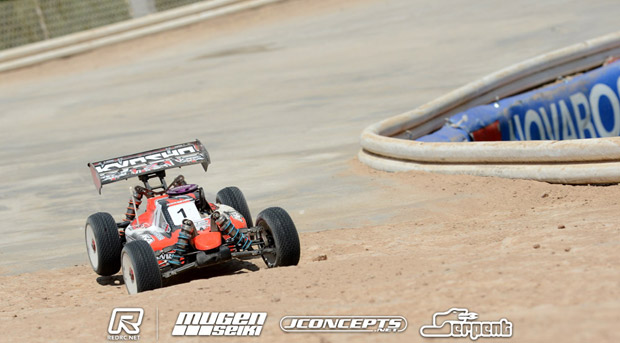 British Champion Boots had a couple of moments over his latest 10-minute run but said overall he was pleased with the result. Running AKA iBeam tyres on his MP9, the 19-year-old said the track was getting really unpredictable and it was important to be patient with the buggy and let it do its own thing over the increasing number of bumps because if you push too hard you end up having moments.  With two more qualifiers to run today following a decision to change the timetable last night in the hope of getting 5 of the 6 qualifiers in before Thursday's predicted rain, Boots said he will continue with the same set-up and tyre choice for Q4.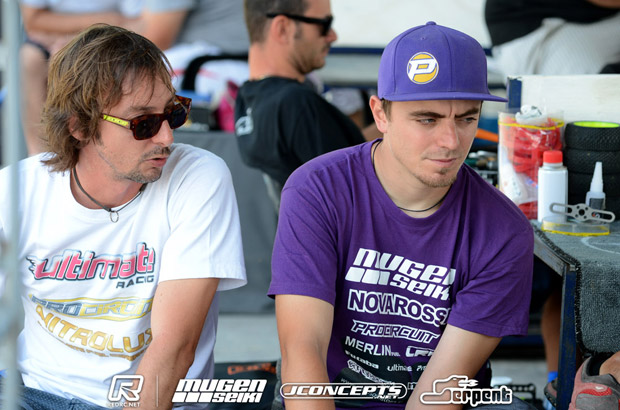 Mugen's Batlle was very happy to end the qualifier with the second fastest time, the Spaniard saying with three mistakes in the run he didn't expect it.  Running a new as yet unnamed Procircuit tyre the Warm-up Race winner said the tyre was good but with the track getting more bumpy as well as more grippy he will switch tyres for Q4 to Marathon on the front and Sweet Shot on the rear.  Batlle's team-mate Lee Martin enjoyed another competitive run taking his MBX7 to the fifth fastest time, the European Electric offroad champion proving very consistent with Top 6 runs in all three qualifiers.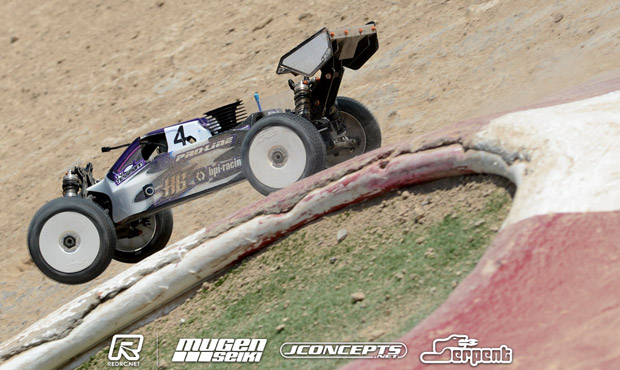 Despite one crash at the end of the straight, where a lot of drivers are now having moments, and another big bobble Tessmann described the run as 'alright'.  Having switched to thicker shock oil for the run he said his OS Speed powered D8'12 didn't feel as good with it being edgy to drive.  Team-mate Hara set the sixth fastest time, the Japanese ace a lot happier with his performance today.  Running a softer shock set-up for Q4, he said he had better overall grip than yesterday and the buggy handled the bumps better however on the bigger jumps he added the softer shocks meant it was a little bouncy on landings.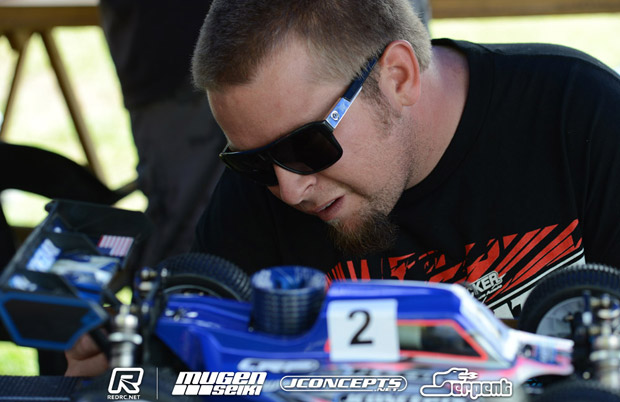 Having set the 10th fastest time in both of yesterday's qualifiers, Ryan Maifield posted the fourth fastest time in Q3.  The American said he did a lot of 'Home work' last night and the run was the best his heavily modified RC8 has been at the event so far. Switching to JConcepts Red compound Crossbow he said he would have been better with a larger pin tyre for the round.  With the buggy easy to drive, Maifield said they are very close in terms of the set-up he is looking for and for his next run he will make some very minor changes to try and get just a little more speed from it.
Top Xray for the round was Martin Bayer who was set the 8th fastest time just behind FEMCA Champion Kyle McBride who wasn't happy with his tyre choice for the round.  Bayer said the run could have been 'way better' but he just lacked consistency.  Suffering one small mistake he said the track is getting more difficult and they need to adjust his LRP powered XB9 to better suit the conditions.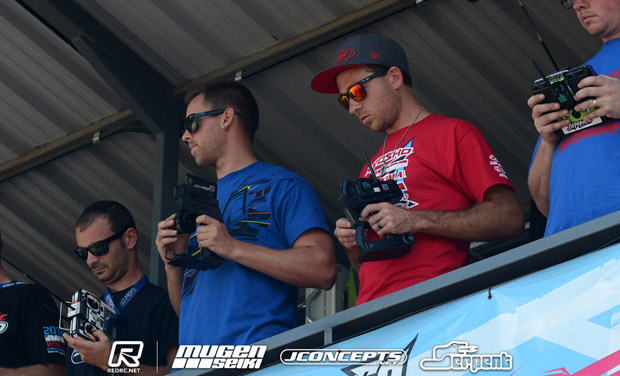 Elsewhere Jared Tebo ended the round with the 10th fastest time his Kyosho collecting a spun out buggy on the sweeper at the end of the straight which put the Orion powered MP9 on its roof.  TLR's Dakotah Phend set the 12th fastest time after the 15-year-old, who had good pace, suffered three mistakes of his own doing.  Team-mate Adam Drake lost time in his run when he and defending World Champion Cody King had a coming together and them on the last lap he had an more costly incident with team-mate Darren Bloomfield.  The American ended up 21st for the round. Top Qualifier of the Worlds Warm-up event here in Buenos Aires Kyosho's David Ronnefalk had a rear wheel fall off his MP9.  The young Swede said it was frustrating because his MP9 felt 'really good'.
Qualifying Round 3 – Top 12
1. Elliot Boots – Kyosho/Novarossi – 14/10:39.259
2. Robert Batlle – Mugen/Novarossi – 14/10:41.101
3. Ty Tessmann – HB/OS Speed – 14/10:43.192
4. Ryan Maifield – Associated/LRP – 13/10:01.809
5. Lee Martin – Mugen/Novarossi – 13/10:02.283
6. Atsushi Hara – HB/OS Speed – 13/10:03.450
7. Kyle McBide – Kyosho/OS Speed – 13/10:04.028
8. Martin Bayer – Xray/LRP – 13/10:04.400
9. Yannick Aigoin – Associated/nVision – 13/10:05.874
10.Jared Tebo – Kyosho/Orion – 13/10:07.983
11.Taylor Petersen – Mugen/Alpha – 13/10:08.913
12.Dakotah Phend – TLR/Orion – 13/10:10.694
View our event image gallery here.
---