December 8, 2012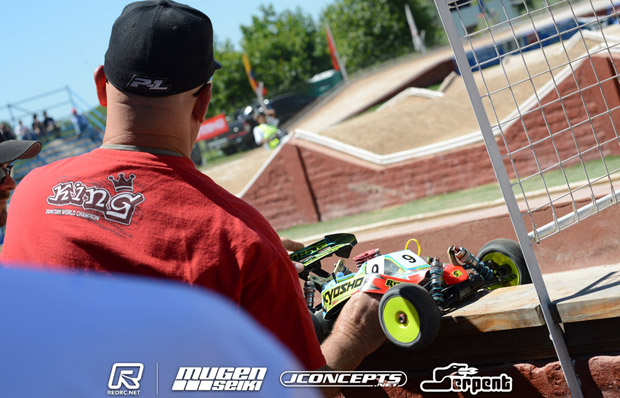 Defending World Champion Cody King will progress to the Semi-final after the American scraped through from his 1/4 Final just ahead of Serpent's Billy Easton.  Having bumped up from the early 1/8 final which he won, the Kyosho driver had a terrible start to the 30-minute encounter as his MP9 ended up on its roof leaving him last of the 12 car field as he needed marshaling.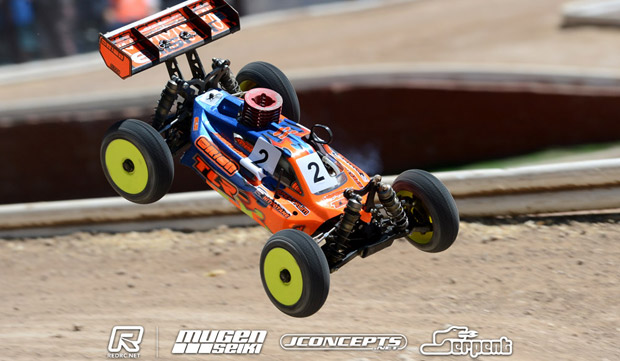 Up front TLR's young star Dakotah Phend controlled the race taking the win from A-Main Hobbies team driver Dylan Rodriguez with Team Durango's Ryan Lutz third despite getting a Stop & Go penalty for bad refueling.  Phend's team-mate Miguel Matias suffered cruel luck as he retired from a bump position with a steering servo failure.  Another TLR team driver to bow out was European Champion Darren Bloomfield who had the battery fall out of his transmitter during the race.
In the other 1/4 final, reigning electric offroad world Champion Ryan Cavalieri booked his place in the final 24 winning by 7 seconds from fellow American Barry Pettit who is having a great day having progressed from the 1/8 final which got today's action underway.  'Mr. Fuel Economy' Adam Drake who was the only driver to do 10-minute fuel stops, finished 3rd ahead of 3-time European Champion Renaud Savoya both progressing to the Semi final.  The race saw the demise of Matt Castellano who finished 5th and JQ Products boss Joseph Quagraine who had tyre issues needing to stop in the race to fit a new front tyre as the rubber had parted company with the rim.
Grid for Semi A Final
1. Elliott Boots – Kyosho/Novarossi
2. Ty Tessmann – HB/OS Speed
3. Ryan Maifield – Associated/LRP
4. Yannick Aigoin – Associated/nVision
5. Davide Tortorici – Mugen/Bliss
6. Jerome Aigoin – Kyosho/Novarossi
7. David Ronnefalk – Kyosho/Orion
8. Taylor Petersen – Mugen/Alpha
9. Ryan Cavalieri – Associated/Orion
10.Barry Pettit – Mugen/Novarossi
11.Adam Drake – TLR/Novarossi
12.Renaud Savoya – Xray/RB
Grid for Semi B Final
1. Robert Battle – Mugen/Novarossi
2. Jared Tebo – Kyosho/Orion
3. Lee Martin – Mugen/Novarossi
4. Kyle McBride – Kyosho/Novarossi
5. Martin Bayer – Xray/LRP
6. Atsushi Hara – HB/OS Speed
7. Josh Wheeler – Xray/OS Speed
8. Renato Tradardi Jr – Associated/Novarossi
9. Dakotah Phend – TLR/Orion
10.Dylan Rodriguez – Kyosho/OS Speed
11.Ryan Lutz – Durango/Alpha
12.Cody King – Kyosho/Orion
View our event image gallery here.
---