December 8, 2012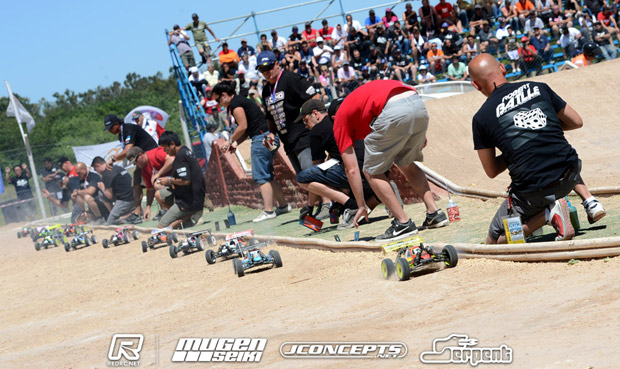 The 12 drivers that will battle it out for the 14th 1:8 Offroad World Championship title this evening in Buenos Aires has been decided but despite being the most spectacular driver all week and the man to top qualifying Elliot Boots won't be taking part.  Boots retired his Novarossi powered Kyosho 6-minutes into the first Semi final with a steering servo failure in his MP9. Winner of the first Semi, pole position for the 1-hour race goes to Tessmann with Robert Battle who won the second Semi starting directly behind the Canadian.
The first Semi final saw Tessmann take the win from Associated team-mates Ryan Maifield and Yannick Aigoin with Warm Up race Top Qualifier David Ronnefalk fourth with his Kyosho. Securing the last direct qualifying position was US Mugen driver Taylor Petersen.  Big names to drop out at this stage of the event included electric Offroad World Champion Ryan Cavalieri, whose engine cut three times, TLR's Adam Drake and Xray's Renaud Savoya who both suffered flame outs.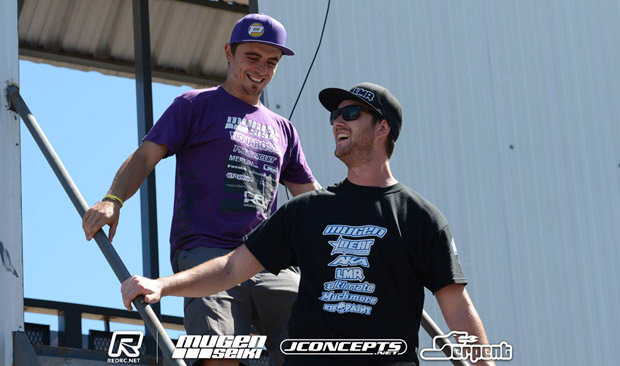 In the second Semi which would prove the faster race and therefore provide the final two drivers to bump up based on being the fastest two drivers joining the Top 5 finishers from each of the 30-minute encounters.  The race was won by Warm-up Race winner Robert Batlle ahead of 2008 World Champion & 2010 Runner up Atsushi Hara with TLR's Dakotah Phend third.  Defending World Champion Cody King who started the day out in the 1/8 final and is set make his 4th race start in the Main event finished 4th and his Kyosho will start sixth on the grid.  Lee Martin finished 5th to secure his first 1:8 Offroad World finals appearance while behind the British Mugen driver Xray's Josh Wheeler and Durango's Ryan Lutz secured the final two spots, Q4 TQ man Wheeler getting past Lutz on the last lap.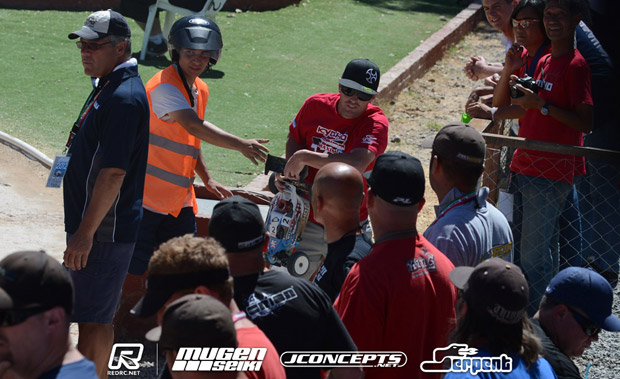 The biggest drop out of the second Semi was 2010 Top Qualifier and podium finisher Jared Tebo who flamed out three times putting him out of contention to progress.  Ultimately the American star would retire with broken front suspension on his Kyosho.
Grid for Main Final
1. Ty Tessmann – HB/OS Speed
2. Robert Battle – Mugen/Novarossi
3. Atsushi Hara – HB/OS Speed
4. Dakotah Phend – TLR/Orion
5. Ryan Maifield – Associated/LRP
6. Cody King – Kyosho/Orion
7. Lee Martin – Mugen/Novarossi
8. Yannick Aigoin – Associated/nVision
9. Josh Wheeler – Xray/OS Speed
10.David Ronnefalk – Kyosho/Orion
11.Ryan Lutz – Durango/Alpha
12.Taylor Peterson – Mugen/Alpha
View our event image gallery here.
---