February 25, 2013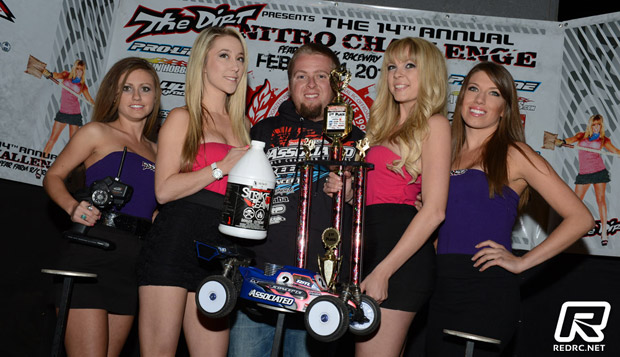 Ryan Maifield took a convincing victory at the 14th running of the world famous Dirt Nitro Challenge, the Associated driver winning the blue ribbon Buggy A-main of the Arizona event comfortably over Top Qualifier Jared Tebo and team-mate Ryan Cavalieri. For outgoing champion Ty Tessmann who last night successfully defended his Truggy title a difficult race following a strong start by the factory HB driver left him 6th at the end of the 45-minute encounter.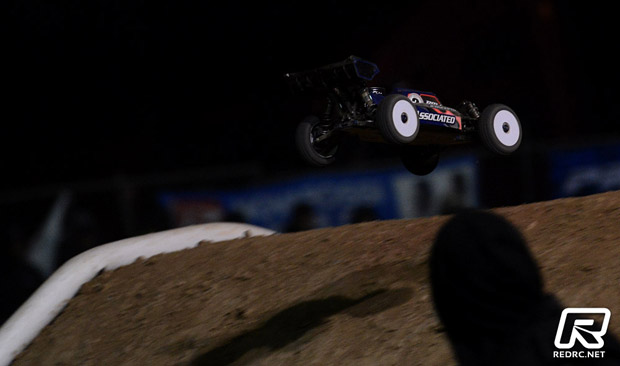 Overall not a very entertaining race the start did produce a good battle between Maifield and World Championship Top Qualifier Elliott Boots. Starting from 4th on the grid the talented British driver who was making his US race debut this weekend went to the front on lap 2 leading Maifield for 6 laps. Unfortunately on lap 9 the Kyosho team driver would retire with a broken MP9, unearthing a large rock in the front single double double section it damaged the buggy causing it to go straight on into the straw bails at the end of the back straight later in the lap pulling a rear kingpin from its insert. Afterwards the 19-year-old said when he hit and uprooted the rock, sending his buggy up into the air, it didn't feel right and the contact with the bail just finished off the damage that had been already done. With Boots out Maifield would lead the rest of the race totally untroubled.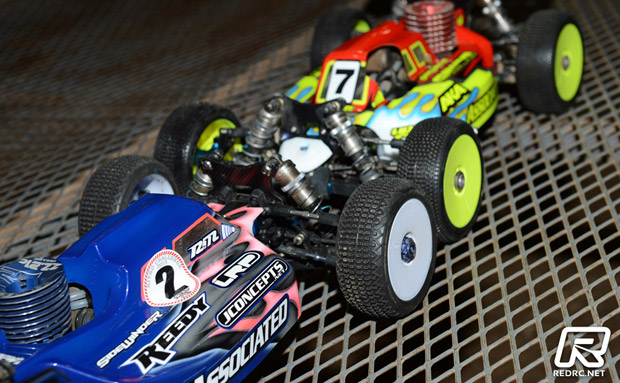 Winner of Joey 'The Dirt' Christensen's signature race back in 2009, Maifield who after finishing 2nd in the Truggy Main yesterday said he was up for the Buggy win, was very happy with his performance adding everything went exactly to plan. Starting from second on the grid and taking the lead on the opening lap when Tebo ended up on his roof, he said the opening few laps with Boots had him nervous as he was 'hauling ass'. With the demise of Boots, Maifield was able to pace himself saying that the biggest battle was not between the drivers but with the track, which at the end of four very long days of racing was beginning to get very rough. Running JConcepts Metrix tyre in red compound, Maifield said he was happy with how his equipment performed which worked really well in the tough conditions.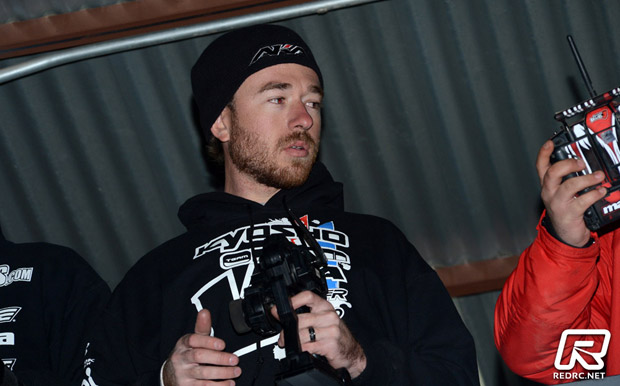 Tebo said after the race that he is never happy to finish second but following his terrible opening lap and engine wows he couldn't be too disappointed with his recovery. Forced to wait to be marshaled as the entire field went by his stranded MP9, the 2011 DNC winner said his engine kept running on into the corners and he had to keep pumping the brake to get it slowed down enough. Saying it probably looked to onlookers that he was 'driving like a maniac' he said his AKA shod buggy drove well, backed up by his fastest lap of the race, but the engine issue cost him any chance of the win.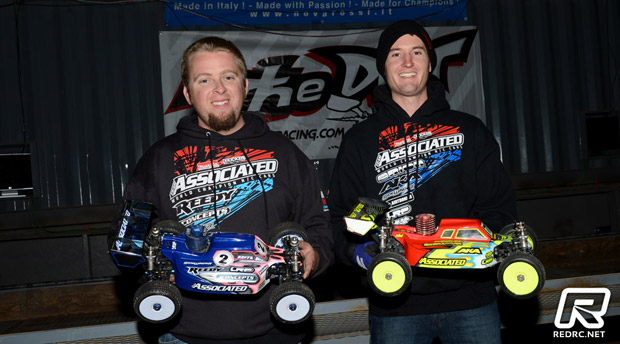 Making it two Associated's on the podium, Cavalieri said his stuff was really good and it was mistakes that cost him a shot of the win. Starting 7th on the grid he said having made his way up to second he felt great and was able to hold station with his team-mate. Around the 20-minute mark the current electric offroad World Champion made a series of mistakes which he said put him out of his rhythm and he lost contact with Maifield dropping back to third behind Tebo. Overall a rather dull race, Cavalieri and Tebo did liven things up a little in the closing laps. Getting passed Tebo on the penultimate lap, Cavalieri on the same lap got his landing off the huge step-up wrong, his Orion powered RC8 having to ride the pipping. Running off the track this meant he couldn't take the triple allowing Tebo to jump over him for second which he would hold to the finish.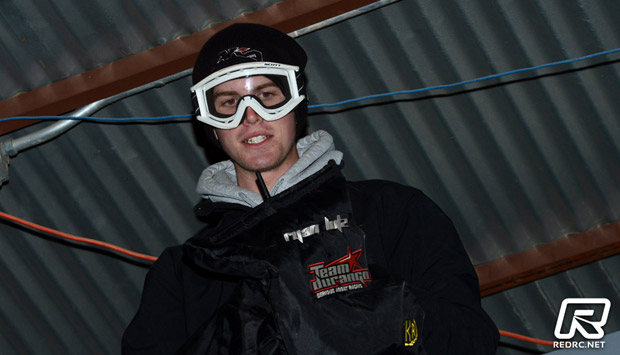 One of the drives of the final came from Team Durango's Carsten Wernimont. Having bumped up from the B-Main, the 16-year-old started 14th and through a steady solid drive came home an impressive fourth just ahead of Xray's Renaud Savoya and Tessmann. Wernimont said he couldn't be happier with how the race went. Failing to finish last year's final he said the goal was just to try and go the full distance and with his DNX408 working really well the result far exceeded his expectations.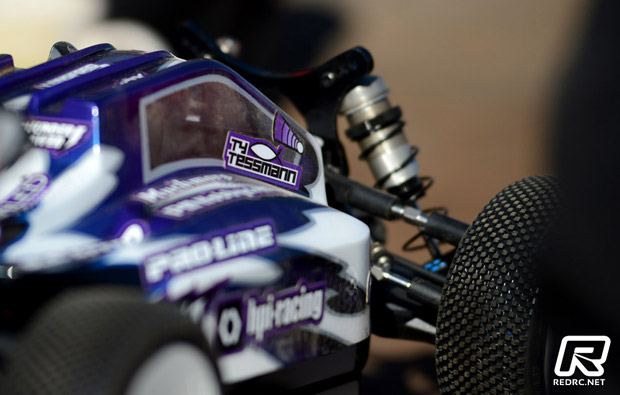 Having made a great start to the race from 12th on the grid holding third at the end of lap 1, Tessmann said he struggled with a lack of forward grip. This caused him to case the double on the next lap dropping the Canadian back to sixth. Describing the track as 'brutal' he said after the positive start it 'went down hill from there' leading him to get a little frustrated resulting in a number of driver errors. Dropping back as far as 12th, he got back up as far as 5th, eventually crossing the finish line in 6th almost 2 laps down on new Champion Maifield.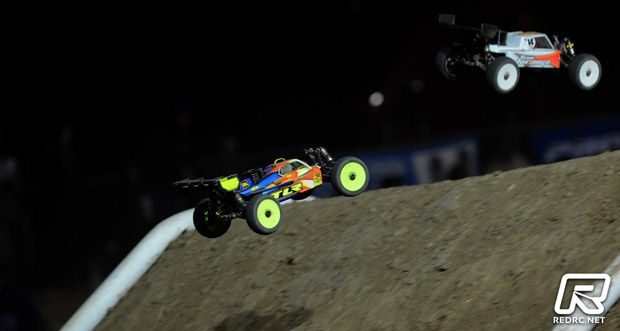 Mike Truhe, who won the B-Main to secure his spot in the final, would finish as the top TLR driver in 7th. Team-mate Adam Drake, who started 3rd, had a tough final which eventually came to an end with just 4 minutes to go as he broke the rear suspension on the landing off the step up. It was a weekend not to remember for TLR young star Dakotah Phend, not making the Truggy Main, the 16-year-old just scrapped into the Buggy final but on 25-minutes he broke a rear shock tower.
Another grueling Dirt Nitro Challenge completed, with snow, hail, high winds and cold nights, Red RC would like to thank Proline for providing with our office for the event and JConcepts for making sure we had an internet connection. We look forward to next year's endurance test which should see some extra celebrations as Joey puts on his 15th Dirt Nitro Challenge.
Buggy A-Main Result
1.(2) Ryan Maifield – Associated/LRP – 68/45:14.639
2.(1) Jared Tebo – Kyosho/Orion – 68/45:38.534
3.(7) Ryan Cavalieri – Associated/Orion – 67/45:01.539
4.(14)Carson Wernimont – Durango/OS Speed – 66/45:02.956
5.(5) Renaud Savoya – Xray/Orion – 66/45:04.572
6.(12)Ty Tessmann – HB/OS Speed – 66/45:15.390
7.(13)Mike Truhe – TLR/TOP – 65/45:23.993
8.(10)Drew Moller – Kyosho/Orion – 65/45:33.421
9.(11)Josh Wheeler – Xray/OS Speed – 65/45:36.608
10.(9)Billy Fischer – TLR/Novarossi – 64/45:27.786
11.(8)Cody King – Kyosho/Reds – 62/45:31.796
12.(3)Adam Drake – TLR/Novarossi – 59/41:07.819
13.(15)Dakotah Phend – TLR/Orion – 35/24:57.328
14.(4)Elliot Boots – Kyosho/Novarossi – 9/6:07.536
15.(6)Dylan Rodriguez – Kyosho/OS – 4/3:00.744
View our event image gallery here.
---