February 24, 2013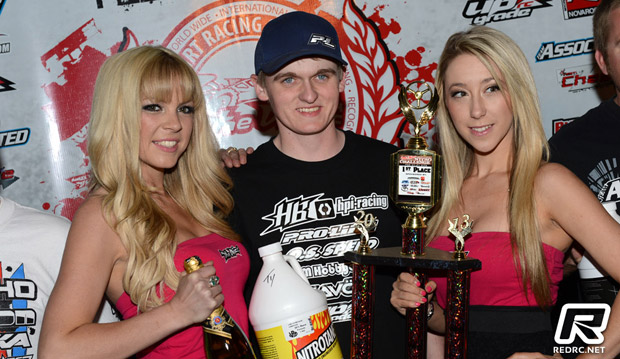 Defending Dirt Nitro Challenge Champion Ty Tessmann came back from a difficult qualifying at the 14th running of the world famous Arizona event to take victory in Truggy ahead of Kyosho's Jared Tebo and another driver experiencing a below par qualifying Ryan Maifield, a change of radio transmitters since qualifying bringing both drivers right back into contention. For Top Qualifier Adam Drake a wrong set-up meant he could only manage fourth at the end of the 45-minute encounter.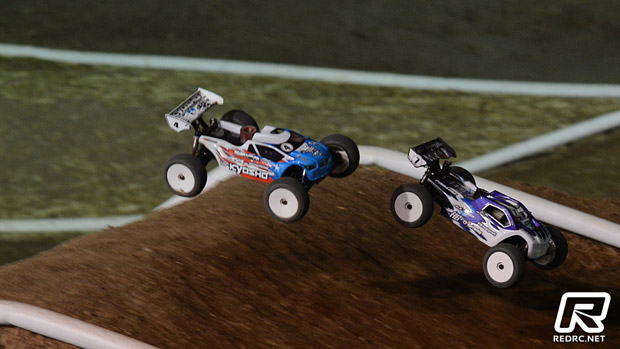 The opening laps of the race saw a great battle between Drake and Tebo the pairing swapping the lead before 2011 Champion Tebo was able to establish himself as the leader. The Kyosho driver held that position until lap 34 when Tessmann, who started 7th, put his OS Speed powered HB out front. Tebo would retake the lead two laps later and head the field for the next nine laps until he made his final fuel stop during which Tessmann, who stopped 2-laps earlier, took over a lead he would hold to the end to win by 10-seconds.
Having struggled in qualifying with a lack of feeling in his truggy, something that would later be traced to a faulty transmitter, Tessmann said his Proline M3 Blockade D8T worked perfectly in the final. Describing the start as a 'little hectic', the US National Champion said once he got up to fourth he just waited his time as he knew his truggy was good enough for the win. Faster in some sections than Tebo who was in turn quicker in other areas of the Joey 'The Dirt' Christensen created track, the Canadian said it eventually came down to a few more mistakes from his rival. A massive confidence boost for Tessmann's team, Ty said while he starts even further down the grid for tomorrow's Buggy main he thinks its now game on for a repeat of his 2012 DNC double.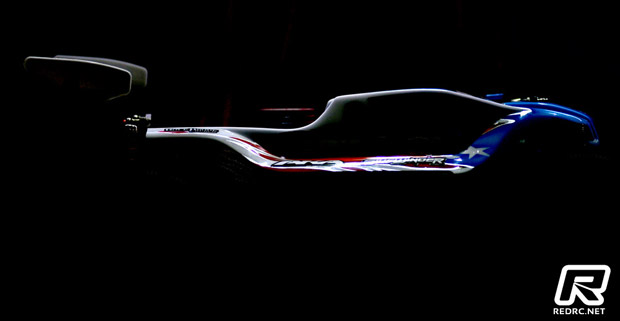 Tebo said his race started out 'awesome' with everything working perfectly but following his 3rd fuel stop of four made during the race his Orion engine went super rich on the top end. With a lack of power the 26-year-old said he had to drive on the throttle more to keep up the revs which meant his truggy was very loose leading to a number of mistake and any chance of the win.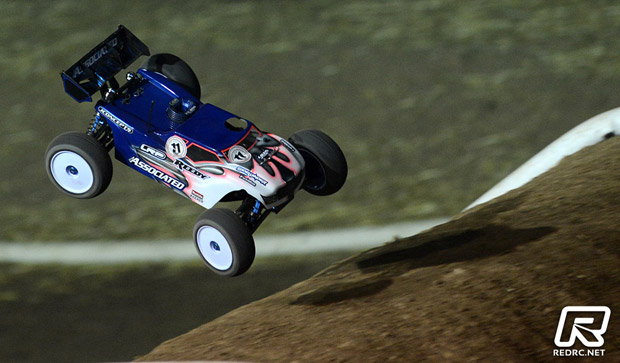 Starting from 11th on the grid, Maifield said finishing third felt like a win after how bad qualifying had gone. Discovering his problems were radio related after he changed transmitter in the second buggy qualifier and was immediately on the pace, this year's Truggy encounter was a reverse of the event 12-months ago when having TQ'd the Arizona ace finished last after retiring just 8-minutes into the race. Running green compound JConcepts Stackers on his LRP powered RC8T, Maifield said he knew he had a big task ahead of him for the race but everything worked really well, a fact that was endorsed by being able to record the fastest lap of the race. 'Pumped' by his performance he said starting tomorrow's buggy A-Main from 2nd it 'should be good'.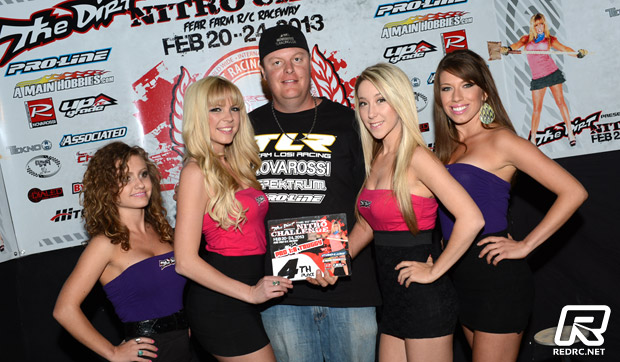 Having secured a popular overall TQ, Drake was understandably disappointed to only finish fourth. Showing great pace over the opening laps, last year's podium finisher said he ran too light an oil in his 8ight T which as everything warmed up left him struggling. Trying to make up for the drop off in performance the legend of 1:8 Offroad said he started to overdrive leading to a series of errors. With chances of a win gone he said he just settled into a steady pace to get him to the end. TLR team-mate Billy Fischer enjoyed a strong race. Having won the B-Main to secure 13th on the grid, the 1:8 eBuggy winner would finish 5th 4-seconds in front of team-mate Mike Truhe who just managed to hold off Cody King.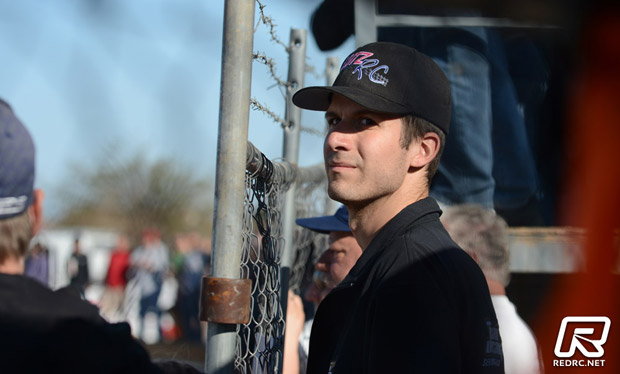 Overall it was not a good race for the front starting drivers. Starting second behind Drake, Ryan Lutz was a non-finisher. 15-laps into the race the Team Durango driver suffered a rear link arm failure. Loosing almost 10-minute as his pit crew fixed the DNX408T, Lutz rejoined the race but a rear axle failure would put a permanent end to his race with 8-minutes to go. 3rd on the grid and last year's runner-up, Ryan Cavalieri looked set to again make the podium but in the final 15-minutes of the race the Associated driver started to struggle with his set-up. Running too soft a rear end set-up on his Orion powered Associated he said it became hard to drive dropping him back from 3rd to 8th by the finish.
Truggy A-Main Result
1.(7) Ty Tessmann – HB/OS Speed – 73/45:16.583
2.(4) Jared Tebo – Kyosho/Orion – 73/45:26.714
3.(11)Ryan Maifield – Associated/LRP – 72/45:14.494
4.(1) Adam Drake – TLR/Novarossi – 72/45:21.156
5.(13)Billy Fischer – TLR/Novarossi – 72/45:31.183
6.(6) Mike Truhe – TLR/TOP – 72/45:35.309
7.(9) Cody King – Kyosho/Reds – 72/45:35.819
8.(3) Ryan Cavalieri – Associated/Orion – 71/45:22.229
9.(8) Austin Blair – Kyosho/RB – 70/45:25.459
10.(14)Chris Wheeler – TLR/Bullitt – 69/45:23.681
11.(15)Taylor Peterson – Xray/Alpha – 69/45:33.459
12.(2)Ryan Lutz – Durango/Alpha – 44/37:46.539
13.(10)Jeremy Kortz – Agama/Werks – 36/25:01.652
14.(12)Martin Bayer – Xray/LRP – 29/18:53.341
15.(5)Dylan Rodriguez – Kyosho/OS – 21/13:21.165
View our event image gallery here.
---