March 17, 2013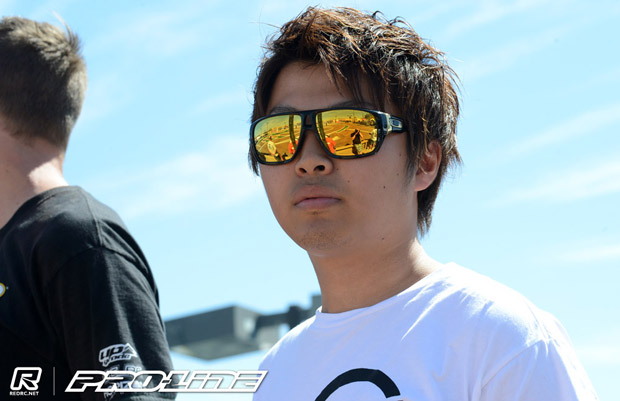 The star of last night's second round of buggy qualifying at the Proline Cactus Classic, Team Yokomo's Naoto Matsukura backed up that performance with another TQ run in 2WD Buggy today topping the penultimate round of heats by 3-seconds from Q1 pace setter Jared Tebo and Ryan Cavalieri. In 4WD Buggy Cavalieri headed an Associated 1-2 ahead of defending champion Ryan Maifield with TLR's Dakotah Phend completing the Top 3.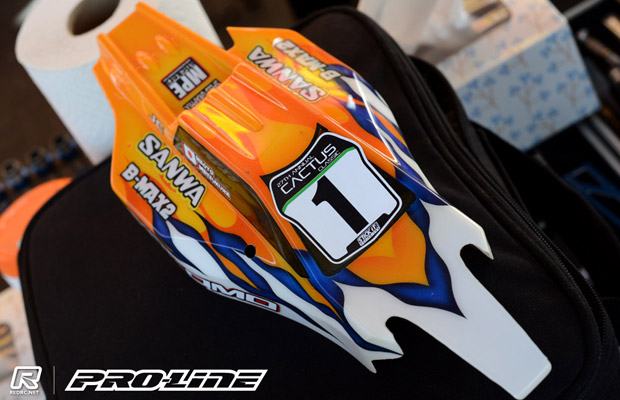 Running the fastest 2WD qualifier of the event so far, Matsukura said while traction for Q3 was a little higher compared to last night his unchanged B-Max 2 MR worked well and he was able to put in another strong run. Also fastest in 4WD last night, the 19-year-old was not able to back up that performance failing to post a Top 10 time. Rolling his B-Max 4 a number of times over the 5-minutes around the SRS Raceway track he said the buggy was difficult to drive and they are 'searching for a better set-up' for the final qualifier which will decide between him & Cavalieri who is the Top Qualifier for the 27th running of the world famous American event.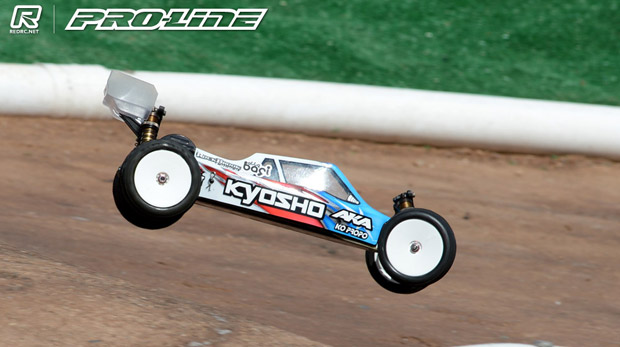 Setting the second fastest time in 2WD but failing to post a Top 10 time in 4WD for the round, former event winner Tebo was not happy with either of his buggies. The Kyosho ace said he went the wrong way with his set-ups. With the first qualifier of the day run under the hot Arizona sun and the second at night under flood lights, the multiple winner of the event said trying to change the set-up based on your last run is hard as conditions for the next run are different and for Q3 he tried something based on how the car was in Q2 and 'it didn't work'.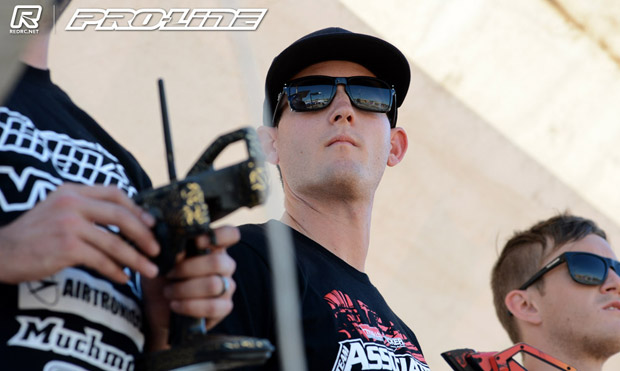 Commenting on his 4WD TQ run, Cavalieri said he just drove a 'smooth' round. Also the fastest qualifier we have seen yet for 4WD, the US National Champion had to pull off a couple of saves at the end of the straight where he said it feels like the track, which has so far stood up extremely well to the nearly 500 entries, is starting to get a little rough. Commenting on his run to the third fastest time in 2WD, he said it was a good run and probably the best he can expect considering the advantage the mid motor cars have over the B4.2.
Setting the fourth fastest time in 2WD, TLR's Dustin Evans was very happy with how his TLR22 ran but was frustrated at a mistake that he said cost him a chance of 2nd for the round. Admitting to not having the pace of Naoto, the 2011 US National Champion said with two solid runs to his credit he will try something very different with his set-up for the final qualifier to see if the can respond to the speed of the Yokomo. Going the wrong way with his set-up on his 2WD, Dakotah Phend was pleased with his run to third in 4WD saying for an 11-year-old buggy it was a great result. The teenager had a moment on his last lap when coming off the straight he collected the crashed Kyosho of Tebo which cost him some time as both buggies needed to be marshaled.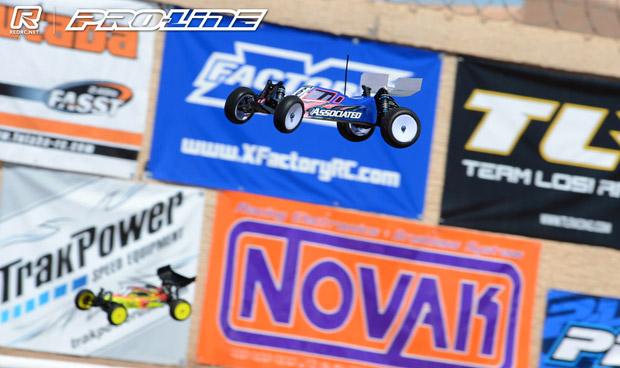 Sixth fastest in 2WD, Maifield said his B4.2 was good but having to push so hard to compete with the mid motor buggies he made 2 mistakes. With a new speedo in his 4WD, last year's double buggy winner said it took a few laps to get used to the settings, drivers get only a single warm-up lap before the start of their heats, and while set-up changes had improved his B44.2 he still needed to improve it further to find more overall speed. His best lap being 3/10ths off the fastest lap which was set by Joern Neumann who posted the 6th fastest run.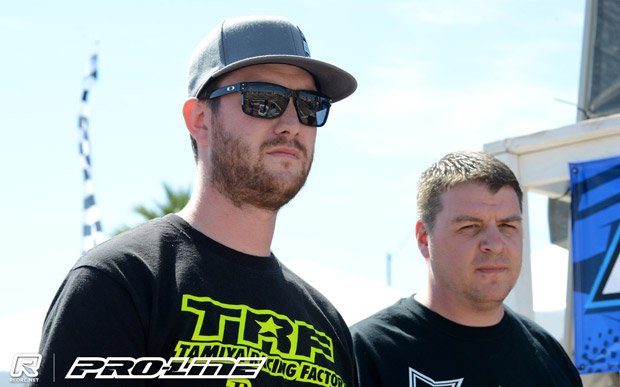 Fifth in both 2WD & 4WD, Tamiya Racing Factory's Lee Martin said his 2WD was 'OK' the change to thicker grease in the diff, which felt better, taking a while to get used to. Also going to a thicker grease in his 511 which didn't have the same effect as in 2WD, he said the run itself was 'shitty' with too many crashes the result was 'OK'.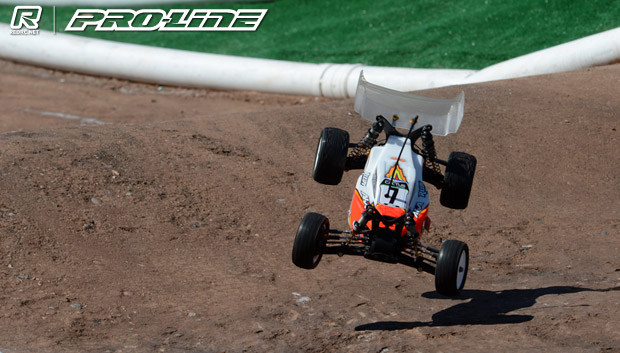 16-year-old Carson Wernimont put in a strong 4WD performance taking his DEX410 to the fourth fastest time of Q3 while in 2WD the best placed Durango was that of Travis Amezcua who recorded the 8th fastest time.
2WD Mod Buggy Qualifying Round 3
1. Naoto Matsukura – Yokomo/Yokomo – 14/5:02.172
2. Jared Tebo – Kyosho/Orion – 14/5:05.208
3. Ryan Cavalieri – Associated/Orion – 14/5:07.023
4. Dustin Evans – TLR/Orion – 14/5:07.289
5. Lee Martin – Tamiya/Speed Passion – 14/5:08.182
6. Ryan Maifield – Associated/Reedy – 14/5:10.353
7. Cody Turner – Kyosho/Orion – 14/5:11.240
8. Travis Amezcua – Durango/Viper – 14/5:12.317
9. Steven Hartson – Associated/LRP – 14/5:12.924
10.Ryan Lutz – Durango/Tekin – 14/5:13.593
4WD Mod Buggy Qualifying Round 3
1. Ryan Cavalieri – Associated/Orion – 15/5:13.492
2. Ryan Maifield – Associated/Reedy – 15/5:15.843
3. Dakotah Phend – TLR/Orion – 15/5:18.955
4. Carson Wernimont – Durango/Reedy – 15/5:20.148
5. Lee Martin – Tamiya/Speed Passion – 14/5:01.427
6. Joern Neumann – Durango/Speed Passion – 14/5:01.473
7. Travis Amezcua – Durango/Viper – 14/5:02.651
8. Hupo Honigl – Durango/DualSky – 14/5:03.337
9. Dustin Evans – TLR/Orion – 14/5:03.484
10.Mitchel Gardner – Associated/LRP – 14/5:03.629
View the event image gallery here.
---