October 7, 2014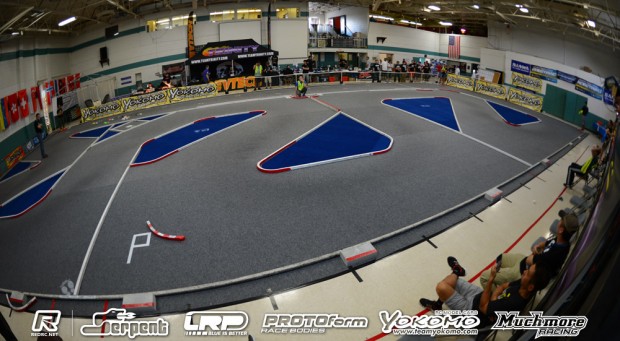 Track Name – Minnreg Hall
Organiser – George Martinez
Country – USA
Location – Largo, Florida
Direction – Clockwise
Surface – CRC Carpet
The 17th running of the IFMAR 1:12 World Championships takes place at Minnreg Hall in Largo, Florida, a site that is no stranger to World events having previously hosted the 1:10 Offroad World Championships in 2003 on a grass site at the rear of the building. Originally set to be hosted at the outdoor asphalt Full Throttle Raceway in Kissimmee, where 1:12 legend Masami Hirosaka won the last of his World titles in 2004 and which hosts the Touring Car Worlds later in the week, the hall is a 2-hour drive from Kissimmee. A temporary track, the hall which is used for a range of local events & exhibitions, it was picked due to it being Florida's only indoor carpet racing site with two r/c events held here each year – The Minnreg Turkey Shoot and a round of the FSEARA (Florida State Electric Auto Racing Association) Championship.
Designed by local racer Mike Bean, the track laout covers an area 96 feet wide by 44 feet deep and is constructed using the same boards that are used for the building of the famous Snowbirds track – that race's organiser Mike Boylan playing a big behind the scene part in putting on these 1:12 Worlds. With only 44 racers making the trip to Largo, race host & Full Throttle Raceway owner George Martinez said putting on a carpet race was only made possible thanks to the support of 1:12 protaganist Frank Calandra whose CRC company sponsored a fresh supply of its industry leading Ozite racing carpet.
In terms of driving the track, which visually doesn't look very challenge, defending World Champion Naoto Matsukura gave the layout a thumbs up. Liking the feeling of the track, the Yokomo ace who is chasing a fourth consecutive title said while the right side of the track is very fast & straight forward the left side is a 'little difficult' to get right every lap. European Champion Alexander Hagberg, who stamped his authority of Day 1 of practice, said while he was expecting a 'more technical' track he likes driving the 'typical US track'. Like Matsukura the Xray driver said the left side is the key to a good lap with a good line through the sweeper allowing you 'to pick up a lot of time'.
Image Gallery

---