January 19, 2017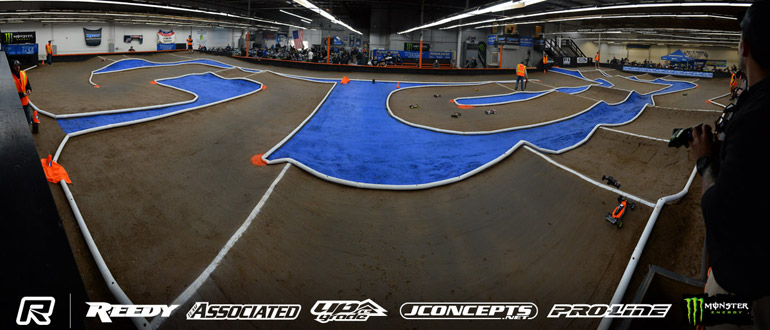 Track Name – OCRC Raceway
Country – USA
Location – Huntington Beach, California
Surface – Dirt
Direction – Anti-Clockwise
Previous Reedy Races hosted – 2016, 2015 & 2014
OCRC Raceway hosts its fourth Offroad Reedy Race of Champions, this number seeing the Huntington Beach location share the honour now as the venue to host the legendary race for the most consecutive number of years. Established in 1987 by RC industry pioneer, & mentor to many of the sport's greatest drivers, Mike Reedy, this is the 23rd running of the unique race format event.  Having risen to the occasion of hosting 30 of some of the world's best offroad drivers in 2014, the Robert & Nick Black owned track has established itself as the new home of the Reedy Race and again they have presented at track worthy of the event which is now the baby of Team Associated team-manager Brent Thielke.
Charged with creating the layout plans for the track and then working on turning it into reality in the dirt,  Nick Black said the inspiration for the 2017 layout came from 'a little too much freight-training' at last year's event. Having made the layout 'a little harder than last last year' he said 'we have upped the number of technical elements'. Featuring a shorter main straight, similar to that used in 2015,  he said, 'Straight away's are pointless and we just need them for a place to start the races'. On the race starts he said the first part of the lap intentionally has less features so as to 'get the racing going rather than have a feature cause chaos and destroy the chances of a good heads up race'. Gauging by the 'good' reaction he got from drivers after their first practice run on the 135ft long and 60ft wide layout he concluded 'so far I'm happy with how it turned out'.
Reigning RROC champion Dakotah Phend described the layout as 'a lot of fun'.  The TLR driver continued, 'there are a couple of spots that will make for good racing'. Describing the step down as a point where you naturally run wide he said this will present good opportunities for potential passes. The 19-year-old also thinks making the first half of the lap easier than previous years will be good for the racing, the champion set to be decided after 12 rounds of heads up racing.  One slight tweak to the scheduled this year is that 4WD will run first rather that 2WD which has traditionally been the class to kick off the event.
Image Gallery

---