November 7, 2018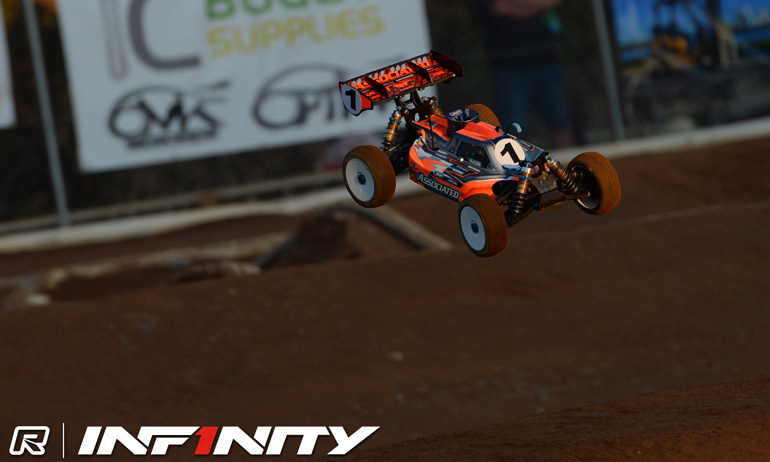 Davide Ongaro came good on his Top Seeding at the 1:8 Offroad World Championships to TQ the fourth round of qualifying in Perth.  The Italian led a Team Associated 1-2 in the evening run with Ryan Cavalieri enjoying a much improved performance as the American manufacturer's drivers on the whole showed strong.  Having failed to run inside the Top 10 in the opening three qualifiers, Spencer Rivkin would take his RC8 to the fourth fastest time.  For defending champion David Ronnefalk, who broke in the previous round, his day was not to get any better as he suffered a plug failure during Q4.  Another of the title contenders to hit problems was reigning 1:10 electric Offroad World Champion Ryan Maifield who suffered a flame out after he was released from his fuel stop during the 1o-minute heat. Naoto Matsukura would set the third fastest time for the round with his second Top 3 of the event.  Behind him and Rivkin, Jared Tebo would have his best result so far with P5 ahead of Ty Tessmann, who having topped his heat was later demoted to 6th.
'Better than this morning', was Ongaro's reaction to finally delivering on the pace he showed in practice.  With Heat No.1 running after a track watering, the 17-year-old said, 'in the beginning it was slower because of the wet track but at the end it was good. I had two big mistakes in the last round (Q3) but we changed from 42.5 to 45 oil in the shocks and this made the car better on the bumps. I was able to make a clean run and the wheel nut stayed on' – his Q2 ended early when he lost a wheel nut.  Again running AKA Double Down tyre, he said for tomorrow he plans to leave everything the same with his focus being to 'make no mistakes'.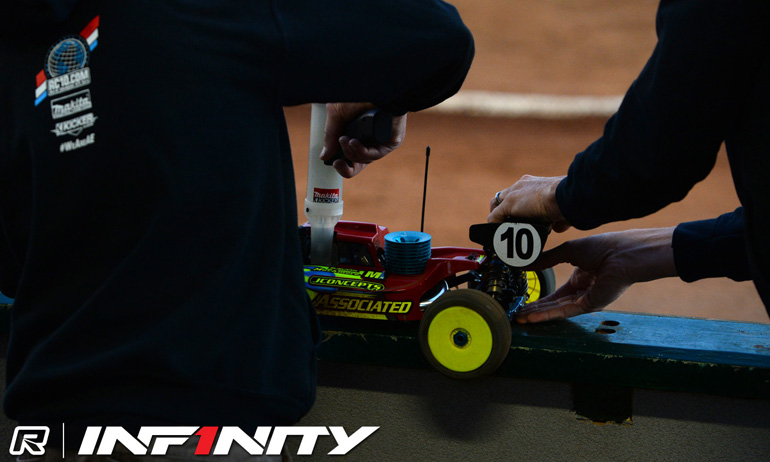 Reacting to his improved pace, Cavalieri said, 'That was pretty good to be honest.  The car was good today and we made good choices on tyres'.  Having claimed his first Top 10 run with 10th in the day's opening round, the American feels his lines still need working on saying, 'there are definitely a couple of spots I am leaving a few tenths out there'.  He concluded, 'its been a much better day for our whole group and we'll try build on that tomorrow'.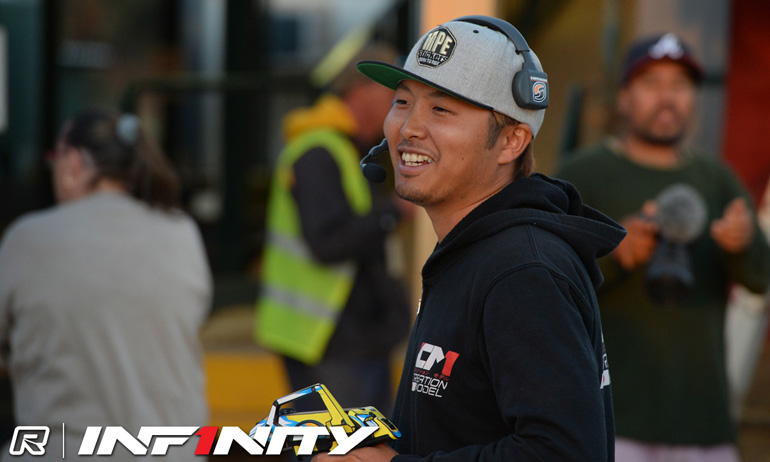 On his run, Matsukura said, 'I had two big mistakes but the car was good and also the tyre was good'.  He explained, 'in the first one I also had mistakes because the car was difficult to drive. The shock oil was a little soft and also the tyre but this time the car was good'.  Running JConcepts Stacker tyre he said he planned to run the R2 compound but given the watered track and colder conditions he will switch to the softer blue compound which he said matched the conditions perfectly.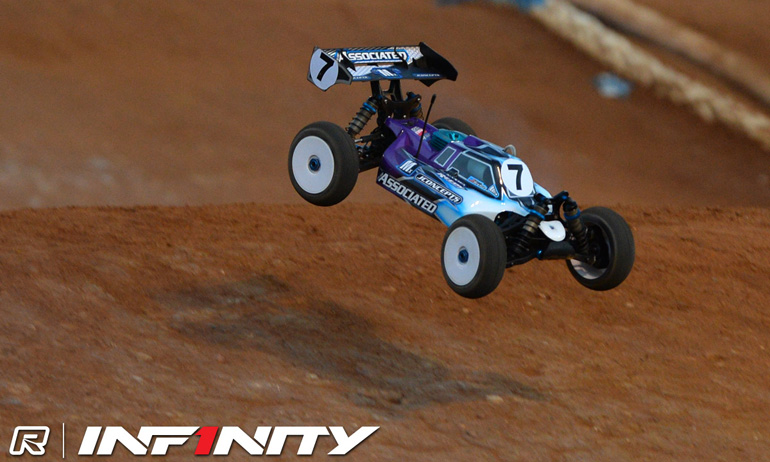 'It was a start in the right direction', declared Rivkin after his P4 run.  The former Electric Offroad World Champion continued, 'there is still a lot of driver improvement to do but the result gives us confidence for tomorrow. We are going to take small steps at a time'.  Explaining the jump in performance, he said, 'we ran a completely different set-up and went back to what I know'.  His mechanic Richard Saxton added, 'we still need to get the car working as well as it did there when we are on a dry track'.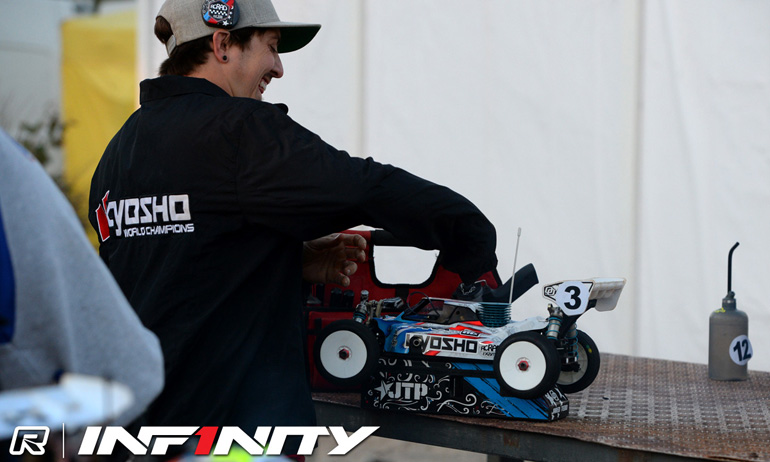 Having improved on his previous position every run, Tebo said, 'I haven't had a super good run where I am proud of the effort but that time I felt I drove pretty well'.  The Kyosho driver added, 'It was fairly tame but I fell apart at little at the end so I know I can drive it better'.  On his car, the former Worlds Top Qualifier said, 'I haven't changed anything because the car feels good'.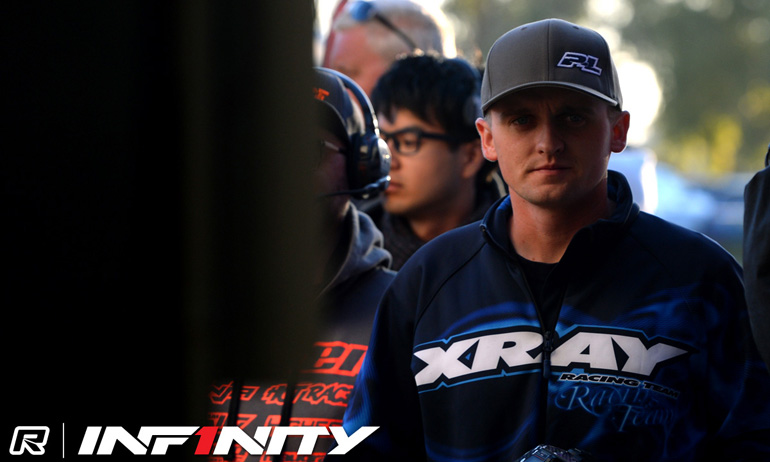 'Not good', was how Tessmann described his 4th qualifier.  Having TQ'd Round 2 and 3 of qualifying, the Xray driver said, 'I was expecting high grip but instead it was the lowest I have experienced so far.  We were set-up for high grip. It was hard to drive and was slow'.  The 2014 Champion concluded, 'we won't have to run on anything like this again.  The car is good in the day so we're not too worried'.
View the complete event results here.
View our event image gallery here.

---