November 8, 2010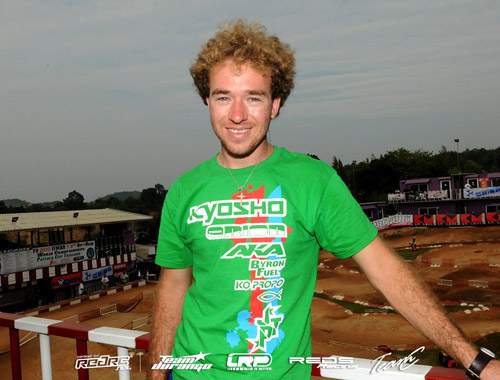 Kyosho's Jared Tebo is the unofficial pace setter at the end of the opening day of the IFMAR 1:8 Off Road World Championships.  The US Champion was fastest from defending World champion Atsushi Hara as he set the only 45 second lap of the day.  Tebo said he focused more on his driving for the second run and was more comfortable with his Orion powered MP9 having changed from super soft to soft AKA Impact tyres.  Describing conditions In P2 as being at an 'inbetween' stage he feels conditions should be better tomorrow and based on this will make some small set-up adjustments for his first run in the morning.  Overall it was a strong opening day for the Kyosho team as France's Jerome Aigoin set the third fastest lap time with a 46.343.  Running AKA City Block on the front and Ibeam on the rear of his Novarossi powered MP9, a switch to the harder 'soft' compound in P2 along with a camber change had transformed the car making it much easier to drive.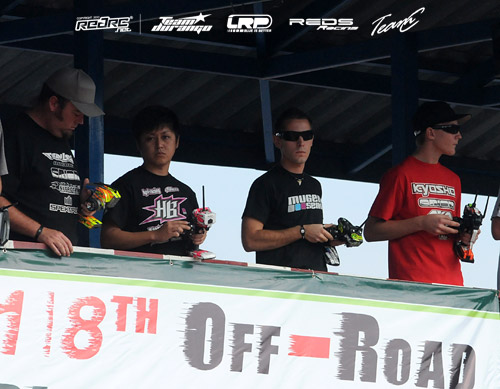 Hara managed a 46.028 despite suffering a flame out but rather than restart the car his pitman had a second car already up and running and ready to go before the first car was returned to the pitlane.  Hara said he had switched engine from this morning and the new unit was too rich which resulted in the flame out.  The Japanese ace said the two D8s had different set-ups but on the track they had a very similar feeling to drive.  Having run Pink Megbytes, the super soft compound, Hot Bodies tyres he plans to test the harder red 'soft' compound tomorrow.
Fourth fastest was 2008 finalist Travis Amezcua. The American team Mugen driver said the biggest change he made from P1 was a switch from Prolines Bulldog to the Shift bodyshell which made the car easier and more consistent to drive allowing him to post a best time of 46.609 and end the day as the fastest Mugen driver.  Happy with his Ninja powered MBX-6 which was running on Proline's M3 Sniper all day he is considering trying the new Revolver pattern tomorrow.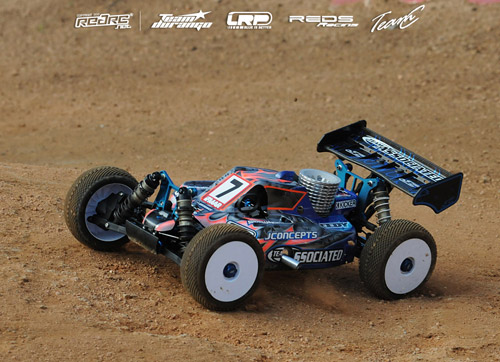 In the Team Associated camp Ryan Maifield was their top dog setting the fifth fastest time with a 46.765.  Running JConcepts tyres on his Reedy powered RC8B, Maifield tried three different patterns in the second run with blue compound Crossbows proving to be the best option.  Running a set-up from back home he said they are working their way back towards the set-up they left with after pre-event testing here in Pattaya due to the fact there is not as much grip as they had expected from the oiling of the track in preparation for the main event.  Tomorrow he plans to start the day on a set yellow compound Sub Cultures.  Associated's other Ryan, Ryan Cavalieri, found himself over a second off the pace of his team-mate.  Having switched from a 5 to a 3-port Orion engine for P2 he suffered from a sticking carb but he feels even without this issue his set-up was too soft for the fast conditions.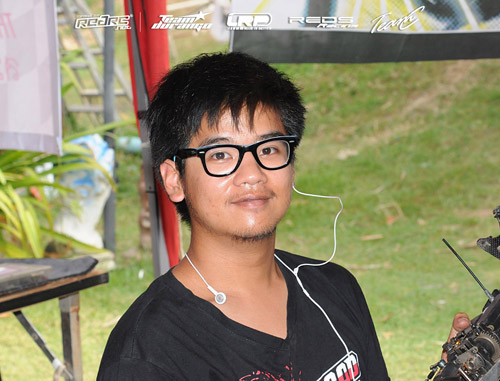 The winner of the Pre-Worlds, local driver Meen Vejrak set the sixth fastest time ahead of Cody King.  Running a 46.824, the Mugen driver switched to lighter oil in the diffs of his Alpha engined MBX-6 which the 25-year-old said made a huge difference.  Running a short wheel base he thinks further time can be found by lengthening it for tomorrow.  Having used Proline's Sniper in today's two practices he plans to try Revolver and Eclipse on Day 2.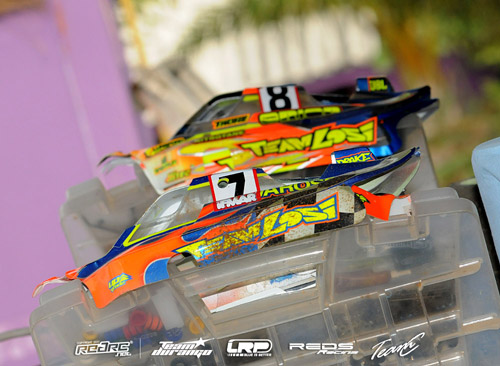 Completing the Top 10 is 2008 podium finisher Renaud Savoya with a 47.072, new Tamiya signing Lee Martin on 47.159 and the fastest of the Team Losi drivers Yannick Aigoin who managed a best lap of 47.201.  Losi's Mike Truhe and Adam Drake found themselves outside the Top 10 but both were happier with their second run.  The Top Qualifier at the last World Championships, Truhe said track conditions were much better but he was still fine tuning his 8ight but overall wasn't too concerned about his early pace.  Drake said he changed his set-up for P2 and plans to continue in the same direction tomorrow planning further changes for the second of tomorrow's two scheduled runs.  Although not super fast, the changes to his Novarossi powered 8ight made for an easier to drive car and he his happy to start Day 2 from this footing.
Tomorrow's schedule is made up of a further two untimed practice session that will give each driver a 5-minute Warm-up followed by a 10-minute run.
Unofficial Top 10 – Lap times
1. Jared Tebo – Kyosho/Orion/AKA – 45.998
2. Atsushi Hara – Hot Bodies/OS/Hot Bodies – 46.028
3. Jerome Aigoin – Kyosho/Novarossi/AKA – 46.343
4. Travis Amezcua – Mugen/Ninja/Proline – 46.609
5. Ryan Maifield – Associated/Reedy/JConcepts – 46.765
6. Meen Vejrak – Mugen/Alpha/Proline – 46.824
7. Cody King – Kyosho/Orion/AKA – 46.920
8. Renaud Savoya – Mugen/RB/Proline – 47.072
9. Lee Martin – Tamiya/Novarossi/JConcepts – 47.159
10.Yannick Aigoin – Losi/Novarossi/ProCircuit – 47.201
View the event photo gallery here.
---