November 21, 2009
Yannick Aigoin is the 2009 Arena Offroad Meeting Top Qualifier for both Buggy and Truggy after setting the pace in the final qualifier for both categories here this morning in Italy. After struggling in the penultimate buggy qualifier yesterday evening, the Team Losi/Novarossi driver reverted to the set-up which took him to the top of the timesheets in Q2. The result was a 7L/5:10.201 which put him over 4 seconds clear of fellow 8ight driver Riccardo Rabitti, the Italian riding high from his Brushless victory last night. Shortly afterwards the French ace ran the fastest 5-minute run of the weekend for Truggy with a 7L/5:11.189 to secure overall TQ double.
Running the same set-up as yesterday, which includes running Proline Crimefighters on the front and Bowtie on the rear of his Sirio powered Losi, Rabitti lived up to his promised improvement. Producing an error free run he posted the fastest lap for the round enroute to second  with a 7L/5:14.004. Like Aigoin, the Italian Champion would like to find a little more steering on his 8ight but plans no major set-up changes for his next outing, tonight's 'Race of Champions'.
Third fastest in the final qualifier was Q3 pace setter Davide Tortorici. The Italian produced his best time taking his Crono/OS/AKA combination to a 7L/5:20.153 knocking over a second of his TQ run. The former two time European Champion's strong performance has denied Team Losi a clean 1-2-3 in the final overall qualification ranking as he claims third between Martin Bayer and Rabitti. Bayer had a poor final qualifier after changes to the centre diff and front shocks made his car difficult to drive and he ended the round with only the sixth fastest time. The Czech star, who will have to come from the back of the grid in the Race of Champions, will revert back to his previous set-up.
Top Kyosho at the end of qualifying is Martin Karner who produced his fastest qualifier in Q4 enroute to fourth for the round which ranks the Austrian's Team Orion powered MP9 fifth overall. Finishing just behind him for the round and also in the overall ranking was Hong Nor's Richi Gomez, the Spaniard also saving the best for last to produce his quickest 5-minute run. Elliot Boots had a disappointing last qualifier struggling with a lack of grip but strong showings yesterday meant the European Junior Championship is best placed of the Mugen team with 7th overall.
With Aigoin and Bayer also claiming a Losi 1-2 in the overall Truggy qualification it is Simon Willets who heads the chasing pack. The British driver took his best result in the final qualifier taking his Team Orion power Kyosho to second to jump ahead of Mugen's Alessandro Magi in the final ranking. Also producing his best Truggy result with third for the round Fabio Boero takes 5th overall with French driver Sebastien Mutel completing the Top 6. It is a busy afternoon here at the Arena of Cowboys for the Truggy drivers as they have their Finals today following by their own Race of Champions.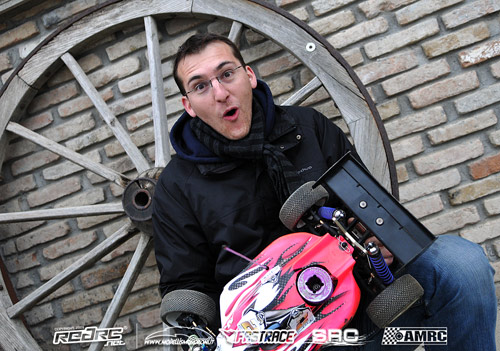 There is much excitement among the leading drivers ahead of tonight novel race which will see the Top 16 from qualifying line up in reverse order before the last placed driver gets eliminated every two minutes. For the buggy event this means another Frenchman will start on pole with Sebastian Mutel at the controls of Kyosho taking all the pressure. In Truggy, Italian Mugen driver Federicio De Marco will have the honour of heading the field off in front of the large crowd expected at the Rodeo ring, which provides the perfect stage for such an event.
In the F2 Buggy category local driver Marco Baruffolo driving an RB powered GS claimed TQ honours ahead of the Mugen of Englishman Anthony Conroy with leading British Championship runner John Howell, who is racing a Reedy engined Hobao, completing the Top 3.
Buggy Top 16 final qualifying positions
1. Yannick Aigoin (FR) – Losi/Novarossi – 400 pts
2. Martin Bayer (CZ) – Losi/Novarossi – 398
3. Davide Tortorici (IT) – Crono/OS – 397
4. Riccardo Rabitti (IT) – Losi/Sirio – 395
5. Martin Karner (A) – Kyosho/Team Orion – 394
6. Richi Gomez (ES) – Hong Nor/Reds – 391
7. Elliot Boots (UK) – Mugen/RB – 389
8. Borja Hernandez (ES) – GS Racing/RB – 388
9. Matteo Dapporto (IT) – Mugen/Reds – 387
10.Alessandro Magi (IT) – Mugen/SM – 385
11.Fabio Boero (IT) – Mugen/SM – 382
12.Alex Bayer (CZ) – Losi/Novarossi – 380
13.Simon Willetts (UK) – Kyosho/Team Orion – 379
14.Fabrizio Teghesi (IT) – Kyosho/Novarossi – 379
15.Riccardo Perin (IT) – Xray/Novarossi – 376
16.Sebastian Mutel (FR) – Kyosho/Novarossi – 374
Truggy Top 16 final qualifying positions
1. Yannick Aigoin (FR) – Losi/Novarossi – 400 pts
2. Martin Bayer (CZ) – Losi/Novarossi – 398
3. Simon Willets (UK) – Kyosho/Team Orion – 395
4. Alessandro Magi (IT) – Mugen/SM – 395
5. Fabio Boero (IT) – Mugen/SM – 393
6. Sebastien Mutel (FR) – Kyosho/Novarossi – 390
7. Frank Lemke (D) – Kyosho/Team Orion – 388
8. Gerd Pfeifer (A) – Associated/Reedy – 385
9. Francesco Liggieri (IT) – Xray/OS – 384
10.Michel Pedri (IT) – Losi/OS – 384
11.Rudi Traxler (A) – Associated/Novarossi – 384
12.Remi Riel (FR) – Mugen/GRP – 383
13.Marco Di Sacco (IT) – Mugen/Picco – 381
14.Richy Ferraro (IT) – Mugen/Axe – 379
15.Salvatore Caserta (IT) – Mugen/OS – 378
16.Federico De Marco (IT) – Mugen/Sirio – 378
View our event image gallery here.
---