July 9, 2009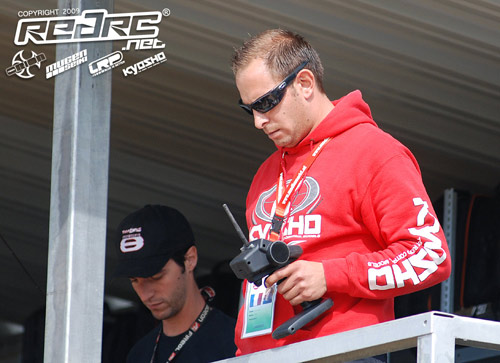 It is the Aigoin brothers, Jerome and Yannick who are setting the pace with the Kyosho of Jerome taking the first round of qualifying by 5 seconds from Yannick's Losi. Jerome really found good pace this morning becoming the first driver to break into 44 second laps to set a new track record. Finding the track to have less grip than yesterday he said this suits his Sirio powered MP9 which was very easy to drive.  Running AKA Grid Iron tyres Jerome plans no changes for his second outing.
Although outpaced by his twin brother, Yannick described his Losi as 'perfect now' and he plans no changes instead opting to return to his hotel for the long break until his second qualifier.  A change of the running order for the next round means he has a couple of hours to kill.
Martin Bayer was surprised with his morning pace describing the run as 'very good for me'. The Czech driver said his Revolver M3 shod Losi was very easy to drive but plans to change the front caster as he would like a little more steering.
Topping the Associated challenge with three cars in the Top 10 was Neil Cragg. Neil appeared to be struggling yesterday but a switch from M2 Revolvers to M3s seems to have transformed the car.  The current 1:10 off road European Champion feels better is to come and other than a slight change of oil in the centre diff will now wait for the track to come to him.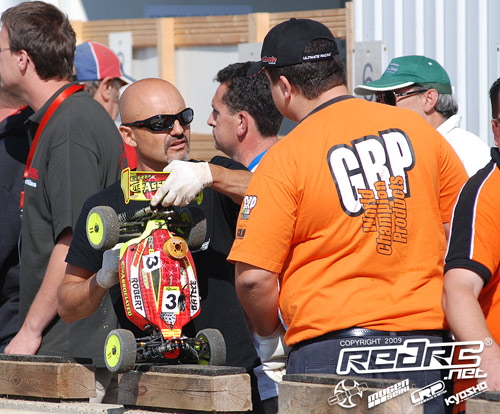 Associated team mate Robert Batlle was fifth fastest but could have been second but for a roll on the last lap of his five minute run which cost him four seconds. The 2006 Champion said his RC8 B is working 'so much better' today thanks to lighter oil in the centre and rear diffs. Running GRP Cubic A tyres, the Spaniard's car is still nervous on the rear and plans a change of shock position to cure that. Throughout the run Batlle's every move was being watched by US star Richard Saxton who was very pleased with how his team driver was running despite the last lap roll. Fellow Spaniard Richi Gomez posted the sixth fastest time with his Hong Nor X2.
Defending Champion Renaud Savoya posted the seventh fastest time with 7 laps in 5:25.249 but the Mugen driver feels he could have run a 5:20 if he hadn't made a mistake on his opening and final laps. Savoya is please with his RB powered MBX6 but says he needs to work more on tyre choice. Having used Caliper M3 he is swinging towards Holeshots for the next round.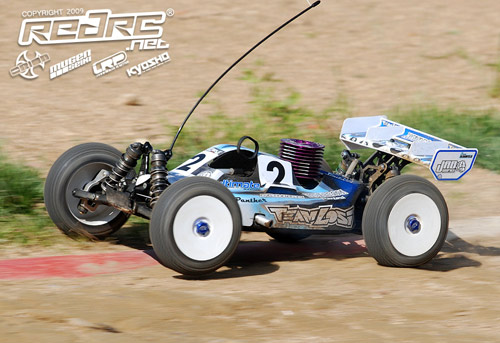 Darren Bloomfield, who is running in the same heat as his Losi/Novarossi teammate Yannick Aigoin, was happy enough with his run and in particular with the improved track conditions.  The Brit is being engineered this weekend by r/c legend David Spashett who plans a number of changes to the 8ight including diff oils and more rear toe.  Bloomfield's choice of tyre was the Revolver M3 but thinks a different compound will be required for his second heat which is a few hours away. Craig Drescher and the Team Orion powered Losi 8ight of German ace Jorn Neumann complete the Top 10.
Top 10 after round 1
1. Jerome Aigoin (FR) – 7 Laps in 5:16.548
2. Yannick Aigoin (FR) – 7 Laps in 5:21.080
3. Martin Bayer (CZ) – 7 Laps in 5:22.897
4. Neil Cragg (GB) – 7 Laps in 5:23.418
5. Robert Batlle (ES) – 7 Laps in 5:24.045
6. Richi Gomez (ES) – 7 Laps in 5: 24.722
7. Renaud Savoya (FR) – 7 Laps in 5:25.249
8. Darren Bloomfield (GB) – 7 Laps in 5:25.573
9. Craig Drescher (GB) – 7 Laps in 5:25.839
10.Joern Neumann (DE) – 7 Laps in 5:25.051
View our event image gallery here.
---