August 12, 2008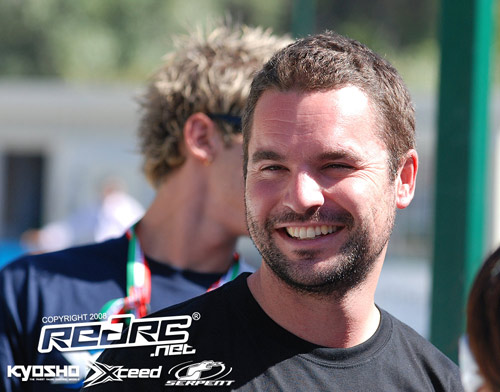 Day 1 of qualifying is over and it is American ace Chris Tosolini who holds the current TQ honours for the 2008 IFMAR 200mm World Championships here is Lisbon. The Sirio team driver was one of only three drivers to record 32 laps today with a run of 10:18.325 which was half a second clear of the ever impressive Peter Jovanovic with former World Champion Adrien Bertin third a further 7/10th behind.
Tosolini said his engine was too lean for the run and after the pit stop it started to run hot causing it to loose power. The American also felt he lost a lot of time with Adrien Bertin who held him up during the run. Although quickest Tosolini feels much faster times are yet to come and is predicting around 6 seconds will be knocked off his current TQ time.
'Shit at the Start' was how Jovanovic described his run to second spot on the time sheets. The young Aussie thinks nerves are getting the better of him in the opening part of the run and says once he makes his pit stop he gets it together. The Xray driver said the track was a little more consistent than the morning run but didn't feel much quicker.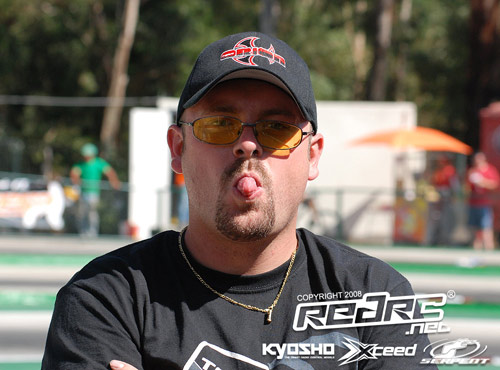 Adrien Bertin described his run to third as 'Quite OK' but said the track conditions were still poor. Running Team Orion engines the French ace said he ran a little too rich and that he is still missing a little with his Kyosho chassis.
Martin Lissau had a potential TQ run on the cards but ran out of fuel due to a experimental fuel stop strategy. Running GRP engines in his Xray NT1 the Dane opted to pit a lap earlier than his rivals feeling an engine cut before the stop would cost him a lap in the final result as the car would need to be restarted. Unfortunately the early stop meant he didn't have the range to complete the latter 5 minutes but he justified the decision by saying 'a 31 laps in 9:58 is better than 30 in 10 something'.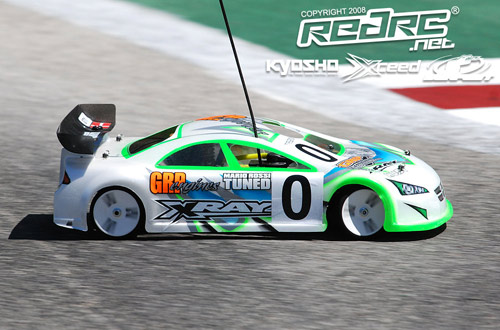 Dario Balestri had his first full 10-minute run which was good enough for fifth. The Italian was really happy with his Team Magic and Novarossi engine but said he made a wrong call on tyre shore which he said cost him a 32 lap run.
Having TQ'd the first round Jilles Groskamp was unable to improve his morning time as he was forced to pit on the very first lap with a very lean engine ending his chances of improving.
Another Dane enjoying a good run was Martin Christensen who posted the seventh fastest time just ahead of Daniele Ielasi. The Italian, who was excluded from the first round of qualifying for a fuel tank irregularity, said all is OK now and other than a mistake during the run which cost him around 4 seconds it was fine. Completing the Top 10 was quick Spanish Mugen driver Josue Artiles and Italy's Niki Duina.
Ralph Burch, who again set the fastest lap time for the round with an 18.784, hit trouble in the warm-up when the power switch on his car broke. Frantic repairs got him out for the heat but again the American was to run out of fuel. Setting the second fastest lap time for the round was his RC America team-mate Paul Lemieux who was on for a good time but six and half minutes in he stripped second gear on his Max powered Xray.
For defending champion Keisuke Fukuda fuel run time is hampering his progress. The Mugen/Ninja driver said he is really happy with the handling of his MTX-4R and the performance from his JX12 T01 Ninja engine but he just needs to find that very fine line to get the setting right for making 5 minutes. Top Japanese driver at the moment is Kyosho/OS driver Takaaki Shimo who doesn't like the track here but still sits in 13th.
Fastest Serpent to date is former World Championship Finalist Mark Green who sits just outside the Top 10 in 11th position. Marc Rheinard continues to endure a difficult nitro touring car debut managing only 16 laps in his first run today and 4 in the second after suffering a radio glitch.
Top 10 after 10 rounds
1. Chris Tosolini (USA) – 32 Laps in 10:18.325 [Kyosho/Sirio]
2. Peter Jovanovic (AUS) – 32 Laps in 10:18.893 [Xray/NR]
3. Adrien Bertin (LUX) – 32 Laps in 10:19.465 [Kyosho/Orion]
4. Martin Lissau (DNK) – 31 Laps in 09:58.772 [Xray/GRP]
5. Balesti Dario (IT) – 31 Laps in 10:01.994 [Team Magic/NR]
6. Jilles Groskamp (NL) – 31 Laps in 10:02.708 [Kyosho/Sirio]
7. Martin Christensen (DNK) – 31 Laps in 10:03.001 [Xray/Sirio]
8. Daniele Ielasi (IT) – 31 Laps in 10:04.547 [Kyosho/IDM]
9. Josue Artiles Santana (ES) – 31 Laps in 10:05.678 [Mugen/Ninja]
10.Duina Niki (IT) – 31 Laps in 10:06.599 [Xray/Max]

Download the complete overall standings here.
Tomorrow's timetable will see the faster group of heat run Rounds 3 and 4 of qualifying in the morning with Groups 1-7 getting the evening slot.
View our image gallery here.
---