July 25, 2008
With the first round of qualifying completed it is Michael Salven who is the man to beat here in Spain, the German securing the overnight TQ with a run of 17 laps in 05:02.580 almost two seconds clear of team-mate Massimo Fantini who sits second on the time sheets.
Salven switched back to the setting he ran in this morning's first practice and said his Mega powered 960 '08 was perfect. 'I went back to the set-up from this morning and it worked better than it did then because the track was hotter. It was perfect.' The former Champion also ran 18% fuel (a mix of 16 and 20% Merlin) and believes the blend gave him the perfect run time/power balance.
Second fastest Fantini believes he could have been quicker but with his engine running very lean the Italian had to be very careful.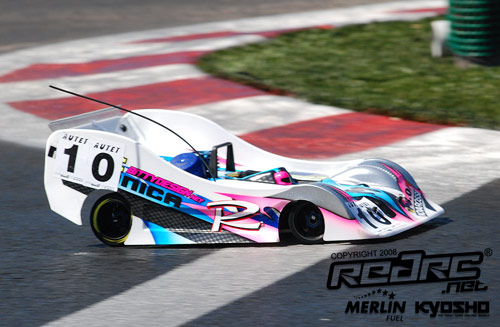 Driving his Novarossi powered Motonica, Dario Balestri claimed third in the first qualifier but the Italian says he can go faster. 'For the first run it is important to arrive at the finish so I drive very safely. I had some problems with traffic but I didn't want to take any risk at this moment. For sure we can go faster as the car is really good and run time is no problem.'
Alberto Picco was next on the time sheets but was on for second when he got caught up in a last lap last corner incident that was triggered off when Mark Green and Robert Pietsch touched. 'I had to drive conservative and adapt my driving to make the fuel but I think I found a good compromise. The incident at the end cost me 2 seconds so I think I would have been second.'
Fifth fastest was Mark Green who says his car is underpowered compared to his rivals but otherwise he was very happy with this Serpent. With a faster Mega at his disposal, the British Champion should be in the hunt tomorrow morning
when the track is expected to be at its best as it will be coolest of the four rounds of qualifying.
Rounding out the Top 6 was Andrea Cristiani whose Max engine was a little rich meaning he had to lift off the throttle through the fast corners. Setting the fastest lap time of qualifying with a time of 17.532, another Italian Andrea Pirani claimed seventh with top local driver Josue Artiles eight despite a costly crash during his run.
The top heat saw a number of incidents. Spanish Champion Oscar Cabezas was on for a very fast run but caught a slower Daniele Ielasi. Trying for two laps to pass the Italian with Balestri in tow Cabezas had to make an aggressive move in which the pair touched with the Serpent driver coming off worst as his car rolled and cut out. Ielasi was given a stop go penalty for the incident and while Cabezas was angry he says he must focus on Heat 2 in the morning which is when he and most of the other drivers feel the TQ will be set.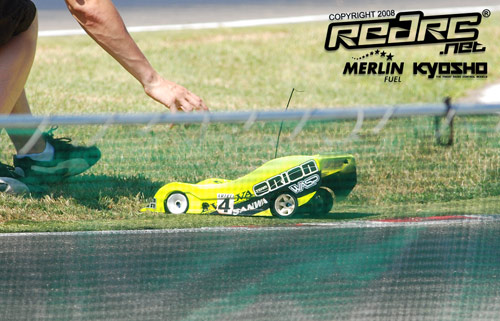 Elsewhere Lamberto Collari and Adrien Bertin both ran out of fuel in their runs. Collari reported brake problems on his car but was unsure of the cause. A relieved looking Adrien Bertin was in much better spirits despite not completing the run but the radio change has transformed his Evolva M3 and as he put it himself 'Now I can start to race.'
So Salven sits in the No.1 position as Day 5 of the Euros closes here in Valencia but three more qualifiers await the 127 drivers with the tension set to be extremely high for the first outing tomorrow morning.
Top 10 after Round 1 of 4
1. Michael Salven (DE) – 17 Laps in 05:02.580
2. Massimo Fantini (IT) – 17 Laps in 05:04.466
3. Dario Balestri (IT) – 17 Laps in 05:04.561
4. Alberto Picco (IT) – 17 Laps in 05:04.693
5. Mark Green (GB) – 17 Laps in 05:05.097
6. Andrea Cristiani (IT) – 17 Laps in 05:05.152
7. Andrea Pirani (ITA) – 17 Laps in 05:05.251
8. Josué Artiles Santana (ES) – 17 Laps in 05:06.058
9. Robin D´hondt (BE) – 17 Laps in 05:06.191
10.Philip Sting (DE) – 17 Laps in 05:06.258
Full results can be found on the official timing site here.
View our image gallery here.
---