January 13, 2008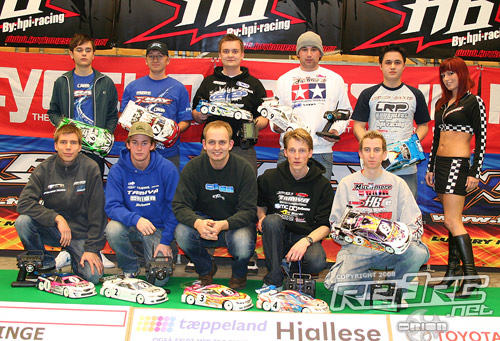 Teemu Leino has taken the first leg of the modified A-main final following a close race with Tamiya racer Viktor Wilck. The Team Orion sponsored Xray racer jumped straight into the lead from his pole position and controlled the race, also managing to set the fastest lap of the race, a 15.74 second lap. A race long battle Leino was given some breathing space when Wilck rolled going onto the straight with 30 seconds to go allowing him to finish just over a second in front at the end. Early in the race Groskamp was hit by an extremely fast starting Juho Levanen, this caused his body to tuck under and dropped him to last where he stayed for the rest of the leg. The biggest mover was Ronald Volker, the defending Champion managed to make his way up to 3rd spot at the end, finishing just ahead of 4th place Levanen.
A Final Modified – Leg 1 Result
1. (1) Teemu Leino – 19L 309.05
2. (2) Vicktor Wilck – 19L 310.15
3. (10)Ronald Volker – 19L 314.35
4. (8) Juho Levanen – 19L 315.78
5. (6) Alexander Hagberg – 18L 300.17
6. (9) Marc Rheinard – 18L 300.63
7. (3) Steen Graversen – 18L 301.82
8. (5) Andy Moore – 18L 302.46
9. (7) Martin Hudy – 18L 304.19
10.(4) Jilles Groskamp – 18L 306.24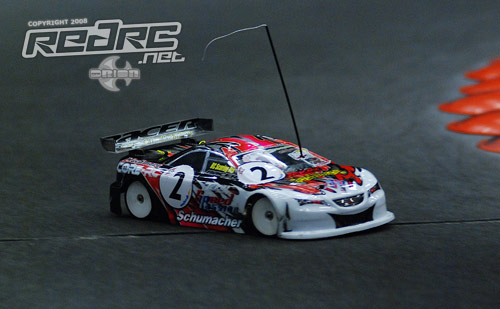 In what was a very close race in the stock class it was Jimmy Maddison that has won through from 2nd on the grid to take the win the first leg of the A-main. After a quick start by Jimmy, the pole man Christoph Thiele started to close and then hound the Schumacher racer, eventually getting passed after Jimmy hit the dots going onto the straight. The very next lap Thiele did the same thing and Jimmy got back into the lead which Maddison barely held onto for the rest of the race. On the last lap going onto the straight the pair came together and while Jimmy waited for Thiele Fadkte took advantage of the situation and slipped into 2nd, a half a second behind the winner and 3 tenths ahead of Thiele in 3rd.
A Final Stock – Leg 1 Result
1. (2) Jimmy Maddison – 17L 315.30
2. (5) Dennis Fadtke – 17L 315.93
3. (1) Christoph Thiele – 17L 316.20
4. (3) Bastian Hennig – 17L 317.28
5. (8) Meik Niemann – 16L 300.77
6. (10)Marc Assman – 16L 301.48
7. (6) Tommy Bergfeldt – 16L 303.66
8. (7) Marcus Horn – 16L 305.09
9. (4) Florian Ring – 16L 305.44
10.(9) Luke Hobson – 16L 317.95
---