August 3, 2008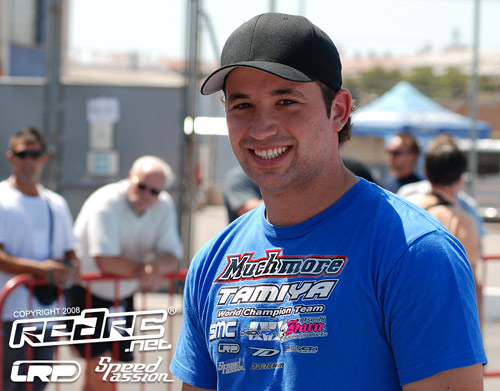 Marc Rheinard has taken victory in the opening Leg of the A Mains here in Vila Real in what was an incident filled race which saw the Top Qualifier & defending Champion Ronald Volker completing just 4 laps.
From the start it was Volker who led from the hard chasing pack with Rheinard right on the rear bumper of the leading Hot Bodies Cyclone TC. Attempting a number of times to find his way passed the No.1 car the Germans touched coming on to the front straight at the start of lap 5 with Volker's car going into a slide. Rheinard tried to wait for Volker but his team-mate Viktor Wilck, who was running a very close third, ran into the back of him while Volker made heavy contact with the pit wall ending his race.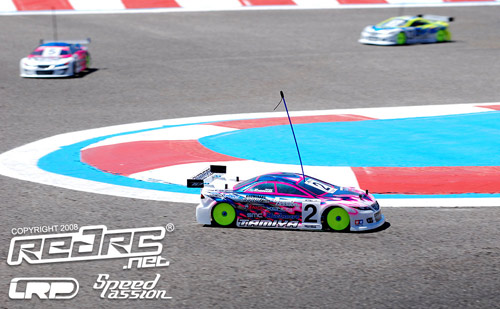 Describing the incident Rheinard said, 'I was a little faster and when I tried to pass Ronald we touched and his car got loose. I tried to wait for him but then Viktor ran into me.' After the incident which allowed Teemu Leino to move into second the German cruised to an easy victory. Recording the fastest lap of the race Rheinard was happy with his TRF416, 'The car was super good. I was able to make a better start too after Kiyo (Suzuki) cleaned my starting spot.'
Asked for his account of the incident Volker opted to make no comment other than to say that he has two more rounds.
Taking his Xray to second Teemu Leino described his race as OK. While his T2 008 was working better now the Finn said it is too difficult at this stage to challenge for the title.
Starting from ninth on the grid Alexander Hagberg made the most of the many incidents in the race to take third after getting past Wilck in the later half of the race. Wilck was looking good in the beginning of the Leg but the Swede believes he tweaked his Tamiya when he ran into the back of his team-mate as it was a hand full to drive following the incident.
Fifth placed Andy Moore described his first final as 'Shit'. The current World Champion clashed with Leino at the first corner and then got caught up in a second incident ending his chances of fighting for the lead. Having also cleaned his grid spot, Moore said his car got off the line straight this time but after the incidents he was too far back to do anything despite his car feeling really good.
Jilles Groskamp, who also got pushed off the track, completed the Top 6 followed by Steven Weiss, Marc Fisher and Harper Elliot who is set to become the 2008 European Junior Champion.
A-main Leg 1 results
1. Marc Rheinard (DE) 17 05:01.632
2. Teemo Leino (FI) 17 05:03.196
3. Alexander Hagberg (SE) 17 05:04.999
4. Vikor Wilck (SE) 17 05:05.298
5. Andy Moore (GB) 17 05:05.707
6. Jilles Groskamp (NL) 17 05:07.371
7. Steven Weiss (DE) 17 05:07.585
8. Marc Fischer (DE) 17 05:09.767
9. Elliott Harper (GB) 17 05:10.364
10. Ronald Volker (DE) 4 01:05.519
Complete results can be found here.
View our image gallery here.
---