August 1, 2008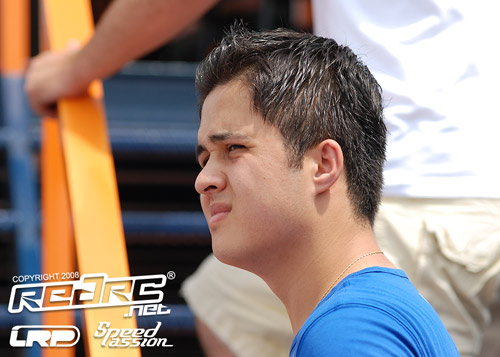 Practice for the 2008 EFRA European Championship for Electric Touring Cars is over and it is defending Champion Ronald Volker who is officially the fastest man around the Nitro 15 track as we get ready for the first of five qualifying heats.
The Hot Bodies/LRP team driver produced 17 laps in 05:06.832 in the last of the 6 practice runs the drivers have had to prepare for the event. The German was again at the controls of his newer Cyclone TC for the run switching only to a Jaad 3.5 degree rear mount and has now nominated this chassis for the big event. Although it doesn't count for much Volker said it felt good to top the practice.
Failing to improve his time Teemu Leino, the fastest man after P5, described his last practice as a 'bad run' loosing some 5.5 seconds on his earlier pace. Fellow Xray driver Steven Weiss also lost time but in the German's case it was just 7/10th of a second.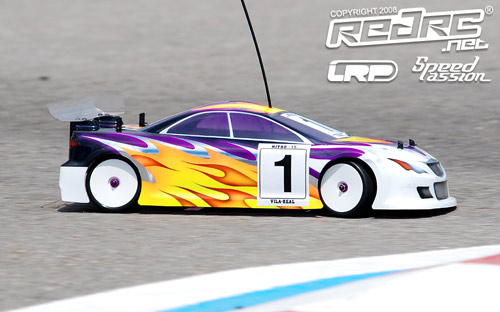 Andy Moore was a lot happier with his Hot Bodies having switched back to his older chassis and motor. Also trying the Madza Speed 6 over the regular Mazda 6, the British ace said the Speed 6 gave him a little more corner speed and as a result he will run this in qualifying.
Another to switch back to their old chassis was Marc Rheinard. The Tamiya Factory Racing team driver ran a faster 5 minutes with the old car which he described as looser but it was also faster than the more stable new chassis he tried in the earlier run today.
Fourth fastest in P6 and improving his overall time was Dutch ace Jilles Groskamp. The Tamiya/Speed Passion driver ran a lightweight bodyshell which gave him more steering but the ETS Champion still needs to find more. Groskamp is struggling to match the pace of his rivals over the opening few laps and is uncertain as to why this is.
Others to improve their times in the final practice include British Hot Bodies driver Olly Jefferies (13th fastest), Austrian Thomas Pumpler (15th), Swede Alexander Hagberg (16th), Flying Finns Sebastian Trazaska (17th) & Simo Ahoniemi (18th) and Slovak driver Martin Hudy (20th).
The first of today's two qualifiers is due to get underway at 14:00 local time.
View our image gallery here.
---