October 10, 2007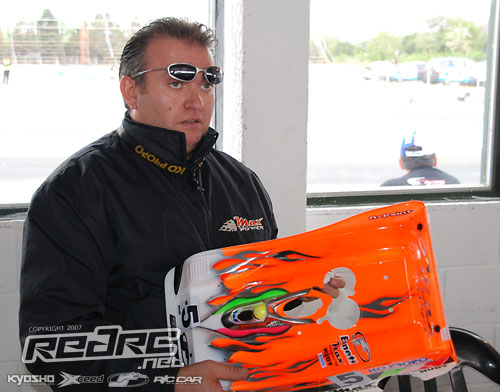 It's Fantini that is quickest after 4 rounds as the sun came and slowed the heats slightly even though the Italian Serpent driver managed to be quickest in the round with a 34 laps in 10:18 to be the only driver to claim a 34 lap run in round 4 after Lamberto Collari stopped on track when on his way to a 34 lap run. Collari maintains his 2nd position he picked up in the 3rd round, while Kyosho team mate Adrien Bertin improved his time by 2 seconds to claim a 33 laps in 10:00.84, although he wasnt very happy about once more missing out on a 34 lapper, venting his frustration on a wall on his return to his pit area.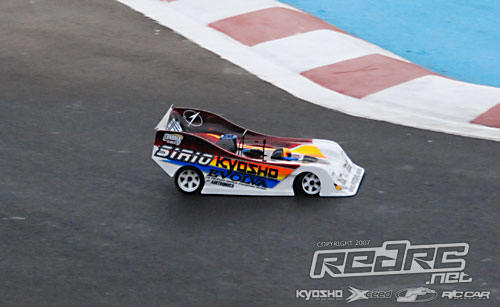 The biggest improvement of the day came from Chris Tosolini, the Sirio backed Kyosho driver, managed to secure himself the final direct qualifying position with 33 Laps in 10:00.84 to demote Italian Danielle Ielasi to 5th, and pole position for the semi's, despite having improved his time. Chris mentioned that "Yesterday we had a lot of problems with the engine, just too lean, we talked about the problems last night and we tried a lower gear today to get more punch so the engine runs a little easier", "in the first run i didnt get to do my warmup cause my cell phone was in my pocket and it was making my car go crazy, so I didnt warmup my tires or my engine, so in the first run I was 6th, not bad, I figure if we warm up the tires and warm up the engine we can do a 34". "So in the 2nd round we had a good warm up, things didn't feel perfect, so I ran good and I did a flat, almost 34, but tomorrow I want to do a 34".
Another one of the many to go better today is German Shepherd driver who went 33 Laps in 10:02.54 lifting himself into 6th demoting Kyosho racer Takaaki Shimo to 7th, having not improved in round 4.
Having had trouble in the 3rd round with his brakes not working, he made a number of mistakes in his run which he scrapped, but came back in round 4 to post a 33 Laps in 10:04.99, despite having to stop twice for fuel. The Motonica racer said "Yesterday I tried to find the good setup of the Orion valve (CPD) but I wasnt able to and had some trouble, so today I took it off and did 2 pitstops and did a very good time in 8th position with 2 refuelling". "I think that today it was necessary to guarantee the semi final and tomorrow we can work with only 1 pit stop to have a better result"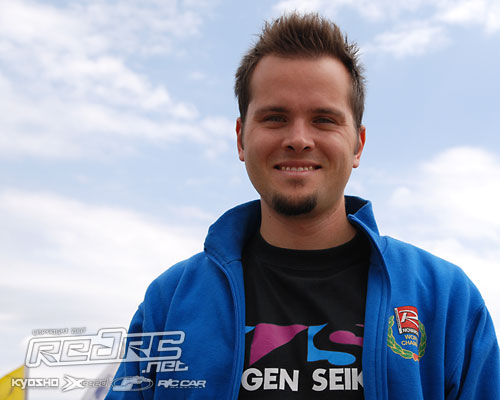 Current European B Champion Jernej Vuga has jumped his way into the top 15 with a quick run in round 3, having been plagued with radio problems during the practice sessions, however he couldnt improve in round 4. "After all the problems I had I think its a very nice position, we can improve of course, but we had 3 days of radio problems which was very difficult for us". "I managed somehow to get a pretty decent setup for the car, the engine ran pretty well and i managed to put together a pretty good qualifying heat without too many big mistakes".
Unofficial Results after round 4
1. MASSIMO FANTINI – 34 Laps in 10:14.91 (Serpent/Max)
2. LAMBERTO COLLARI – 34 Laps in 10:18.02 (Kyosho/Novarossi)
3. Adrien Bertin – 33 Laps in 10:00.84 (Kyosho/Picco)
4. CHRIS TOSOLINI – 33 Laps in 10:00.88 (Kyosho/Sirio)
5. DANIELE IELASI – 33 Laps in 10:01.28 (Kyosho/Picco)
6. Pietsch Robert – 33 Laps in 10:02.54 (Shepherd/Novarossi)
7. TAKAAKI SHIMO – 33 Laps in 10:03.19 (Kyosho/OS)
8. DARIO BALESTRI – 33 Laps in 10:04.99 (Motonica/Novarossi)
9. HIDEO KITAZAWA – 33 Laps in 10:05.08 (Mugen/OS)
10. MICHELE ROMAGNOLI – 33 Laps in 10:05.19 (Serpent Max)
11. Salven Michael – 33 Laps in 10:05.48 (Serpent/Mega)
12. Mark Green – 33 Laps in 10:06.91 (Serpent/Mega)
13. WALTER SALEMI – 33 Laps in 10:08.55 (Mugen/Ninja)
14. STEFANO SOLAROLI – 33 Laps in 10:09.31 (Mugen/Picco)
15. JERNEJ VUGA – 33 Laps in 10:09.35 (Mugen/Novarossi)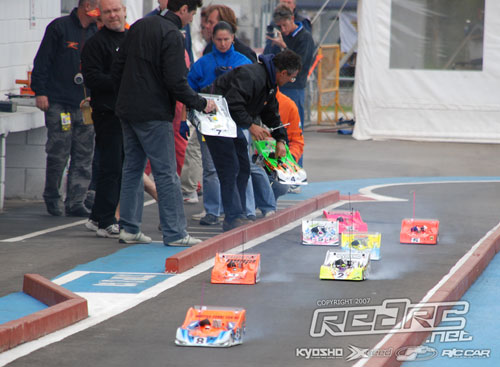 The 3rd and 4th round for heats 1-6 will be run in reverse order after lunch and until they are completed we can't give you any complete results.
UPDATE: Complete Results after round 4 can be downloaded here (.xls).
Check out or gallery soon for more images.
---