July 5, 2008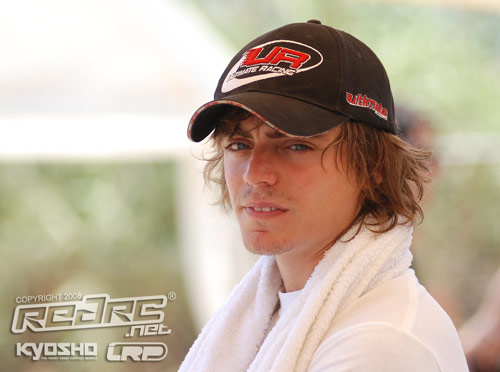 Defending European Champion Robert Batlle has won the second of the Semi Finals here at a very very hot Iraklion Model Centre track.  The Spaniard completed the same number of laps as Semi A winner Savoya and managed a faster lap time but was almost 30 second off the pace of the Frenchman who has looked so in control throughout the 5 days of this championships.
Second to Batlle was former World and European Champion Daniel Reckward.  Finishing just 8 seconds off the winner the German Kyosho driver has really turned things around having struggled to get a good set-up on his MP777 but having also run a faster lap time than Savoya he looks good for the one hour Main.
Martin Bayer from the Czech Republic who was one of the big surprises of qualifying is proving that wasn't a once off, claiming third ahead of Austrian RC racing ace Hupo Honigl who ensures LRP will be represented in the final. Claiming the last two places in the race that will decide the 2008 EFRA European Champion are Spanish driver Miguel Almagro and Portuguese HongNor racer Luis Rodrigo.
Semi B saw the demise of some big names with Darren Bloomfield missing the cut in seventh, Bergonzoni driver Raul Peris 8th, while brothers Jerome and Yannick Aigoin both failed to finish the race as did former World & European Champion Alessandro Laffranchi, who did just two laps.
The Main Final will get underway in just over 30 minutes.
Top 6 finishers Semi B
1. BATLLE Robert (ES) – 44 Laps in 30:29.844
2. RECKWARD Daniel (DE) – 44 Laps in 30:37.896
3. BAYER Martin (CZ) – 43 Laps in 30:15.126
4. HoNIGL Hubert (AT) – 43 Laps in 30:27.215
5. ALMAGRO Miguel Angel (ES) – 43 Laps in 30:28.313
6. RODRIGO Luis (PT) – 42 Laps in 30:26.279
Main Final Starting order
1. SAVOYA Renaud (FR) – Mugen MBX5
2. BATLLE Robert (ES) – Hobao Hyper 8.5
3. RECKWARD Daniel (DE) – Kyosho Inferno MP777
4. CRAGG Neil (UK) – Associated RC8
5. BAYER Martin (CZ) – Losi 8ight
6. PERIN Riccardo (IT) – Mugen MBX5
7. HERNANDEZ Borja (ES) – Hobao Hyper 8.5
8. GOMEZ MALAGON Richi (ES) – HongNor
9. HAZLEWOOD Jon (UK) – Xray XB808
10. HoNIGL Hubert (AT) – LRP S8-BX
11. ALMAGRO Miguel Angel (ES) – Mugen MBX5
12. RODRIGO Luis (PT) – HongNor
---