November 11, 2008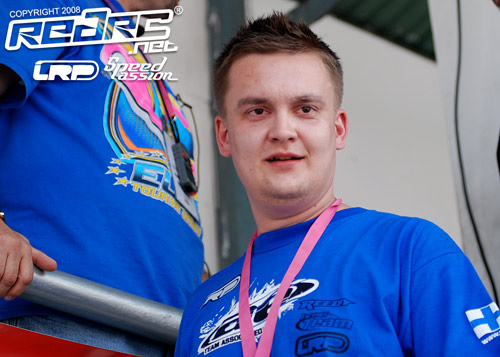 Juho Levanen has won the first A Main of the 1:12 World Championships after being handed the race lead when his team-mate Naoto Matsukura clashed with an out of shape Marc Rheinard.  Top Qualifier Matsukura was holding a comfortable and steady lead over the Finn when with just over a minute to go he got collected by Rheinard who lost the rear end of his Hot Bodies in the hairpin at the end of the back straight.  The young Japanese star's car left the track after being hit by the pursuing Levanen who was able to continue and take the lead where he would stay til the end.  Rejoining the track, such was the Associated team's advantage over the field, Matsukura was able to hold on for second.  Afterwards Rheinard was very apologetic for the incident which also cost him a certain third place finish.  Instead his Hot Bodies team-mate Hideo Kitazawa claimed the position.  Starting from third on the grid Hupo Honigl saw his podium hopes dashed on the first lap after a clash sent his car crashing into the barrier.  The Austrian CRC driver tried to continue but had to pull up after 16 laps as the incident had tweak the car.
Results A-main Leg 1
1. Juho Levanen – 41 Laps 8:12.474
2. Naoto Matsukura – 40 Laps 8:06.675
3. Hideo Kitizawa – 39 Laps 8:00.704
4. Marc Rheinard – 39 Laps 8:01.157
5. Simo Ahoniemi – 39 Laps 8:01.726
6. Andy Moore – 39 Laps 8:07.080
7. Jilles Groskamp – 39 Laps 8:07.443
8. Teemu Leino – 39 Laps 8:08.810
9. Dasiuke Yoshioka – 38 Laps 8:04.293
10. Hupo Honigl – 16 Laps 3:20.836
Elsewhere Atsushi Hara won the B Final comfortably from Alexander Hagberg while former Touring Car World Champion Surikarn won the C Final.
View our event image gallery here.
---