January 10, 2008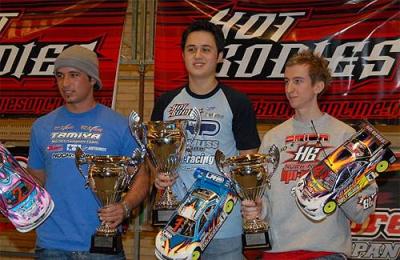 This years DHI Cup takes place in the Odense Congress Centre, Denmark, a huge venue that will play host to the event until at least 2010 thanks to a 3 year deal agreed between the hall owners and the race organisers. This event is the first major European race of the year and although racing continues in earnest during the winter in Europe, the DHI cup is where newly signed racers make their debut and manufacturers aim to prove the claims made about their new cars. The race, now in its 8th year, has only seen one repeat winner, 2002 World Champion Atsushi Hara, who took the title in 2004 and 2005 and who will be back this year to try and make it three. Other racers to take top honours in the Modified class in recent years are Marc Rheinard in 2006, while last year the race was won by current European Champion Ronald Volker who will be out to defend his crown.
As one of Europe's leading events, there is large manufacturer interest, and apart from sending their top factory drivers, racers arrive to race with the latest parts and even prototype cars. This year there is word that Atsushi Hara will be running a prototype version of the World Champion Hot Bodies Cyclone, or at least some special parts, and also that the Kyosho factory team are expected to be using a modified version of the TF-5. Serpent will make their DHI debut with Niclas Nilsson and Bart Wubben, while making his debut for new sponsor Tamiya, Jilles Groskamp, who is a former winner, will be putting the new 416 through its paces.

The Red RC team will arrive in Odense on Friday morning, ready to bring you the best coverage possible with our team bringing you reports, pictures, live results and video. Red RC's coverage of the DHI Cup 2008 is brought to you by Carson Modelsport and Team Orion, without whom this coverage would not be possible.
Image: Sports Galleri [sportsgalleri.dk]
---