July 3, 2008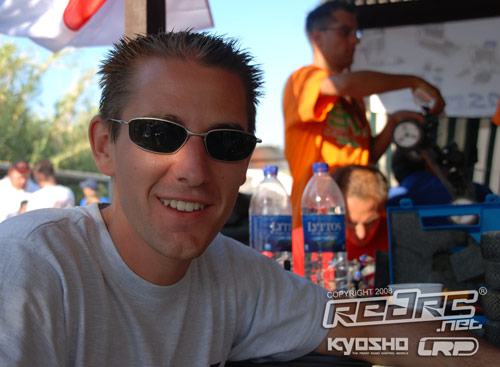 French Champion Renaud Savoya has TQ'd the 2008 EFRA European 1:8 Off Road Championships in Crete after making the opening three heats his own, setting the fastest times in each of the runs. The Warm-up Race winner has his Mugen dialed in perfectly with many of his rivals commenting on how well it slides around the corners as most of them struggle with grip roll around the bumpy track.
'I switched to Hole shot tyres for the last run which made the car quicker but I made two driver mistakes and that cost me', said a very relaxed Savoya. Asked if having won the Warm up he expected to TQ the young star replied, 'The objective is always to make better than before and last year I finished second in the Euros'. With the TQ secured, tomorrow's two heats will be used to test for the Semi Final and Savoya plans to try Proline Knuckles in the morning run.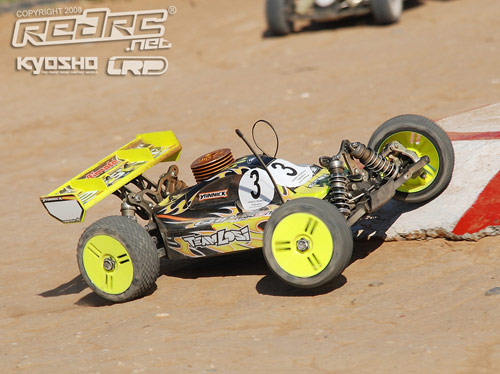 Second fastest in Heat 3 was another French driver Yannick Aigon. After a strong opening qualifier the Losi driver had a poor second outing due to a number of driver errors but he was back in business for Heat 3 just 2.5 seconds off his fellow countryman's time. Having changed the kick up and put heavier oil in the rear shocks he found the car much easier to drive.
Borja Hernandez posted the third fastest run with his Hobao and is another who will use the Heat 4 and 5 to test for the Semi Final with some geometry changes planned. Fellow Spaniard and Hobao driver Robert Batlle was next up despite a costly double roll over the wooden ripples. The defending Champion plans to test a new engine tomorrow and lower the shock position on the rear shock tower.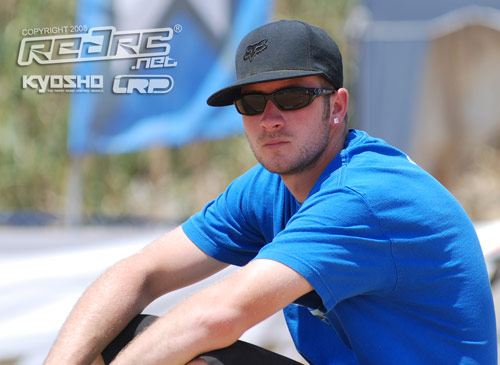 Recent Ultimate Racing Rallygame World Cup winner Fabio Boero enjoyed a good clean third run setting the fifth fastest time after changing to a thicker front anti roll bar on his GRP powered Mugen. Neil Cragg completed the Top 6 after making big changes to his Associated. Having started the event on big bore shocks the UK driver has reverted to the standard versions saying they lack the knowledge to get the big bores working right. Seventh fastest was a relieved looking Daniel Vega. The Mugen driver was struggling and decided to revert to the set-up he used at the Warm-up race and was very happy with the result. Lacking confidence in the car after the first two heats, the Spaniard says he feels good with the car again and thinks tomorrow will be better.
Elliot Boots who had a strong Heat 2 had the top of his shock come out in the warm-up but continued, and despite only three working shocks still finished the run. Richard Saxton who is over supporting the Team Associated squad here says Boots could be the real surprise here in Crete as the 15-year-old has good speed.
For some big names the IMA track is proving a real headache. Former World and European Champion Daniel Reckward has had a terrible day, unable to get any stability in his Kyosho. Suffering from too much traction his mechanics will totally change the set-up of his MP777 overnight and Reckward hopes, together with a good nights sleep, they can be further up the timesheets.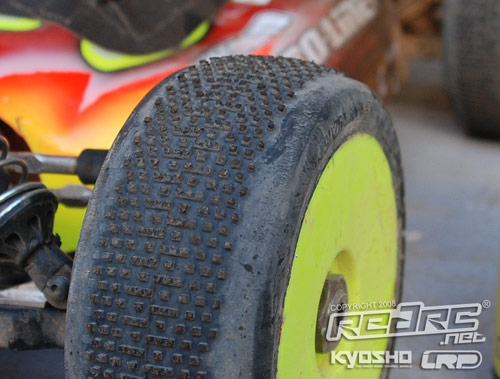 Serpent's Joern Neumann is another struggling. Running a new prototype chassis which features some interesting diff casings, he is another getting too much side traction. In the third heat the German took radical actions cutting a large amount of the pins from each side of his Proline tyres. The car was a little better, but Neumann hopes they can find more for tomorrow.
Electric Touring Car ace Teemu Leino summed up his day by saying, 'Maybe this is the worst racing day ever'. The Xray driver had a messy first heat with bad traffic but the day would get worse. In Heat 2 his engine cut and then to cap off the bad day his receiver battery broke. Austrian Team LRP driver Hubert Honigl was another wishing the day had not happened, 'It would have been good for me if they counted yesterday's practice. I just cant find a set-up for this track.'
In the overall Qualification Ranking behind Savoya it is Batlle, Hernandez, Aigoin, Boero and Laffranchi. The drivers have two more heats in the morning after which we will have the first of the finals at what has been a very hot 2008 EFRA European Championship.
Top 20 after 3 rounds
1. SAVOYA Renaud (FR) – 8 Laps in 05:19.490 / 519pts
2. BATLLE Robert (ES) – 8 Laps in 05:20.606 / 509pts
3. HERNANDEZ Borja (ES) – 8 Laps in 05:23.597 / 504pts
4. AIGOIN Yannick (FR) – 8 Laps in 05:22.120 / 495pts
5. BOERO Fabio (IT) – 8 Laps in 05:25.290 / 492pts
6. LAFFRANCHI Alessandro (IT) – 8 Laps in 05:25.304 / 492pts
7. CRAGG Neil (UK) – 8 Laps in 05:26.443 / 486pts
8. BLOOMFIELD Darren (UK) – 8 Laps in 05:30.097 / 486pts
9. SARTEL Jerome (FR) – 8 Laps in 05:25.081 / 482pts
10. VEGA Daniel (ES) – 8 Laps in 05:26.756 / 474pts
11. PERIS Raul (ES) – 8 Laps in 05:31.679 / 473pts
12. BAYER Martin (CZ) – 8 Laps in 05:20.708 / 465pts
13. BOOTS Elliott (UK) – 8 Laps in 05:22.832 / 463pts
14. THERN Linus (SE) – 8 Laps in 05:29.702 / 458pts
15. PERIN Riccardo (IT) – 8 Laps in 05:33.280 / 457pts
16. TORTORICI Davide (IT) – 8 Laps in 05:29.835 / 455pts
17. HoNIGL Hubert (AT) – 8 Laps in 05:32.370 / 449pts
18. CROMPTON David (UK) – 8 Laps in 05:29.768 / 441pts
19. HAZLEWOOD Jon (UK) – 8 Laps in 05:33.367 / 440pts
20. EZAZIAN Jerome (FR) – 8 Laps in 05:31.586 / 437pts
Check out our event image gallery here.
---