July 5, 2008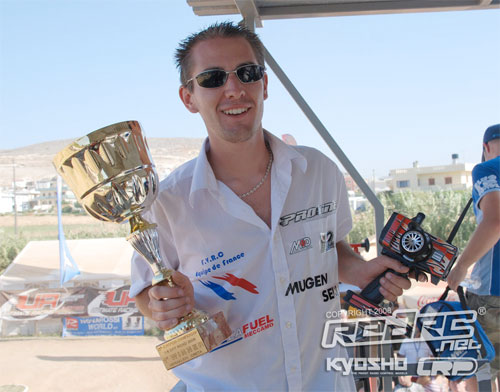 French Mugen racer Renaud Savoya capped off a dominant performance at the European Championships in Crete by taking the European title ahead of former Champion Robert Batlle. The Spanish driver had taken the lead early in the race and pulled out a considerable lead, but a broken rear arm with 15 minutes to go meant that Savoya could come back in the late part of the race, and take the lead from the crippled Hobao driver with just over 10 minutes to go, and never looked back. Batlle ended the race in 2nd, only a few seconds behind, while new HongNor signing Richi Gomez from Spain rounded out the top 3.
The new European Champion commented following the race that 'It was a very difficult race. At the start I saw Batlle pulling away and I made some mistakes. I think my tyres were better than his GRPs and I was faster, but his car broke and I was able to pass him for the win. I think if Batlle's car did not break he would have won'. Savoya, who was on a different fuel strategy, had to make less stops than the defending Champion. Savoya believes the win will be good for his confidence ahead of the Worlds Warm Up race in two weeks time.
A clearly gutted Batlle, who had victory snatched away from him in the dying moments of the race, said 'The car was really good and I had the pace to win but the rear arm broke. The car was then a struggle and I couldn't hold onto the lead'. Batlle's rear arm broke with 15 minutes to go but the Spaniard was not sure where or how it happened.
Third placed Richi Gomez was delighted with his Hong Nor debut 'We only got the car last week and this was our first race so I am very very happy to finish on the podium. The car and engine worked really well.' Fellow Spaniard Borja Hernandez was on for a podium placing but his receiver battery broke, losing him a lot of time, but the Spaniard admitted he did not have the pace to stick with Savoya or Batlle.
Jon Hazlewood, driving the only Xray in the final was pleased with fourth but said the heat was a struggle and his only drama in the race was an engine cut. Another Spaniard Miguel Almagro, driving a Mugen, had come up from the 1/8 final and was obviously delighted with 5th. He had a good race, and except for one engine cut in the pitlane as he came in for fuel, the rest of the race was pretty uneventful.
Finishing in 6th spot was LRP S8-BX racer Hupo Honigl, who lost a front shock absorber during the race, which his mechanics changed, only to then lose one on the rear. The Austrian racer said his car was the best it was all week and that fourth would have been a good finish, but it wasn't to be. Former World and European Champion Daniel Reckward suffered a broken rear arm while running third.  His Kyosho team managed to fix the MP777, which the German said was working really good but the time lost meant he only finished 10th.
Another racer to run into problems, while in a good position, was Associated racer Neil Cragg, who saw his back pressure pipe split that caused his engine to run lean and with that fixed he then had to retire when his receiver battery broke.
Although just missing out on making the final, young British racer Elliot Boots claimed the Junior European title, the 15 year old Team Associated racer finishing in 20th overall.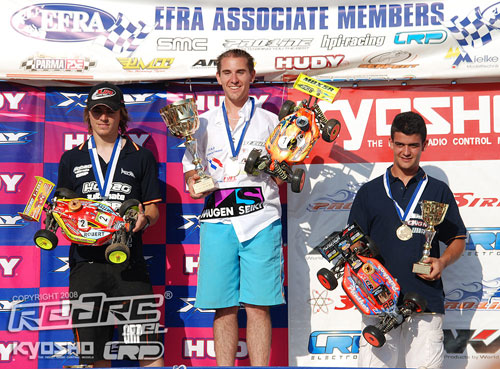 Final standings (unofficial)
1. SAVOYA Renaud – 88 Laps in 01:00:01.434 (Mugen MBX5)
2. BATLLE Robert – 87 Laps in 59:25.638 (Hobao Hyper 8.5)
3. GOMEZ MALAGON Richi – 86 Laps in 01:00:34.825 (HongNor)
4. HAZLEWOOD Jon – 85 Laps in 01:00:24.298 (Xray XB808)
5. ALMAGRO Miguel Angel – 84 01:00:31.698 (Mugen MBX5)
6. HoNIGL Hubert – 83 Laps in 01:00:29.816 (LRP S8-BX)
7. HERNANDEZ Borja – 81 Laps in 01:00:15.163 (Hobao Hyper 8.5)
8. LUIS Rodrigo – 80 Laps in 01:00:21.792 (HongNor)
9. BAYER Martin – 77 Laps in 01:00:02.935 (Losi 8ight)
10. RECKWARD Daniel – 73 Laps in 01:00:33.522 (Kyosho MP777)
11. CRAGG Neil – 68 Laps in 49:05.507 (Associated RC8)
12. PERIN Riccardo – 59 Laps in 51:15.366 (Mugen MBX5)

Complete final results can be found here.
A big thank you to our Sponsors Kyosho and LRP, without whom our coverage would not be possible.
More photos to follow in our image gallery tomorrow, our reporter needs to get out of the sun and cool off first.
---