August 14, 2008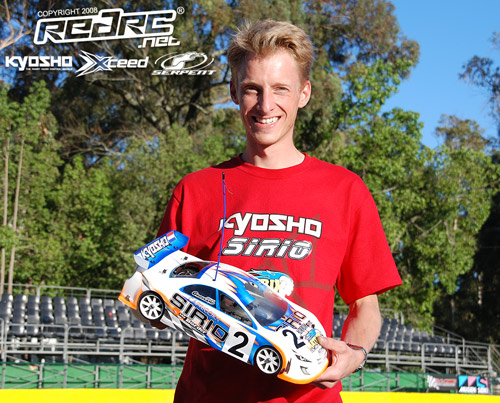 Jilles Groskamp has secured the TQ for the 2008 IFMAR 1:10 200mm World Championship to claim his first ever placing in a nitro World Final in style. The last of the six heats here in Lisbon produced a thrilling climax to the three days of qualifying with most of the title hopefuls running a TQ pace. After 10-minutes however it was Chris Tosolini who stopped the clocks in the fastest time just 9/1000th off Groskamp's TQ time which was set in the earlier of the day's two heats.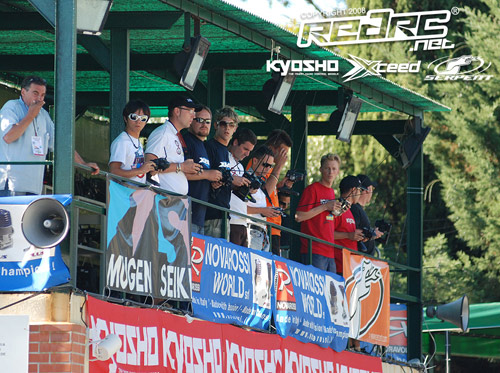 Finishing second in the final heat by 3/100th of a second to his Sirio team-mate, Groskamp was delighted to make his first ever nitro Worlds Final. He said the track was faster than this morning and that it was a very close run thing between him and his team-mate. Having to drive around the outside of Peter Jovanovic on lap 28, Groskamp reckons this cost him a second with a very busy pitlane, which saw almost all of the 10 car field pit at the one time, also costing him a little time. With a day off tomorrow, Groskamp plans to chill out by the pool at his hotel before spending the evening building a new Kyosho chassis for the one hour warm-up which the Top 4 qualifiers will get on Saturday morning. As a mainly electric racer the Dutch ace says he will drive the entire one hour to prepare himself for the actual Main Final and to get a feel for how his Matrix tyres will work over the full race distance.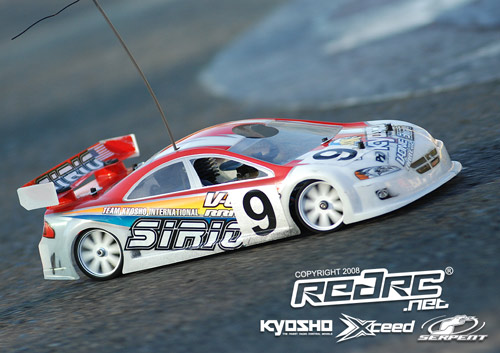 Fastest for the round, Chris Tosolini's run was good enough to give Sirio's new XXX engine a 1-2 in qualifying as he jumped from 8th after round 5 to P2. The American who TQ'd the last Worlds in Brisbane, said he was only driving at 90% as he knew he needed a mistake free run if he was to make a Top 4 position and a clean run was exactly what he got. As the rest of the field were like a high speed train the Kyosho team driver was out on his own and with a free track ahead of him was able to run super consistent quick lap times. A new car build is also planned for the 1 hour practice but Tosolini plans to sleep in tomorrow morning first.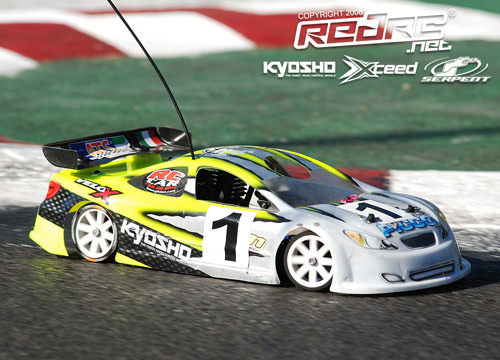 Another driver making his first ever 1:10 Worlds Final is the very likeable Daniele Ielasi. The Italian was clearly delighted to secure a place in the Final where he will line up 3rd on the grid. The Picco backed driver said no matter what the outcome of the final he is so happy with his 2008 World's campaign. Asked about his car for the big race, Ielasi said he felt his set-up for the long final is probably better than his rivals. Together with his girlfriend Sabrina Lechner he will spend tomorrow sightseeing in Lisbon as a reward for his performance today.
Bursting into the Top 4 and making it an all Kyosho affair was Franceso Tironi who put in a blistering last qualifier. Lying in 18th position before the final heat of the event the Italian, who is also an member of the very strong Sirio team, drove a superb run to bump both Dario Balestri and Takaaki Shimo out of the Top 4 and down into the Semi Finals. Tironi said the handling of his car in the warm-up was not very good causing him to crash but adjustments to the rear set-up by his pitman had it working perfectly for the timed run.
Balestri and Shimo improved their times in the final heat but with Tosolini and Tironi going faster again they didn't gain anything from the extra pace. Instead both drivers will line up on pole for their respective Semi Finals. 2006 Vice-World Champion Shimo crashed early in his run as his car suffered bad understeer. The factory OS driver, who doesn't like the Monsanto circuit, says he will do his best to try and ensure he is on the grid for the Main Final.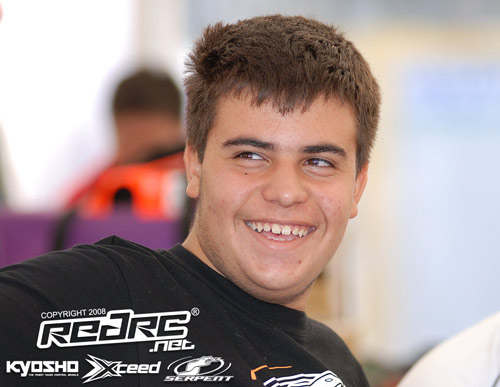 Heading the Serpent challenge, young Alessio Mazzeo was pleased with his car for Round 6 of qualifying which netted him 10th, however the Italian Max team driver was annoyed with Robert Pietsch, who also set his FTD in the run, and Hideo Kitazawa who both clashed with him in the run. The incidents cost the former European B Champion 2 seconds. Next best of the Serpent drivers is Japanese 1:8 National Champion Yuya Sahashi in 18th who takes the final direct Semi final qualification position.
Defending World Champion Keisuke Fukuda has set himself the almost impossible task of retaining the title he won in Australia. The Mugen/Ninja driver starts on pole for the 1/8 Final B however in racing anything can happen and the Japanese driver, if luck is very much on his side, still has an outside chance to make it onto the grid for the Main Final.
Official top 18 after qualifying
1. Jilles Groskamp (NL) – 32 Laps in 10:11.241 [Kyosho/Sirio]
2. Chris Tosolini (USA) – 32 Laps in 10:11.250 [Kyosho/Sirio]
3. Daniele Ielasi (IT) – 32 Laps in 10:11.904 [Kyosho/IDM]
4. Tironi Francesco (IT) – 32 Laps in 10:12.414 [Kyosho/Sirio]
—————-
5. Balestri Dario (IT) – 32 Laps in 10:12.818 [TM/NR]
6. Takaaki Shimo (JPN) – 32 Laps in 10:15.183 [Kyosho/OS]
7. D'Angelo Giuseppe (IT) – 32 Laps in 10:16.657 [Mugen/NR]
8. Martin Lissau (DNK) – 32 Laps in 10:16.700 [Xray/GRP]
9. Martin Christensen (DNK) – 32 Laps in 10:16.776 [Xray/Sirio]
10. Mazzeo Alessio (IT) – 32 Laps in 10:17.260 [Serpent/Max]
11. Robert Pietsch (DE) – 32 Laps in 10:17.449 [Xray/NR]
12. Paul Lemieux (USA) – 32 Laps in 10:18.025 [Xray/Max]
13. Peter Jovanovic (AUS) – 32 Laps in 10:18.893 [Xray/NR]
14. Martin Hudy (SK) – 32 Laps in 10:19.360 [Xray/Max]
15. Adrien Bertin (LUX) – 32 Laps in 10:19.465 [Kyosho/Orion]
16. Dirk Wischnewski (DE) – 32 Laps in 10:21.213 [Xray/NR]
17. Ralph Burch (USA) – 31 Laps in 09:59.355 [Xray/Max]
18. Yuya Sahashi (JPN) – 31 Laps in 10:00.303 [Serpent/Mega]

The complete final listings can be downloaded here.
The lower finals get underway at 08:00 tomorrow morning, and thanks to Kyosho, Xceed and Serpent, we will bring you highlights throughout the day.
View our image gallery here.
---