June 29, 2010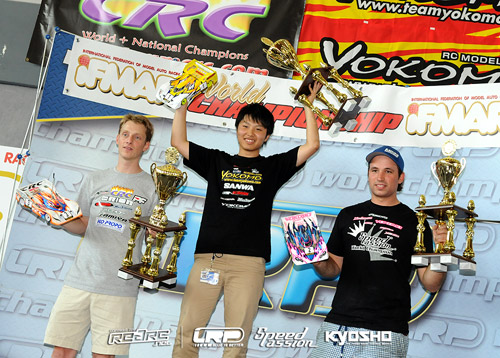 Jilles Groskamp has taken the Runners-Up spot at the 2010 IFMAR 1:12 World Championship after securing victory ahead of Ronald Volker and Marc Rheinard in the third leg of the finals. After a disastrous opening leg which lasted just 3 laps, the factory CRC driver said this was the perfect ending to the event for him and although he finished Runner-Up it feels like a win given that Naoto Matsukura was in a totally different league to the rest of the field.
Completing the podium was Touring Car World Champion Rheinard who will defend his title here in Burgdorf later this week. With Matsukura sitting out Leg 3, the German led from the start but with an ill handling car he made a mistake allowing Groskamp, and Volker, through and had to settle for third both on the track and on the podium.
So with the name of the 1:12 World Champion decided for another 2-years we now move outdoors for the Touring Car World Championships which gets underway on Thursday.  Our coverage which is being supported this week by LRP, Speed Passion and Kyosho, will resume then, at what is expected to a be sizzling hot event.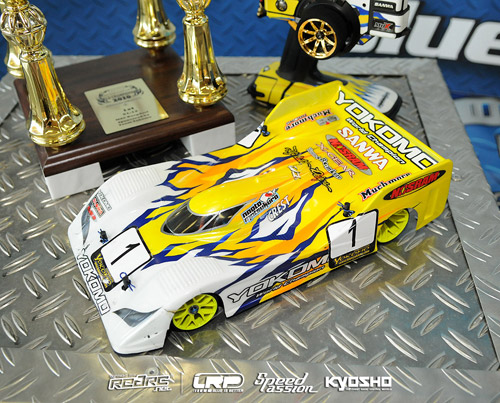 Overall final standings
1. Naoto Matsukura (Yokomo/Nosram)
2. Jilles Groskamp (CRC/Team Orion)
3. Marc Rheinard (Associated/Speed Passion)
4. Ronald Völker (Associated/LRP)
5. Simo Ahoniemi (Corally/GM)
6. Paul Lemieux (Xray/Trinity)
7. Elliot Harper (CRC/Speed Passion)
8. Josh Cyrul (CEFX/Speed Passion)
9. Keven Hebert (Associated/LRP)
10.Marc Fischer (Corally/GM)
Full results can be found here.
View our event image gallery here.
---