June 28, 2010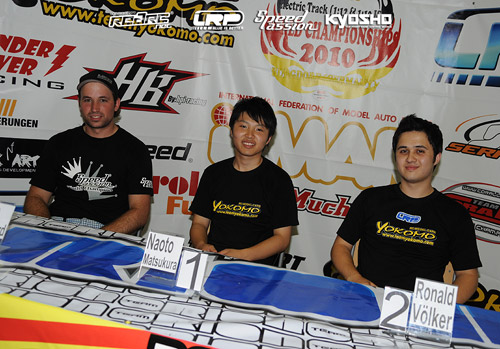 An exciting penultimate round of qualifying has brought Day 2 of the IFMAR 1:12 World Championships to a close with Marc Rheinard topping Q5 to end the domination of defending Champion Naoto Matsukura.  Rheinard was the only driver to record 37 laps for the round which saw the overnight Top 3 qualifiers all make mistakes.
Matsukura was holding a very slight margin over both Rheinard and Ronald Volker but just after the 2 minute 30 mark got his R12 airborne after clipping a corner marker.  Landing facing in the wrong direction, right on the racing line, he was collected by his Yokomo team-mate Volker. Both recovered just in front of Rheinard on the track but dropped behind him on the timing screen.  A lap later Volker made a mistake himself allowing Matsukura back through but he could do nothing about Rheinard despite the Touring Car World Champion losing almost 3 seconds when he crashed with just 25 seconds left to run on the clock.
Without the late error Rheinard was on target for his best run of the five qualifiers despite saying afterwards his car was hard to drive.  Missing out on his best time by 1.3 second, he said his Speed Passion powered Associated was tweaked from the start causing it to be loose through right hand corners.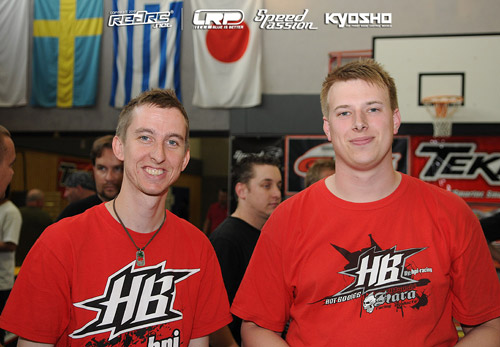 For the round it was Andy Moore who was second fastest as he recorded his best run of the day. Running in the second fastest group of heats he just missed out on a 37 lapper pipping European Touring Car Champion Jilles Groskamp by 13/100th. Pleased with the run, Moore said he was hanging on to the car at the end of the run as he continues to struggle to find a set-up that makes the car work for the second have of the 8-minutes.
Although he pulled up early, Volker said his car was really good in Q5 and that he was very happy with his pace.  After his clash with Matsukura he said he lost his rhythm and this caused him to make a number of mistakes and trying make back up the time he started to drove too aggressively.  Asked about whether he felt he could deny Matsukura pole he said its not impossible but he would be happy enough starting tomorrow afternoon's finals from second.
The other driver on form in the final qualifier was Keven Hebert. The factory Associated driver said his Reedy powered RC12R5 has been working well all day and it is his driving that has been letting him down.  The Canadian recorded his best qualifying with the sixth fastest time in Q5 but said he still needs to run the full 8-minute without any mistakes.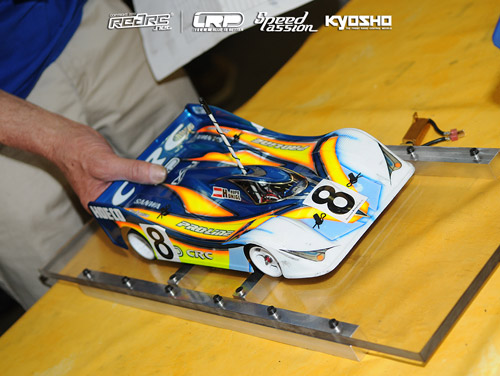 A podium finisher at the last Worlds in Thailand, one man having a terrible day is versatile Austrian ace Hupo Honigl.  The IIC 1:12 Champion is struggling with set-up on his CRC Gen-X describing it as like driving a hovercraft.  Recording his best run in the days final qualifier it was still only 19th fastest overall leaving him facing a big challenge for tomorrow's sixth & last heat.  Honigl hopes a good night's sleep will give him a clear head for the morning when the track is expected to be super fast.  With a driver's fastest two times from the 6 heats added together to determine the grid, Honigl said making the final is still very possible as only four drivers having managed a 37 lap run.
Full results can be found here.
View our event image gallery here.
---