July 2, 2010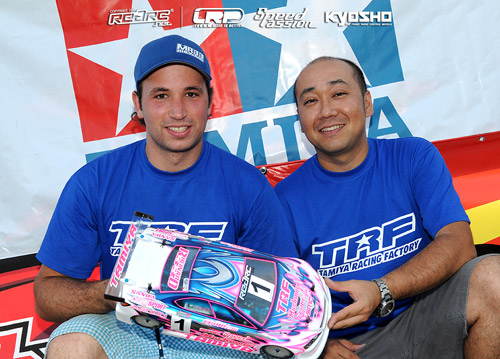 Two time electric Touring Car World Champion Marc Rheinard will defend his title from pole position tomorrow here in Burgdorf, Germany, after securing overall TQ honours from Tamiya Racing Factory team-mate Jilles Groskamp.  Going into the sixth & final round of qualifying this evening only Groskamp could deny the German the No.1 starting spot on the grid but the expected show-down never happened. On the opening lap the European Champion's radio failed putting him out and leaving the Dutch ace clearly frustrated. The round was taken by Xray's Alexander Hagberg who put in a blistering final run to record the only 25-lap run of the event.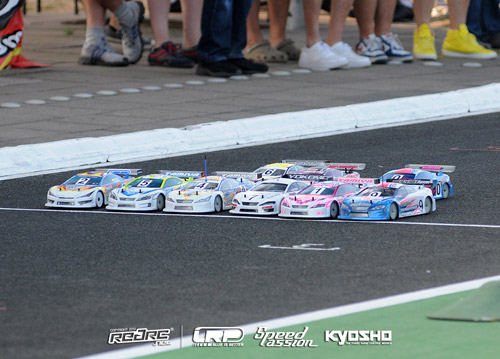 Rheinard won his first World title from pole but said he normally likes to start from 2nd, the position from which he won his second crown. The only one of the four previous Touring Car World Champions to make the A-Main this year, he said he was pretty sure Groskamp was going to deny him the pole due to his pace on used tyres.  Expecting his main challenge to come from Yokomo's Ronald Volker, who will only start from 8th, he believes his Dutch team-mate is now his main biggest challenge and has shown himself to be very good around the small technical track. Overall it was a good day for the Tamiya team as they got four drivers into the final with Viktor Wilck and Elliot Harper lining up 4th and 7th respective.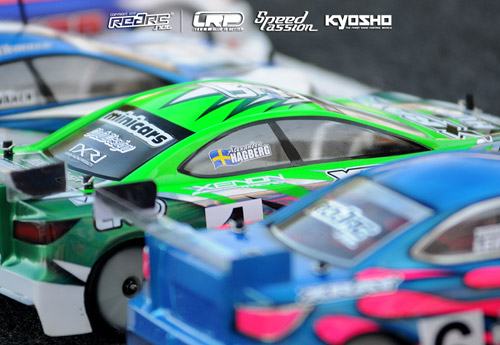 Hagberg was delighted with his final qualifier saying both his car and his driving are getting better with each outing.  Having come to Germany with the aim of making the A-Main, the factory Xray driver said starting from third exceeded that.  The Swede is now confident he can back up his starting position with a strong result in the final.  Joining Hagberg for Xray in the final is the top non-European driver Paul Lemieux who will start 5th.  The US Champion said he feels this is where he deserves to be on the grid and feels its going to be hard to finish higher than that in the races unless drivers ahead of him make mistakes.
Having won the D final on his World's debut in Thailand 2 year ago, German teenager Christopher Krapp was almost lost for words at claiming sixth on the grid.  The factory Kyosho driver said he is delighted at how good his Orion powered TF6 car ran today and he is 'Super Happy' to be able to repay the support Kyosho have given him by getting their new car into the final.
Although they have three cars in the final the disappointment of the Yokomo team, who won the 1:12 title with a brand new car, was very clear to see.  Team leader Volker was tipped as the hot favourite for the win here but the talented German has set himelf a mammoth task for tomorrow's race starting from eight in front of his team-mates Yannic Prumper and Hayato Matsuzaki.  Prumper is the only World Championship rookie in the final, the 16-year denying a number of the sports biggest names a chance at the 2010 title.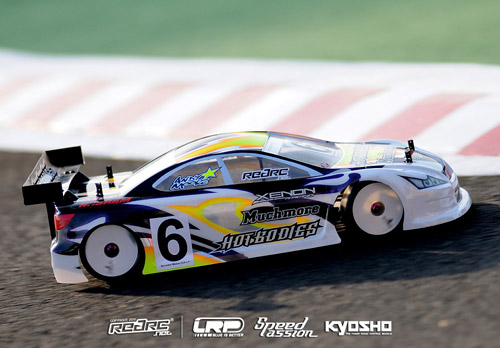 For Hot Bodies and Team Associated who came here with such high hopes the event has not gone to plan.  Hot Bodies who had three cars in the final in Thailand have no representation this year with all three of their team drivers in the B Final. 2006 World Champion Andy Moore has claimed the unenviable BQ honours missing out on the final for the first time since South Africa in 2002 while Atsushi Hara and Freddy Sudhoff could only manage 17th and 18th respectively in the final qualification ranking. Juho Levanen ended up best of the Associated runners and will be disappointed with 13th having shown early promise here with the new TC6.
Tomorrow's schedule will start with a round of practice final followed by triple Mains for all competitors.
Final Top 10 Qualifiers
1. Marc Rheinard (Tamiya TRF416) – 463pts
2. Jilles Groskamp (Tamiya TRF416) – 462
3. Alexander Hagberg (Xray T3) – 460
4. Viktor Wilck (Tamiya TRF416) – 456
5. Paul Lemieux (Xray T3) – 456
6. Krapp Christopher (Kyosho TF6) – 454
7. Elliott Harper (Tamiya TRF416) – 452
8. Ronald Völker (Yokomo BD5) – 449
9. Yannic Pruemper (Yokomo BD5) – 447
10.Hayato Matsuzaki (Yokomo BD5) – 445
View our event image gallery here.
---