Dankel & Pietsch Top Qualifiers at Hockenheim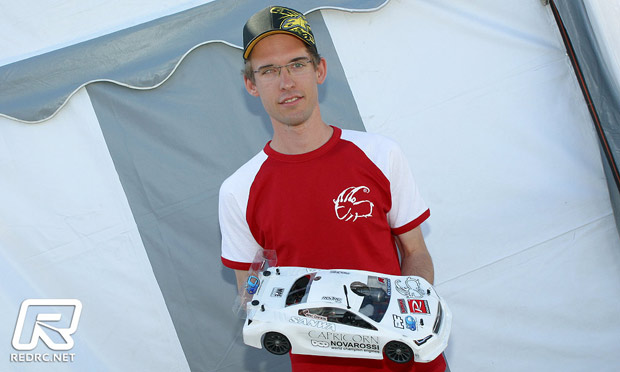 Eric Dankel and Robert Pietsch are Top Qualifiers at the second running of the annual European Nitro Challenge at the Hockenhiemring in Germany. Dankel pulled off a superb final qualifying heat to secure the Touring Car pole position on his debut for Italian manufacturer Capricorn, a result that was all the more impressive as it is the German's first nitro outing of 2012. Securing pole in 1:8, the result is a repeat of Pietsch's qualifying performance 12 months ago at the event which take place within the grounds of the home of the full size German F1 Grand Prix.
Focusing on electric touring cars this season, where he is a team driver for Yokomo, Dankel was delighted with the result saying it was the perfect way to start his new relationship with Capricorn. Overdriving the opening three laps of his final heat he said once he settled down his car felt really good and he knew that the overall TQ was there for the taking. In the end he shaved over a second off the Q2 provisional pole time of Serpent's Mark Green and knocked a massive 6 seconds off his own previous best over the 7-minutes. Expecting tyres to be a big factor in determining the outcome of the 40-minute Main,  the Top 4 qualifiers will have their own practice session tomorrow during the lunch break in which the former German National Champion will evaluate which tyres to run and make his decision on whether he will change tyres on just one side of his car or all four, the former option saving valuable time in the pits.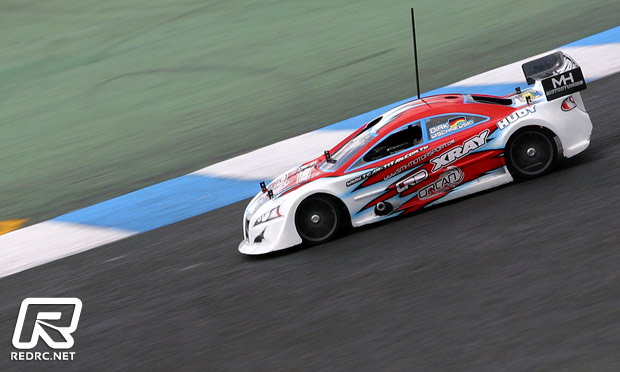 Last year's pole sitter, but suffering a glow plug failure in the final, Dirk Wischnewski will this year start second but the Xray driver is not happy with the performance of his car. Good at the start of the run he said his NT1 gets very loose in the latter part and while the final is going to be different to a qualifying run he said he needs to find a better set-up if he is to be in with a chance for the win tomorrow. Planning to try a different set-up in the warm-up, he added that one encouraging thing to come from Q3 was the pit stop carried out Robert Pietsch, who is standing in for Bertram Kessler who is away on holidays, which he said was very fast. Also planning a tyre stop in the final, Wischnewski said he hopes Pietsch is also quick with changing tyres.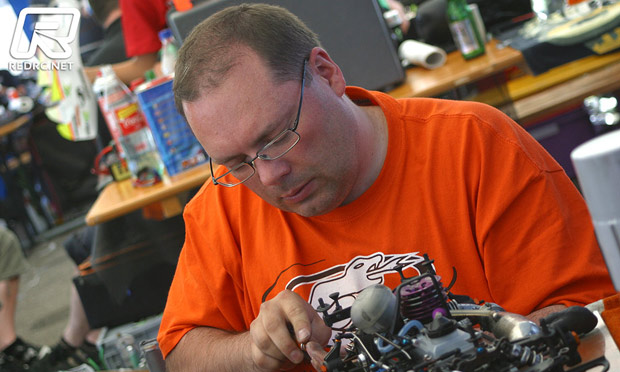 Experiencing traffic in Q3 and having to drive a full circle at the timing loop when his Serpent missed it after being punted off the track by another car, Mark Green was very content with his day as he secured third on the grid. The British driver who was provisional TQ after the second round of heats said he has 'as good a chance as anybody to win' but in terms of tyre wear may have a slight advantage over his rivals. Very much a testing event for the new 747, he said the car handles the transition from big to small tyres very well.
Retiring from Q3 while on a TQ run after a driver error lead to a chunked tyre, Daniele Ielasi said his Sonic engined Shepherd feels really good but choosing what tyre to use is his biggest challenge for the final. Planning to run a super hard compound in the 10 minute warm-up which the Top 4 direct qualifiers get, the 2008 World Champion said the danger is due to the low traction even on soft tyres the hard tyres could wear even faster as the car slides around even more.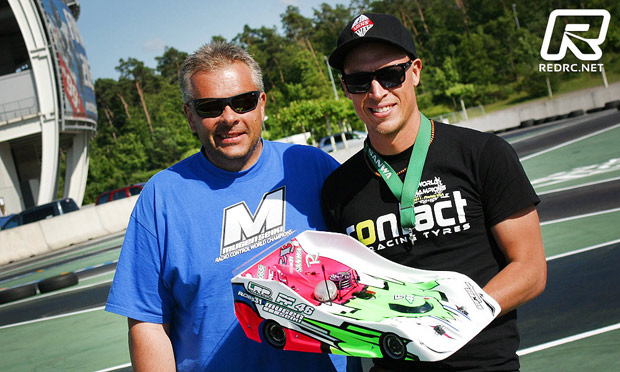 In 1:8 it would be hard to bet against Robert Pietsch not winning tomorrow but the Mugen designer said the dots could be his down fall. Having been caught out by them in Q2, the World Champion said his plan is just to drive a steady and clean race. Asked who he sees as the biggest treat tomorrow the World Champion said it would come from Alberto Picco as the Italian has vast experience of how to drive a well calculated main.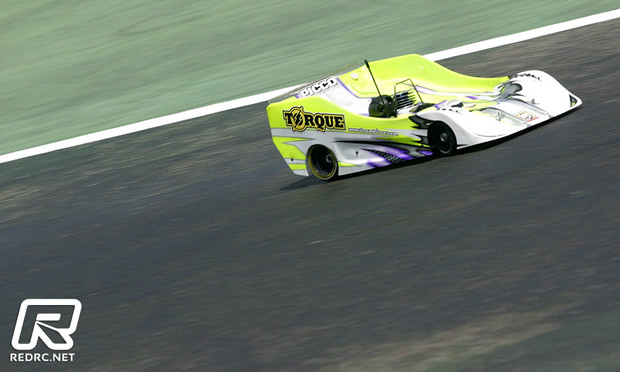 Picco, who starts third, is still not happy with the set-up on his self modified Mugen. Planning to use the warm-up to fine tune the car he said it is easy to drive which is very important on this track but is still lacking steering and this is costing him the performance he needs to take the battle to Pietsch.
Confirmed as joining Pietsch & Picco on the grid will the Shepherd's of Oliver Mack and Lars Hoppe, the latter putting in a great final qualifier to push Serpent's Merlin Depta back to fifth meaning he will have to now work his way through from the Semi Finals in which he will start from pole. Fellow Serpent driver Andreas Giesa will start from pole in the other Semi having qualified 6th just in front of defending Champion Michael Salven who finally got a full run in, setting the seventh fastest time.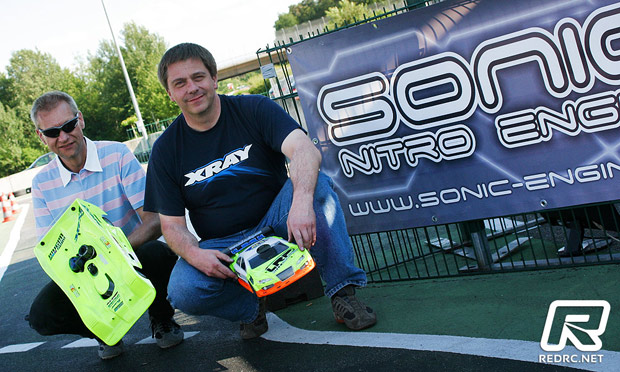 In the Hobby Cup class, in which all drivers must use a controlled Sonic engine, qualifying was dominated by 1989 1:8 Formula European Champion Jurgen Bahr and 2011 40+ European Champion Bernd Hasselbring who each topped all three of their respective 1:8 and 1:10 qualifying heats to secure pole position for tomorrow's finals. Before then all the competitors at the 2012 European Nitro Challenge will attend a banquet at the official event hotel over looking the main straight of the actual Hockenheim Grand Prix, the perfect venue for them to discuss strategies over some food and one or two drinks!!
1:8 Final Qualification – Top 12
1. Robert Pietsch – Mugen/Novarossi – 24/7:12.15 (1)
2. Oliver Mack – Shepherd/Picco – 23/7:00.19 (1)
3. Alberto Picco – Mugen/Picco – 23/7:04.45 (3)
4. Lars Hoppe – Shepherd/Novarossi – 23/7:04.45 (3)
————————
5. Merlin Depta – Serpent/Novarossi – 23/7:06.90 (2)
6. Andreas Giesa – Serpent/Xceed – 23/7:08.98 (3)
7. Michael Salven – Serpent/Xceed – 23/7:09.02 (3)
8. Marco Muller – Shepherd/Max – 23/7:10.66 (2)
9. Nicolai Bahr – Mugen/OS – 23/7:10.91 (2)
10.Toni Gruber – Serpent/Xceed – 23/7:11.21 (3)
11.Sabrina Lechner – Serpent/OS – 23/7:11.58 (1)
12.Thilo-Alexander Todtmann – Mugen/RB – 23/7:11.81 (2)
1:10 Final Qualification – Top 12
1. Eric Dankel – Capricorn/Novarossi – 21/7:07.53 (3)
2. Dirk Wischnewski – Xray/Orcan – 21/7:08.91 (3)
3. Mark Green – Serpent/Novarossi – 21/7:09.29 (2)
4. Daniele Ielasi – Shepherd/Sonic – 21/7:09.80 (2)
————————
5. Dominic Greiner – Kyosho/Orion – 21/7:12.67 (3)
6. Mikael Fransson – Serpent/Orcan – 21/7:12.95 (3)
7. Francesco Tironi – Capricorn/Capricorn – 21/7:14.48 (3)
8. Patrick Nahr – Shepherd/Sonic – 20/7:15.36 (2)
9. Patrick Scahfer – Shepherd/Sonic – 20/6:58.43 (3)
10.Patrick Gassauer – Shepherd/Sonic – 20/7:02.17 (2)
11.Rene Pupke – Serpent/Xceed – 20/7:02.35 (1)
12.Sebastian Kunz – Shepherd – 20/7:03.63 (3)
View our event image gallery here.
Categories - Events, Gas, International, On Road, Racing