Pietsch & Dankel top Q1 at European Nitro Challenge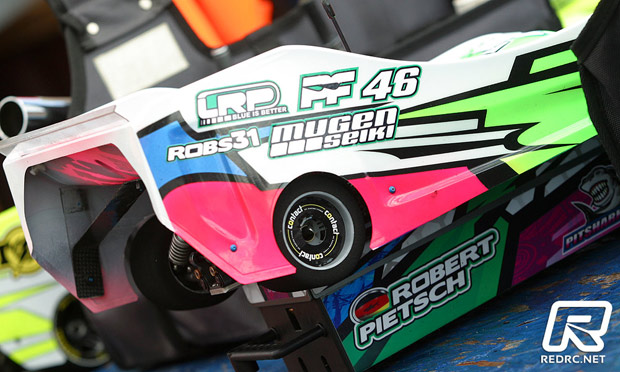 In the first round of qualifying for the European Nitro Challenge at the Hockenheimring in Germany it was Mugen's Robert Pietsch and Capricorn's Erik Dankel who set the fastest time over their 7-minute heats to claim the provisional TQ in 1:8 and 1:10 respectively. For defending champions Michael Salven (1:8) and Patrick Schafer (1:10) it was a tough opening qualifier. Salven had a steering rod come off on his Serpent 966 while Schafer suffered a stripped first gear on his Shepherd Velox V10.
Pietsch, who was the only driver to make 24 laps, said following the ackermann change on his Novarossi engined MRX-5 after yesterday's practice, the car was now easy to drive and he just focused on putting in a clean & safe opening run. Planning to leave the set-up unchanged for Q2, the World Champion said he expects Q2 to be slower due to the warmer conditions with the sun now shinning brightly over the Hockenheim track.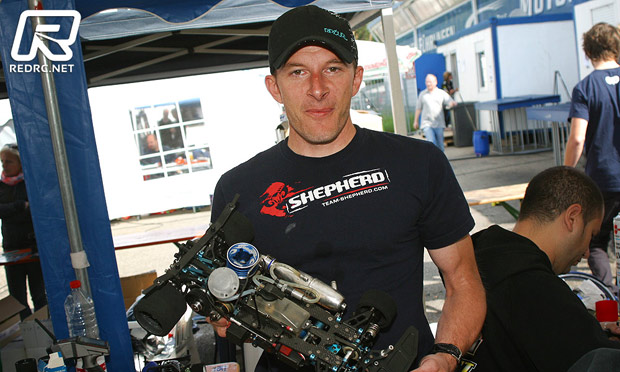 Second fastest Oliver Mack almost didn't make the opening qualifier. The factory Shephard driver was warming up his Picco engined Velox V8 in the pits when it suffered a conrod failure. Together with the rest of the Shepherd team he managed to fit a new engine in time for the start of his heat. Just missing out on a 24 lap run by 19/100th, the German said the new Picco engine felt slightly down on power compared to the previous unit. Struggling with a lack of rear grip Mack said the car was difficult to drive causing him to make a small mistake.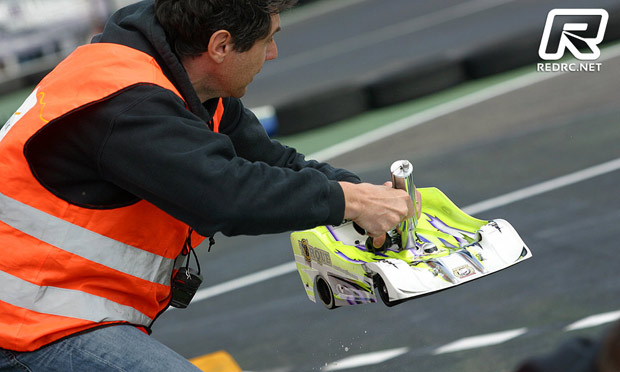 Alberto Picco took his Mugen MRX '4.5′ to the third fastest time but had to contend with a damaged car. In the warm-up the Italian crashed which resulted in damage to the front roll bar and bumper which started to drag on the ground. He also lost valuable seconds in the pits as he came in for fuel earlier than expected, having thought he heard his named being called, catching out his brother Edoardo who was not ready for the stop.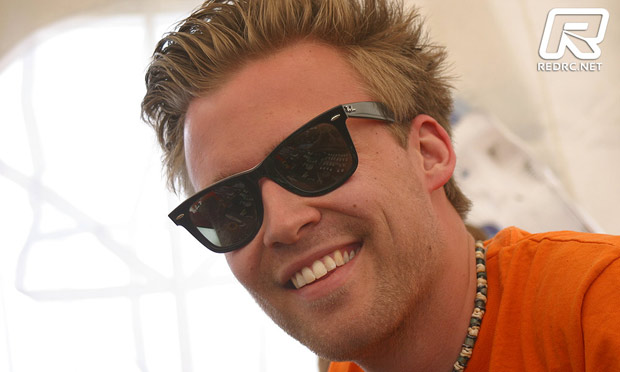 With Salven hitting problems, the top Serpent in Q1 was Merlin Depta who took his Novarossi powered 966 to the fourth fastest time. The German was very happy with his run and does not plan any set-up changes ahead of Q2 but depending on the conditions at the time of the qualifier may try a different shore of tyre. Also making the Top 10 for Serpent was r/c's fastest female racer Sabrina Lechner who took her OS powered example to the 7th fastest time just behind the Shepherd's of Marco Muller and Lars Hoppe.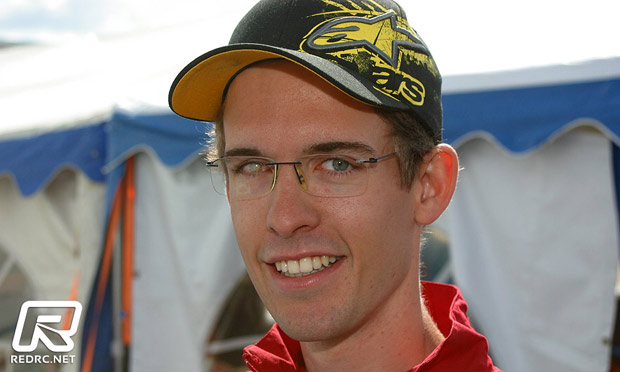 In the Touring car class, setting the fastest lap for the round (19.96) on his final lap while last year's Top Qualifier Dirk Wischnewski made a mistake three laps from the end, Dankel took the round ahead of his fellow German by just half a second with yesterday's practice pace setter Daniele Ielasi third after a mistake in his opening laps. Getting his first nitro race of the season off to an encouraging start, Dankel said overall the run was good but again overnight rain had made for very low traction which resulted in him making a few mistakes over the unforgiving corner dots. Happy with the set-up on his LAB CO2 the former German Champion said he only plans to adjust his ride height having run it a little to low in Q1. Unfortunately Capricorn team-mate Francesco Tironi suffered an engine failure in the warm-up due to it being too lean and so failed to post a time.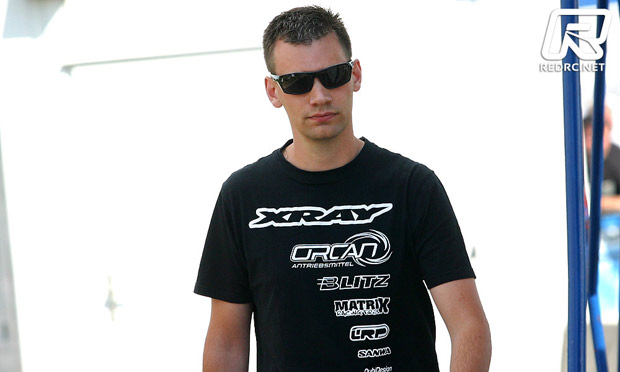 Wischnewski said he ran too small a diameter tyre on his Orcan engined Xray NT1. While the car worked very well at the beginning of the heat but got very loose and difficult to drive by the end of the seven minutes leading to his last lap mistake. The 2009 European Champion & pre event favourite is confident that with a larger tyre he has the pace to post a new TQ time.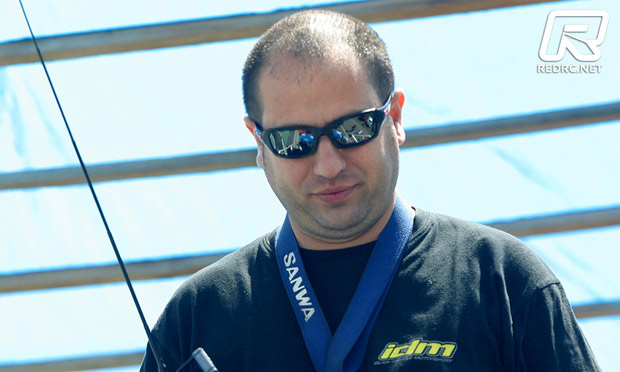 Shepherd's Ielasi flipped his Sonic powered Velox V10 two laps into the opening qualifier resulting in a chuncked tyre and over six seconds in lost time. Continuing with the damaged tyre, which caused his touring car to look more like a 1:8 with the rear end stepping out, the Italian still set the third fastest time and afterward declared that with four good tyres a TQ run should be easy.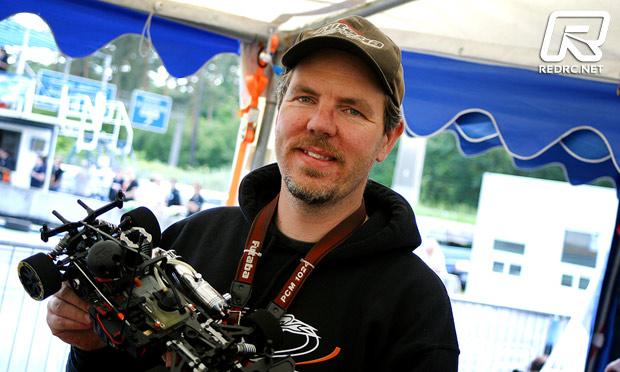 Setting the fourth fastest time Mikael Fransson was top Serpent. The Swede said the low traction made for difficult conditions with his Orcan engined 747 was very loose but opting to drive a safe heat he said he was happy with the start to his day. Planning to add more toe-in and camber to the rear of his car for Q2 he hopes this would lead to improved traction. Serpent lead driver Mark Green could only manage the 11th fastest time after his Novarossi powered 747 got stuck in first gear. The British driver suspects oil in the gearbox as the problem as having cleaned it after the run the gearbox seems to be functioning again. Making it five different brands in the Top 5 Kyosho driver Dominic Greiner set the fifth fastest time ahead of the Shepherd of 2011 European B Champion Patrick Nahr.
In the controlled engine Hobby Cup, which is also running as part of the European Nitro Challenge, it was the Mugen of former European Champion Jurgen Bahr who was fastest in 1:8 with Bernd Hasselbring quickest in 1:10 at the controls of his Xray.
1:8 Qualification after Round 1
1. Robert Pietsch – Mugen/Novarossi – 24/7:12.15
2. Oliver Mack – Shepherd/Picco – 23/7:00.19
3. Alberto Picco – Mugen/Picco – 23/7:05.00
4. Merlin Depta – Serpent/Novarossi – 23/7:10.37
5. Marco Muller – Shepherd/Max – 23/7:10.66
6. Lars Hoppe – Shepherd/Novarossi – 23/7:11.32
7. Sabrina Lechner – Serpent/OS – 23/7:11.58
8. Tobias Hepp – Xray/Orcan – 23/7:15.10
9. Philip Sting – Serpent/Xceed – 23/7:15.83
10.Gerhard Kandelhard – Xray/Sonic – 23/7:16.79
1:10 Qualification after Round 1
1. Eric Dankel – Capricorn/Novarossi – 21/7:13.48
2. Dirk Wischnewski – Xray/Orcan – 21/7:14.07
3. Daniele Ielasi – Shepherd/Sonic – 21/7:17.52
4. Mikael Fransson – Serpent/Orcan – 21/7:17.90
5. Dominic Greiner – Kyosho/Orion – 21/7:19.99
6. Patrick Nahr – Shepherd/Sonic – 20/7:00.76
7. Rene Pupke – Serpent/Xceed – 20/7:02.35
8. Thomas Gunsel – Kyosho/Orion – 20/7:05.05
9. Mirco Thalheimer – Mugen/LRP – 20/7:06.81
10.Pedro Rombouts – Xray/Orcan – 20/7:08.89
View our event image gallery here.
Categories - Events, Gas, International, On Road, Racing