November 16, 2012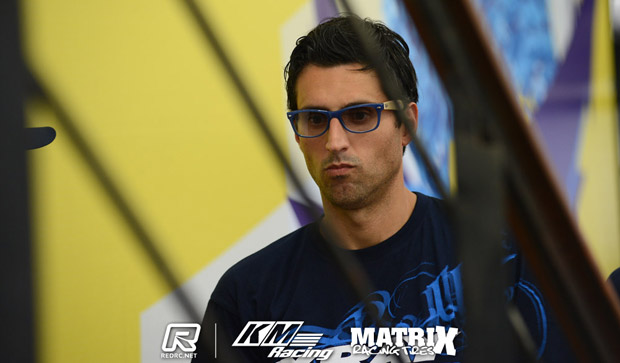 The lower finals of the 1:10 Nitro Touring Car World Championships are completed and the six drivers who will progress to the big day here in Bangkok, Thailand, has been decided.  Running up to and including the 1/16th finals, Day 7 of the event has seen the entry whittled down from 122 drivers to 52.  First of the drivers to book his place through to the final day and technically still have a chance at becoming the fifth World Champion of the class was top Italian driver Giuseppe D'Angelo who from pole position won the 20-minute 1/16 B final comfortably from Malaysian driver Shah Mohd and 1:8 World Championship podium finisher Masao Tanaka.  The same race resulted in the demise of two well known drivers with factory Serpent driver Paolo Morganti, who suffered a flame out, and top Brazilian racer Eduardo Dulac who finished 6th & 7th respectively.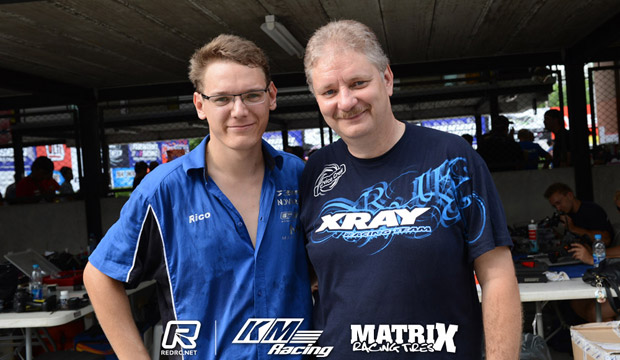 In the 1/16 A final, the last race of the day, 2012 European finalist Rico Kober took the win from fifth on the grid well clear of Brazil's Hennique Winik and driver of the day Ludovic Leflon.  Frenchman Leflon, who is based at the RC Addict track where he works for r/c company Ride, qualified 7th in the 1/32 A final from where he went on to finish 2nd behind German Patrick Nahr to bump up to the 1/16th.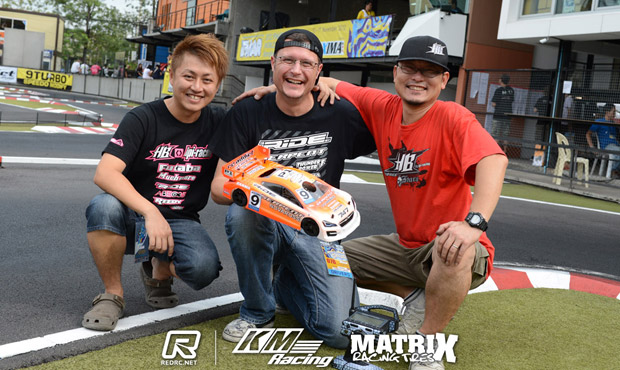 Despite a bad start to his second race of the day, Leflon who had Atsushi Hara and Hot Bodies R10 designer Miyashita as his pit crew, with Hara shouting plenty of encouragement at him, the rest of the race was less eventful and he worked his way up to third to claim a very popular final bump up position to the big day tomorrow and onto the back of the 1/8 A final grid.  Unfortunately for Shepherd team driver Nahr there was hard luck on the second time of asking as another strong performance came undone when he lost second gear.  Continuing with just one gear, he would miss the cut by 3 seconds despite his best efforts.  What has been a tough event for Team Shepherd, who made the podium with Marc Rheinard two years ago, company boss Patrick Schafer's bad luck continued with an incident on the opening lap of the 1/32 B final that put him out on the spot with a broken car.
View the complete event results here.
View our event image gallery here.
---