December 8, 2012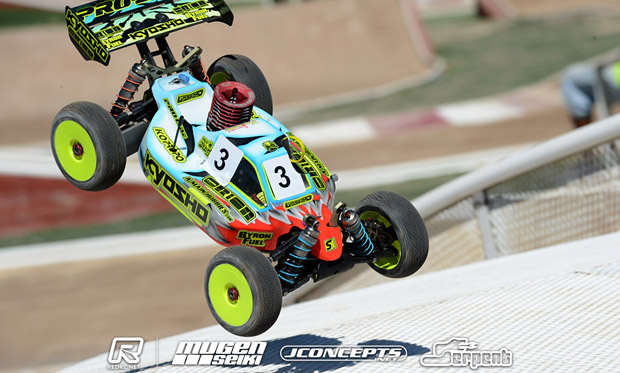 The final day of the 14th 1:8 Offroad World Championships has arrived and getting the day underway was the 1/8 Finals with the biggest news from the two 30-minute encounters being that defending World Champion Cody King, who ended up in the 1/8 B final after a disappointing qualifying in which he was only 38th, will progress to the 1/4 Finals.  The Kyosho/Orion driver had a slow start to the race but worked his way to the front to eventually take the win ahead of the Serpent of pole position starter Billy Easton, Team Associated's Neil Cragg and Durango's Joern Neumann. Nuemann who bumped up from yesterday's 1/16 final started the race 9th and took the lead on the second lap and led for the majority of the race but having one more stop than his rivals, refueling on 6-minutes, he dropped back into the final bump position.  The same race saw the end of the event for 2006 World Champion Mark Pavidis who finished 5th.
In the earlier 1/8 A Final German Kyosho driver Carsten Keller took a comfortable win ahead of Australian TLR driver Craig Laughton who started from pole.  Just behind Laughton was American Mugen driver Barry Pettit with TLR's Matt Castellano claiming fourth and the final bump up position.  The race brought to an end a good run for A-Main Hobbies team driver Chad Bradley who yesterday bumped up twice to make it through to the main day.  The American missed the cut by 4-seconds finishing fifth behind Castellano.
View our event image gallery here.
---