December 9, 2012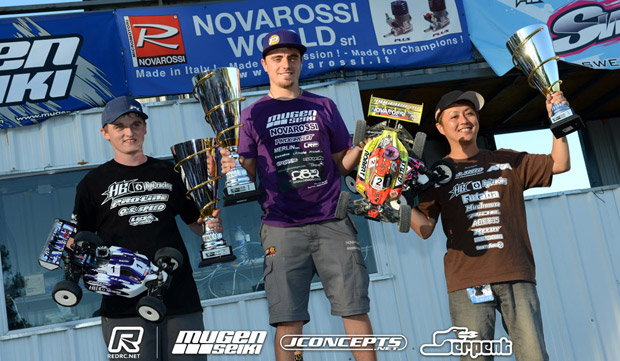 Robert Batlle is the 1:8 Offroad World Champion after the factory Mugen driver dominated what was a processional and uneventful one-hour final in Buenos Aires, Argentina.  Starting the race from second on the grid Batlle took control of the race when pole sitter and early leader Ty Tessmann made a mistake allowing the Spaniard through from where he opened up a lead he would never relinquish to give Mugen their first win since 2004 and the first World title for Novarossi since 1990.  Behind Batlle, Tessmann took the runners-up spot with HB team-mate Atsushi Hara third.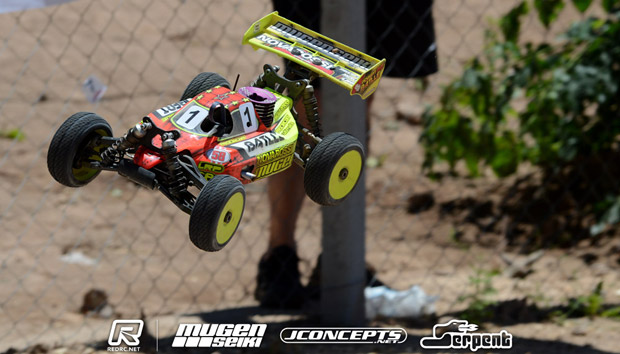 The first European winner since Frenchman Guillamne Vray took the title 8-years ago, Batlle said it was 'dream come through' and he was finding it hard to find words to describe how it feels to reach his ultimate goal.  Asked about the race he said while it may have seemed like an easy race to onlookers he said it was far from it from a drivers point of view.  Switching from the soft compound of Procircuit's Marathon tyre which he ran in the Semi to medium for the Main, Batlle said while his MBX7 was easy to drive track conditions made it a very difficult race.  The first Spanish driver to be crowned World Champion, he said Tessmann had the speed to always be a threat and he had to push hard for the majority of the race.  Setting the joint fastest lap of the race with Ryan Lutz, he said in the closing stages he started to focus on controlling the gap between himself and the Canadian.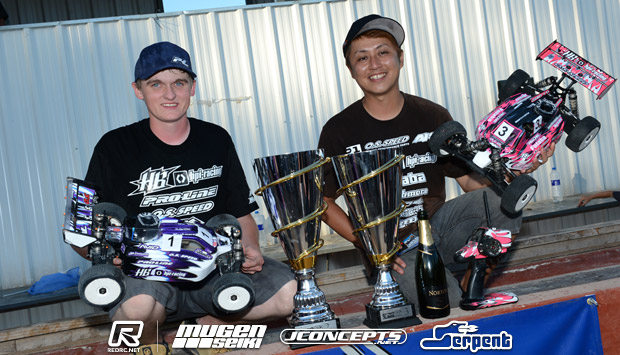 With disappointment at missing out on the title written all over his face, Tessmann said while his buggy started to fade a little in the latter part of the race it was too many mistakes that ultimately cost him the win he had worked so hard towards achieving.  2012 has been the 19-year-olds coming of age with him winning a host of high profile races culminating in him being crowned US National Champion and one can only expect the quiet talent who likes to do his talking on the track will be one of the biggest threats to Batlle defending his title in 2-years time in Italy.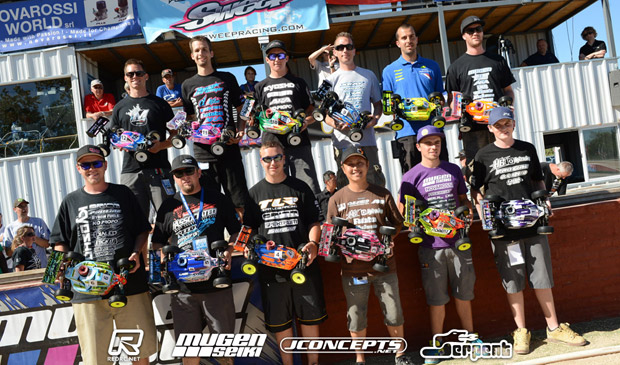 A legend of the RC racing World Hara's third place finish sees the Japanese ace becomes the first driver to finish three consecutive World Championships on the podium.  Changing to a longer chassis after the Semi final practice and choosing HB's hardest compound Gridlock tyre for the main event he said the buggy, tyres and fuel mileage from his OS engine were good. Hara's third Worlds podium this year having finished runner up in electric touring car earlier his year and then again in nitro touring car last month, he said he 'tried his best' but he had too many mistakes. The 2008 World Champion said prior to the event he told himself if he wasn't competitive he would retire from the class but with a smile on his face he said his performance in the final has given him huge motivation for the next Worlds adding next time he wants to be back on the top step of the podium.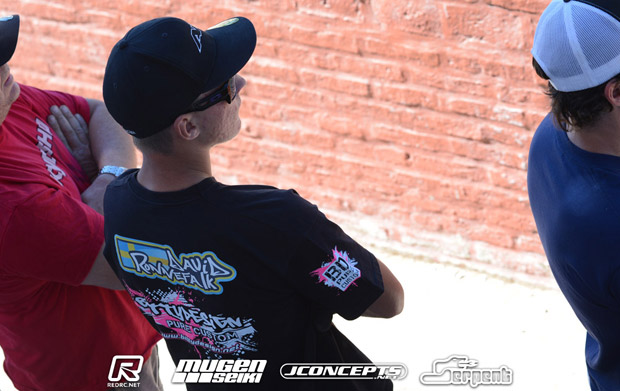 Snatching fourth position from Associated's Ryan Maifield on the last lap, David Ronnefalk was the top Kyosho with outgoing World Champion Cody King finishing 7th. Ronnefalk said he was 'super happy' with the result as it is the best finish to be achieved by a Swede.  The 16-year-old, who made a great initial start to the race making up five places before catching an out of shape buggy at the double double which dropped him back to last, said his MP9 was not very good at the start but improved as the race went on and passing Maifield on the last lap was a bonus.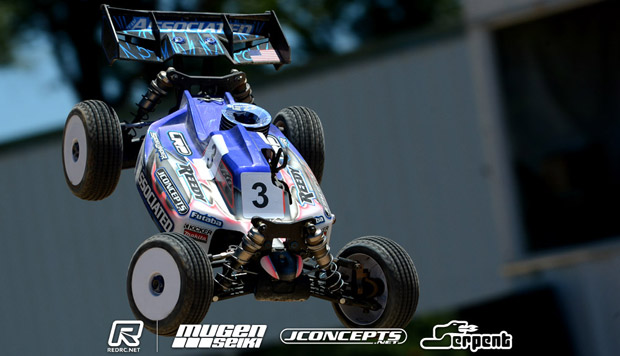 The top Associated in the race finishing one spot ahead of team-mate Yannick Aigoin, Maifield described his fifth place finish as 'alright'.  The America ace said he crashed too much and a damaged drive train meant his LRP powered RC8 was difficult to drive in the last few laps.  A driver who is not afraid to mince his words he said the best thing about the race was 'we now get to go the F#*k home.' Behind the two Associateds, Xray's Josh Wheeler finished 7th followed by the sole TLR driver to make the Main Dakotah Phend.  The 15-year-old had a bad start to the race but pitman David Spashett said afterwards they didn't have the economy to be able to challenge for a good result needing fuel every six and half minutes.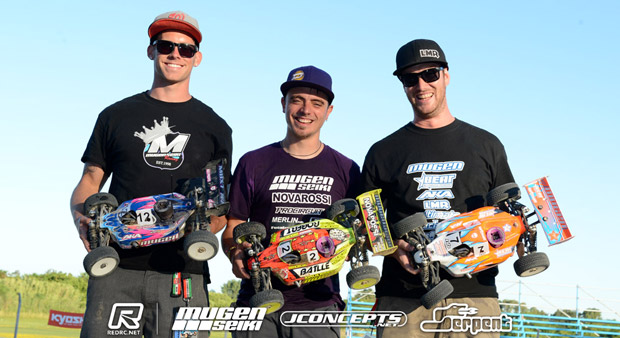 The only driver not to finish the race was American Taylor Peterson after he suffered a receiver failure on his Mugen MBX7 while on for solid result with 5-minutes to go.  Team-mate Lee Martin had a troubled Worlds final debut, the British driver suffering numerous engine flame outs.  Despite this he persisted to the end to finish 11th behind Peterson.  Managing to equal new World Champion Robert Batlle's fastest lap of the race Ryan Lutz finished the race last after he suffered a broken front centre drive shaft on his prototype Durango.  Taking the buggy back to the pits his mechanic and Durango designer Gerd Strenge fitted an entire new front gearbox allowing the American to rejoin the race albeit 12 laps down on the leader.
A World Championship that has lacked the wow factor in almost every way hopefully it will lead to the manufacturers coming together to ensure that future events are worthy of the World Championship status.  The pinnacle of ones sport should inspire future generations to follow their dreams and is that not also part of the reason for our sport having and investing in a World Championships.  To our media colleagues Live RC, who despite valiant efforts by Brandon Rohde were unable to bring the world their usual top quality TV coverage, we hope this event hasn't diminished your passion for the sport and that if the manufacturers do decide on taking action that you are part of the package they create.  Finally we would like to thank new World Champions Mugen, JConcepts and Serpent for making our coverage from Argentina over the past 8-days possible.
Main Final Result
1. Robert Battle – Mugen/Novarossi – 76/60:45.260
2. Ty Tessmann – HB/OS Speed – 75/60:13.874
3. Atsushi Hara – HB/OS Speed – 74/60:01.333
4. David Ronnefalk – Kyosho/Orion – 74/60:04.762
5. Ryan Maifield – Associated/LRP – 74/60:12.374
6. Yannick Aigoin – Associated/nVision – 74/60:50.218
7. Cody King – Kyosho/Orion – 73/60:39.724
8. Josh Wheeler – Xray/OS Speed – 72/60:07.733
9. Dakotah Phend – TLR/Orion – 72/60:18.770
10.Taylor Peterson – Mugen/Alpha – 67/55:01.026
11.Lee Martin – Mugen/Novarossi – 60:35.665
12.Ryan Lutz – Durango/Alpha – 60:14.762
View our event image gallery here.
---