December 6, 2012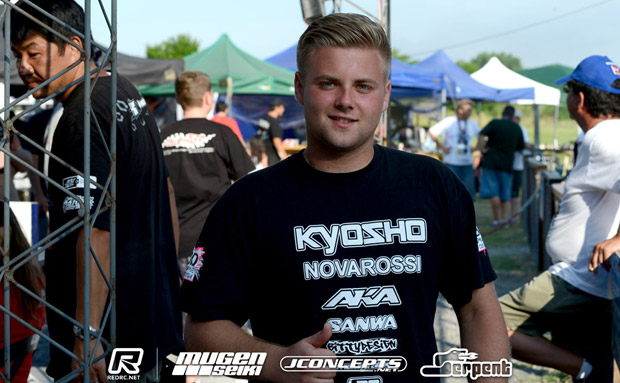 Kyosho's Elliot Boots backed up his TQ run from this morning's Q3 with a blistering performance in the penultimate round of qualifying this evening at the 1:8 World Championships in Argentina to take Q5 by a massive 13 seconds from Team Associated's Ryan Maifield with Mugen driver Davide Tortorici third fastest.  The slowest TQ run of the five rounds due to the track having become very bumpy & unpredictable, the result puts the 19-year-old Brit top of the more qualification ranking scenario of counting 3 rounds from 5.  Officially there is one round of qualifying still to run although the weather forecast for tomorrow could very well see no action in Buenos Aires with very heavy rain expected later tonight, although that said previous rain predictions earlier in the event were to prove wrong.  Under normal circumstances 4 of 6 rounds count but to cover all eventualities race officials published both rankings with Robert Batlle provisional Top Qualifier from Boots.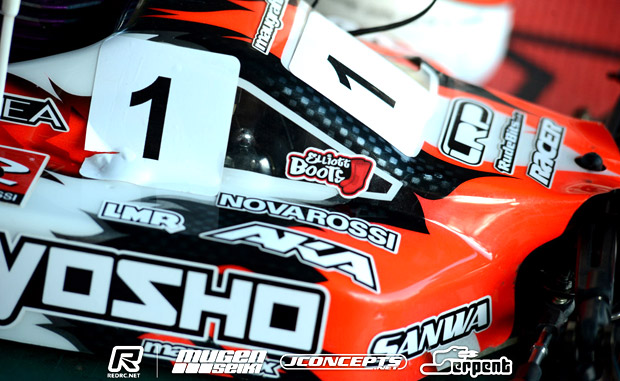 Boots said his MP9 was really good adding that he is gelling more and more with the track as it gets more bumpy.  Having not done the Warm-up Race the British driver doesn't have the same experience of the track as it deteriorates but he said on a few occasion enroute to becoming British National Champion he ran on tracks where the surface was similar to now and that this suits his driving.  Describing the track surface as like 'the Moon' when asked how it was for Q5, Boots said his run could have been faster but he had trouble passing Maifield who in turn had trouble passing Xray's Renaud Savoya.  Not wanting to get caught up in with either buggies the 19-year-old with advice from his pitman Mike Craddock backed up until the pair sorted things out which he said cost him in total around 4 seconds.  Asked about Q6, Boots said he would wait to see what the rain does but should it stay dry he will run the same set-up and again using AKA's medium compound iBeam.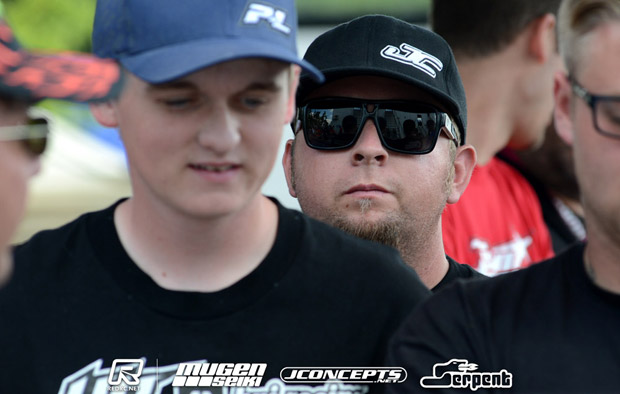 Maifield said along with his 'traffic problems' he also made a few driver errors.  Admitting his driving was not on Boots' pace overall he said it was a solid 10-minute run.  Switching to a yellow compound Metrix tyre from JConcepts for the run the American described the track as unpredictable but feels his RC8 could match Boots' Kyosho if he drove it better.  Asked what his plan is for the final qualifier the 11th placed finisher at the 2010 Worlds in Thailand he said if the weather holds out he will 'probably not change much'.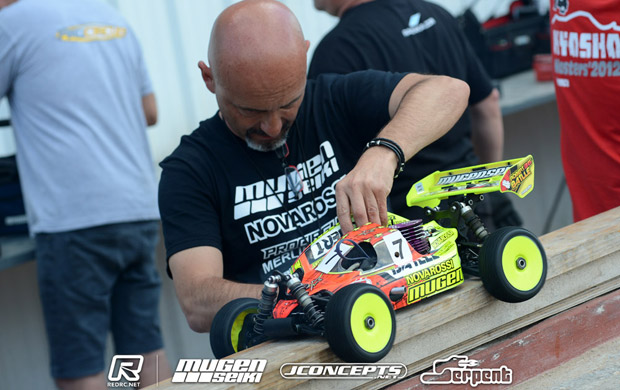 Finishing just behind fellow 2-time European Champion and Mugen driver Tortorici, the Italian is driving well in the difficult conditions, Robert Batlle ends the day at the top of the points ranking ahead of Boots when 4 of 6 is counted.  Asked about the track for Q5, the Spaniard said it was 'destroyed' and he drove the 10-minutes just trying to keep his MBX7 on four wheels.  Loosing time with a mistake at the double, he said they need to change their set-up for the increasingly bumpy track.  Having experienced running on the track at the warm-up where it broke up badly, Batlle who won the event said they were running the MBX7's predecessor then and the set-up won't directly transfer across.  Still learning how set-up changes effect the new buggy he said although he is sitting top of the ranking they need to find a little more speed.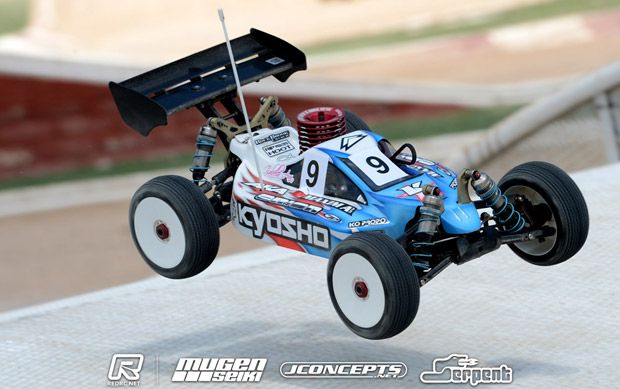 Behind Batlle, Jared Tebo who runs in the same group as Tortorici set the 5th fastest time ahead of his Kyosho team-mate Kyle McBride. Unfortunately for defending World Champion Cody King Q5 was yet another difficult run for the American.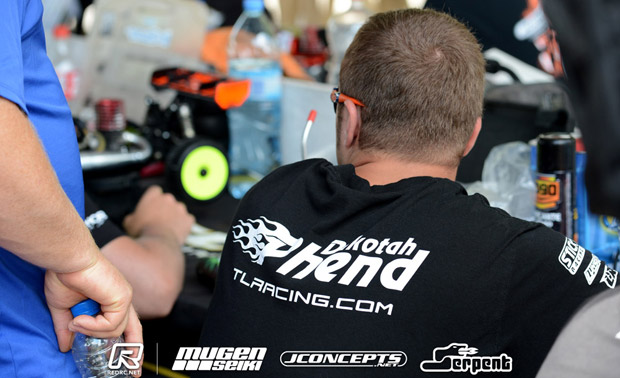 Elsewhere there were problems for TLR's Dakotah Phend and A-Main Hobbies Dylan Rodriquez.  Phend only managed a single lap before his 8ight failed to turn at the end of the straight.  Confident with his buggy for the conditions on his opening lap two drivers ahead of him tangled and one of the recovering buggies pulled out in from of the 15-year-old.  The heavy impact resulted in a steering servo failure bringing an end to what was a disappointing Day 2 of qualifying, which yesterday started out so well when he took second in Q1.  With Dakotah out, the Top TLR driver for the round was fellow American JR Mitch who had his best run setting the 10th fastest time.  Second fastest in Q4, Rodriquez was also a non finisher for the round after he lost his front right shock when the corner of the carbon shock tower on his MP9 broke.
Qualifying Round 5 – Top 12
1. Elliot Boots – Kyosho/Novarossi – 13/10:04.162
2. Ryan Maifield – Associated/LRP – 13/10:17.157
3. Davide Tortorici – Mugen/Bliss – 13/10:18.875
4. Robert Batlle – Mugen/Novarossi – 13/10:18.903
5. Jared Tebo – Kyosho/Orion – 13/10:20.241
6. Kyle McBride – Kyosho/OS Speed – 13/10:20.518
7. Atsushi Hara – HB/OS Speed – 13/10:23.382
8. Simon Willetts – Mugen/Novarossi – 13/10:23.486
9. Yannick Aigoin – Associated/nVision – 13/10:23.677
10.JR Mitch – TLR/Orion – 13/10:26.492
11.Taylor Petersen – Mugen/Alpha – 13/10:27.219
12.Martin Bayer – Xray/LRP – 13/10:27.555
Overall Ranking based on 3 of 5
1. Elliot Boots – 452 pts
2. Robert Battle – 451
3. Ty Tessmann – 448
4. Jared Tebo – 446
5. Ryan Maifield – 445
6. Lee Martin – 441
7. Yannick Aigoin – 438
8. Kyle McBride – 437
9. Davide Tortorici – 434
10.Martin Bayer – 433
11.Jerome Aigoin – 429
12.Atsushi Hara – 428
Overall Ranking based on 4 of 6
1. Robert Battle – 599 pts
2. Elliot Boots – 597
3. Jared Tebo – 588
4. Ryan Maifield – 587
5. Ty Tessmann – 584
6. Yannick Aigoin – 581
7. Martin Bayer – 573
8. Davide Tortorici – 570
9. Lee Martin – 570
10.Kyle McBride – 568
11.Atsushi Hara – 561
12.Taylor Petersen – 559
View our event image gallery here.
---