January 25, 2013
Kyosho's Jared Tebo set the pace in practice for the Reedy Race of Champions, the America topping the times sheets at West Coast RC Raceway in California in both 2WD & 4WD.  Although times have no meaning due to the head to head race format of the world famous race, they do give an indication of each drivers form with Tebo declaring himself happy to end Day 1 as the fastest of the 29 invited drivers who will battle for the 19th Reedy Race title over the next three days.  In 2WD it was defending Champion Joern Neumann who was 2nd fastest, with his Durango team-mate Travis Amezcua the closest on pace to Tebo in 4WD.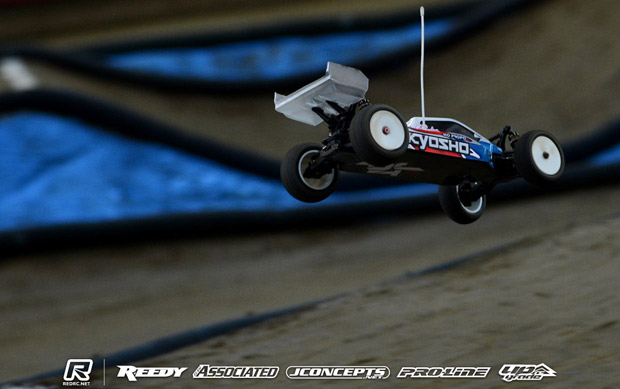 Over the three round of practice the drivers got today for each class, Tebo said he used each of the 5-minute runs to try different shock settings with a piston change on his 4WD for the final practice giving the buggy a really good feeling allowing him to post the fastest run of the day by almost 4-seconds from Amezcua.  Commenting on his 2WD he said he feels he would like to try a few more options as the rear is a little loose but added that he is not sure that he should 'go messing with set-up' for the first race tomorrow as overall his RB6 is comfortable to drive.  Unlike normal races where outright speed is what you look for in practice, he said its a fine line between speed and drivability for this type of racing.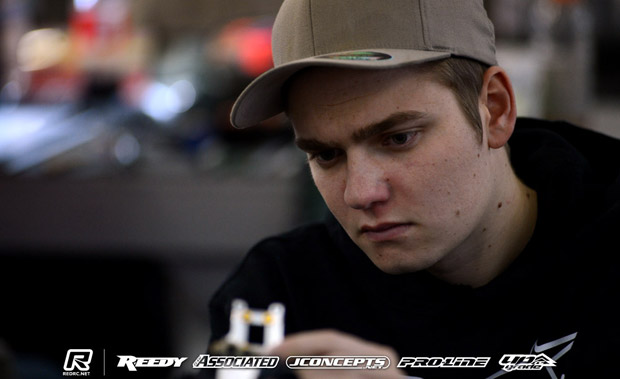 Suffering with a cold Neumann also felt his DEX210 was a little loose on the rear, the German putting this down to his rear tyres, which after three runs still look like the they just came out of their packaging. With little he can do about the tyres, hoping they will come in soon, he will reduce the anti-squat in the hope of improving the car.  Although he didn't post a Top 10 practice time in 4WD, the European Champion said his DEX410 felt good and being easy to drive he planned to leave it as is for the first of his races in the morning.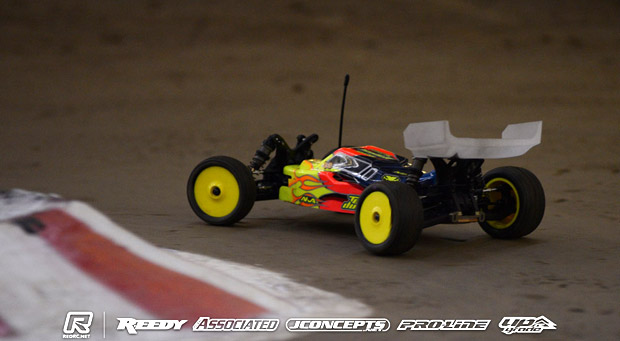 Amezcua was also happy with his 4WD Durango, the American making only a number of small adjustments over the day.  Easy to drive he said he can push hard if needs to and is pretty confident going into the racing.  On his 2WD he said that he plans to look over his buggy tonight and make a few more small adjustments for tomorrow.  Easy and safe to drive, allowing him to set the 9th fastest time, he said he could do with finding a small bit of speed but thinks with the planned changes he should be ready to go racing.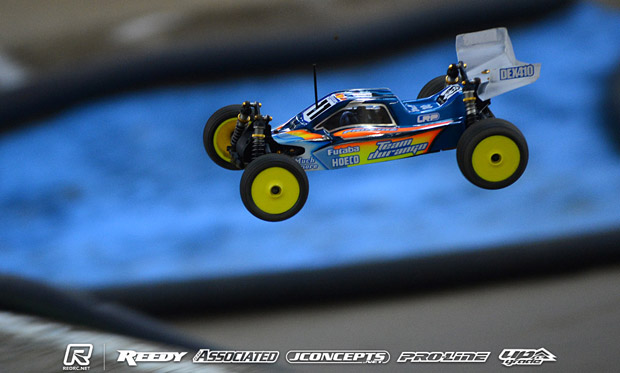 Setting the third fastest time in 4WD Hupo Honigl said he was on target for a faster run in P3 until he crashed with another buggy twice on the main straight.  The Austrian, who felt conditions were 'surprisingly slippery', said while his DEX410 was good his 2WD needs work if he is to be any way competitive tomorrow.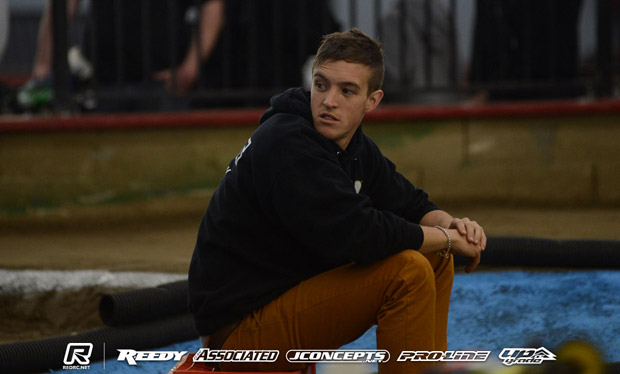 Team Losi Racing claimed the 4th fastest time in both classes with 2011 Champion Dustin Evans their top man in 2WD while the race's youngest driver Dakotah Phend took the oldest buggy on the market to within 6 seconds of fastest 4WD time.  Evans said both his buggies felt 'awesome' with his TLR22 needing no changes over the day. On his XXX-4 he said a switch to a hand made steering rack, which in testing made the buggy oversteer, improved the steering a lot especially through the sweeper at the end of the straight and it now feels 'good to go racing with'.  Phend said he was really happy with his 4WD and while his 2WD was also good he needed to drive it a bit better in the beginning of the runs and cut out the small errors he has been making.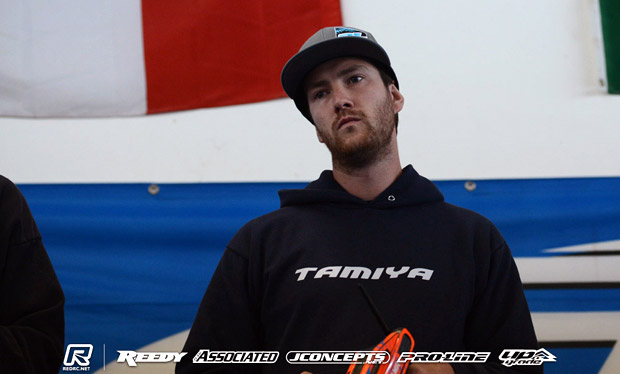 Tamiya Racing Factory's Lee Martin, who has been over in the US for the past week for some testing as well as some vacation time with his family, took his TRF201 to the third fastest time and in 4WD managed 5th ahead of Associated's Cody Numedahl and HB's Atsushi Hara who was also 7th fastest in 2WD.  With HB not having an electric offroad chassis, Hara who put on one of the best races of last year's Reedy Race when he had a great battle with Ryan Cavalieri in one of the heats, is running a Durango in 4WD and a mid motored Kyosho in 2WD.  In his final 4WD practice the Japanese ace who hasn't raced electric offroad competitively for a number of years, lost what he jokingly described as a 'very fast' rear wheel which over took his buggy down the main straight.  HB team-mate Ty Tessmann, the reigning US 1:8 Offroad National Champion is running Associated in both classes for the event.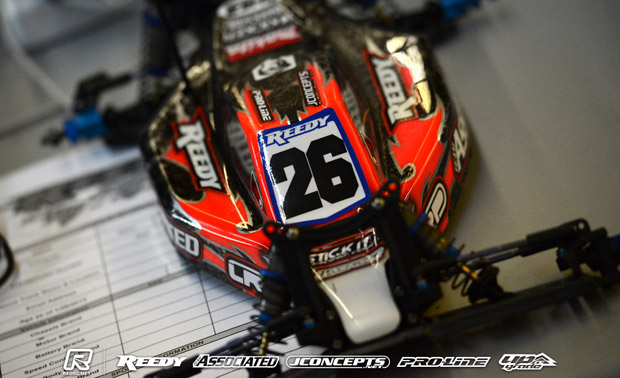 Fastest Associated at the end of practice in 2WD was the name who has taken over the running of the Reedy Race of Champions in recent years, Brent Thielke.  Behind the AE team-manager, taking his B4.2 to the 6th fastest time was his star driver Ryan Maifield while in 4WD Numedahl was the quickest of the team's drivers with Neil Cragg the next quickest with the 8th fastest time.
2WD Practice Times
1. Jared Tebo – 15/5:03.537
2. Joern Neumann – 15/5:06.774
3. Lee Martin – 15/5:07.046
4. Dustin Evans – 15/5:07.556
5. Brent Thielke – 15/5:11.885
6. Ryan Maifield – 15/5:17.040
7. Atsushi Hara – 15/5:17.531
8. Matt Castellano – 15/5:17.851
9. Travis Amezcua – 15/5:19.467
10.Josh Numan – 15/5:20.301
4WD Practice Times
1. Jared Tebo – 16/5:10.943
2. Travis Amezcua – 16/5:14.720
3. Hupo Honigl – 16/5:15.871
4. Dakotah Phend – 16/5:16.698
5. Lee Martin – 16/5:17.127
6. Kody Numedahl – 16/5:19.885
7. Atsushi Hara – 16/5:21.005
8. Neil Cragg – 15/5:01.005
9. Steven Hartson – 15/5:02.863
10.Chad Due – 15/5:03.968
View our event image gallery here.
---