October 8, 2014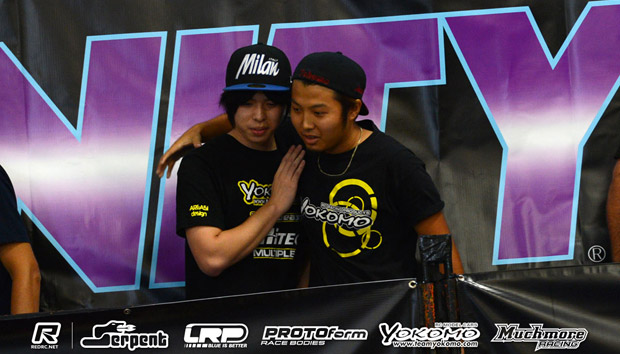 Having lost his 6-year reign as 1:12 World Champion to Marc Rheinard in A2, Naoto Matsukura took some consolation by winning A3 to secure second overall at the Florida event. Having struggled with the Finals Day conditions of the Minnreg Hall track, the Top Qualifier would lead away the field and stay out front for the full 8-minutes to head a Yokomo 1-2 from his very hard pushing team-mate Masatsugu Ido. Considering how the opening two Mains worked out, 5 in A1 and 4th in A2, the 21-year-old said he was 'Happy to finish 2nd'. After a dominant performance in qualifying wrapping up the honour by TQ'ing the opening four rounds, which he said was the perfect gift to his mother on her birthday, he said the change in track conditions today left him with a difficult car and while 'winning is always the goal' today 'things didn't work out'. Joking with new Champion Rheinard, he said 'I had 1:12 title long time so Marc can have it now, I go this year instead for Touring Car win'.
Equalling his best World Championship finish, Futaba radio designer Hideo Kitazawa completed the podium despite a though A3. Third overall at the Yatabe Arena in 2000, the Morotech driver was slightly disappointed he couldn't have gone one better today adding he had the car to achieve 2nd but through no fault but his own threw away the opportunity with 'many many (driver) mistakes'. Needing only to finish behind Matsukura to finish 2nd overall his mistakes would see him finish 8th and he would lose out on the tie-break with his fellow countryman.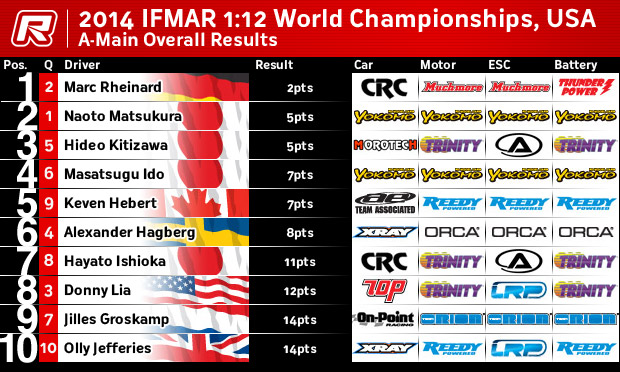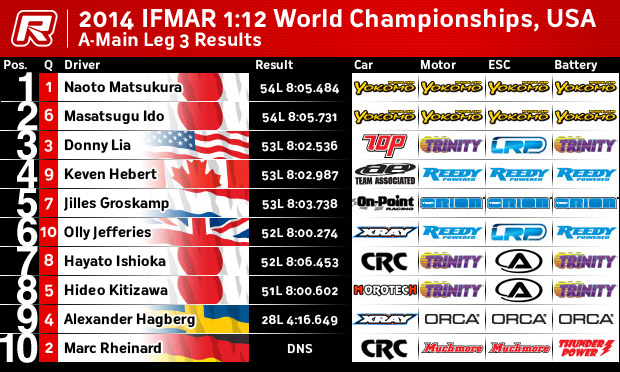 View our event image gallery here.

---