October 9, 2014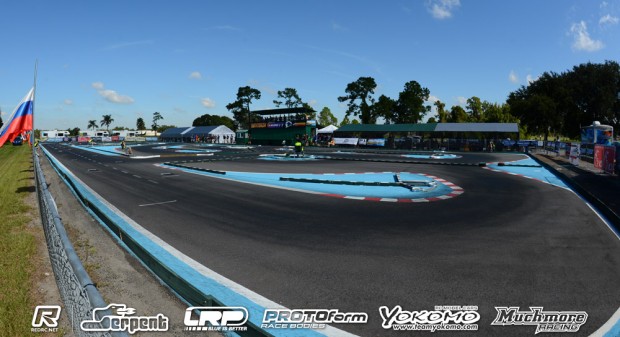 Track Name – Full Throttle RC Raceway
Owner – George Martinez
Country – Florida
Location – Kissimmee
Direction – Clockwise
Surface – Asphalt
Built in 2003 Full Throttle RC Raceway hosts it second Touring Car World Championships having previously been the venue for the 2004 Worlds where Tamiya's Marc Rheinard won the first of his three Touring Car World titles. Hosting just the Touring Car class this time round, the 1:12 event having been hosted at the Minnreg indoors 2-track hours away in Largo the past 3-days, the track is located within a golf course and right next to Kissimmee Airport. A city famed for its aviation, the track owes its existence to the airports manager, who being into r/c, instigated a collaboration between the city and the track's original owner. Getting involved in the track in 2008 before taking over full ownership in 2010, the track is now run by George Martinez, who as a day job works for America's world famous Hersheys Chocolate.
Closed for the months of June and July, the Florida weather just too hot for racing, the track hosts events the first weekend of the month with Saturday a day of open practice followed by club racing on the Sunday. Annually the track's biggest race is the US Nitro World Cup which attracts 130 entries and runs in December to coincide with George's birthday. This year the track also played host to the US Electric Onroad Nationals, with racers having to battle the extreme weather as ROAR, the American sanctioning body, has a ruling that the Nationals must take place at the end of July.
In terms of the layout, the asphalt covers an area 255ft wide and 100ft deep with the layout created using boards. Since the Worlds Warm-up Race held back in April, the track has gone through 7-layout changes with George picking the best elements of the various layouts to create the track on which drivers will compete for the 8th IFMAR Touring Car World title.
Commenting on the new layout defending World Champion Jilles Groskamp was very positive. Using the full length of the straight at the Warm-up Race, now cars enter the straight 1/4 ways down something the Tamiya driver says is a good change, the cars previously hitting speeds of 115kph. With most of the teams returning on a couple of occasions for further testing in preparation for the Worlds, Groskamp said the layout is now not so technical as it is now more open and he likes it.
Image Gallery

---