October 10, 2015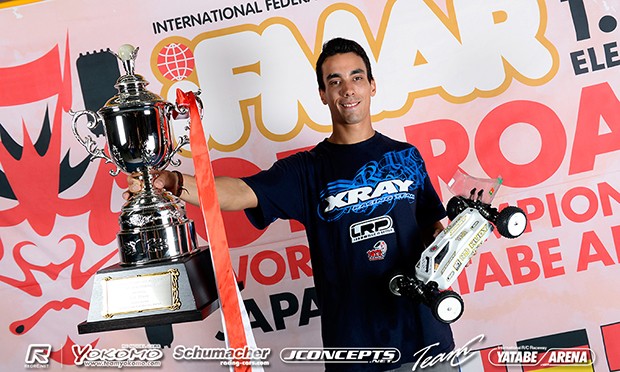 Bruno Coelho is the new 1:10 4WD Offroad World Champion, the Xray driver securing the sport's top prize in Japan with a convincing victory in the second A-Main of the Yatabe Arena hosted event.  Coming into his first electric offroad Worlds as a relative unknown in the class, the Portuguese Touring Car star would become the second Rookie to triumph at the first Worlds to be run on astro turf, Spencer Rivkin winning the 2WD title at 16th running of the bi-annual IFMAR event earlier in the week.  A driver who burst onto the international scene when one year ago to the week he finished runner-up at the Touring Car Worlds in the USA, today's result was made even sweeter by the fact that he would beat his onroad rival & reigning Touring Car champion Naoto Matsukura to the title.  With Coelho forced to sit out A3, Matsukura would take the win ahead of David Ronnefalk to finish 2nd overall with Ronnefalk completing the podium.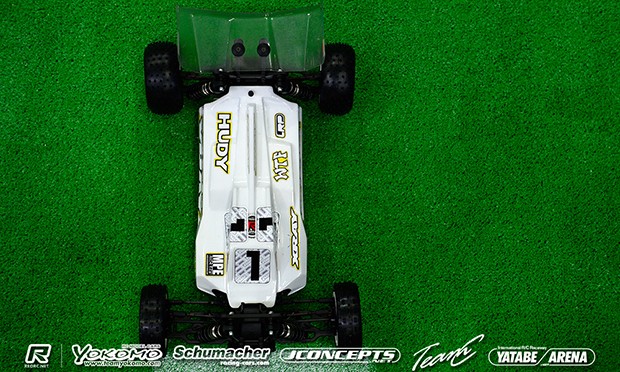 A driver who has quickly amassed a worldwide fan base in onroad, thanks in part to him rocking the establishment in the Euro Touring Series and winning, Coelho is also popular for being humble, with that personality trait apparent by his somewhat underwhelming reaction to the biggest win yet of his career. Declaring himself 'Super happy', his team-mate Martin Bayer joking about his reaction by saying 'yeah I won a race, its ok', the 22-year-old was quick to highlight the effort behind his win.  'There was a lot of work behind this. I worked the least so a big thanks to Bayer and Juraj.  They developed the car and it really works amazing'. After a slightly controversial A1 win, when his rivals felt he shortcutted he track after a mistake while leading, the Top Qualifier said A2 'was all perfect' joking 'but A3 was boring'.  Having wanted to race the third final, he had to sit it out getting to watch the podium deciding battle from his position on the driver stand. A driver whose racing started out in 1:8 Onroad and who made his Worlds debut in Argentina in 2007 crashing out while leading his Semi Final to finish 12th overall & be crowned the Junior World Champion, Coelho said today's victory was for his dad.  'I owe a big thanks to my father. He invested a lot of his life and money in me so this is for him'.  His first season as a professional driver he said he couldn't have asked for much more in his first year in the job.  A multiple discipline driver, him recently being crown European Nitro Touring Car Champion, when asked what title he most wanted most to win next he said 'Touring Car in China next year'.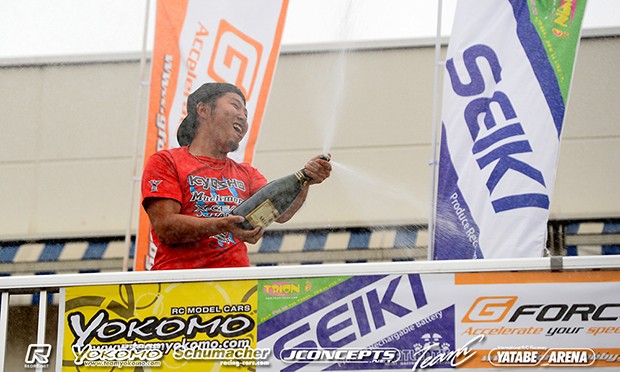 A driver who was widely tipped for the 4WD title, in particular after the opinion dividing decision was announced that the event would be run indoors on an artificial surface, Matsukura said his 'qualifying cost him the title'.  Having won the Warm-up Race, the Kyosho driver said the final was always going to be a three way battle between himself, Coelho and Orlowski but missing out on securing P2 on the grid with a poor Q5 run left him always on the back foot in the finals.  The 22-year-old said he was too aggressive for the track but added 'safe is not my style and thats why I miss the win'.  Commenting on A2 he said the race was 'maximum shit' after heavy contact from former 2WD World Champion Hayato Matsuzaki resulted in a broken spur gear.  With him and Ryan Maifield the only two finalist from the previous Worlds to make the A-Main, he said he was happy to finish second for a consecutive time adding next year I will win twice, referring to the 1:12 and Touring World title.  He also announced that he will make his 1:8 Offroad World Championship debut next year in Vegas as he moves into the class for the first time thanks to Kyosho.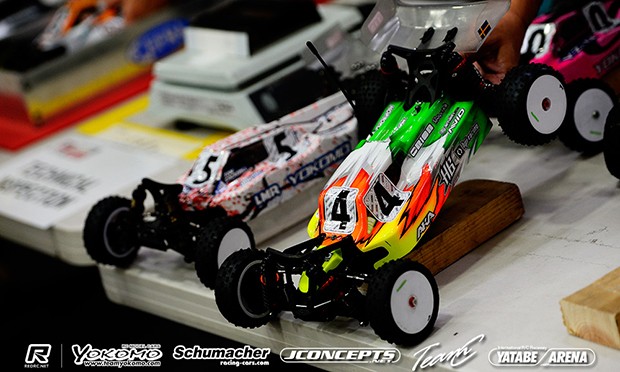 Claiming his first IFMAR podium finish, his previous best being 4th at the 1:8 Offroad Worlds in Argentina, Ronnefalk was very happy with 3rd.  Securing the final step on the podium with a second in the final A-Main, the HB driver said compared with 2WD earlier in the week they made a huge step forward for 4WD.  Having accepted third overall halfway through A3 he said 'then Naoto crashed so maybe if I had been pushing a little more I could have got second overall'.  Still, being his first year with HB since a surprise switch from Kyosho the tall Swede said the result made for a great first season with his new team.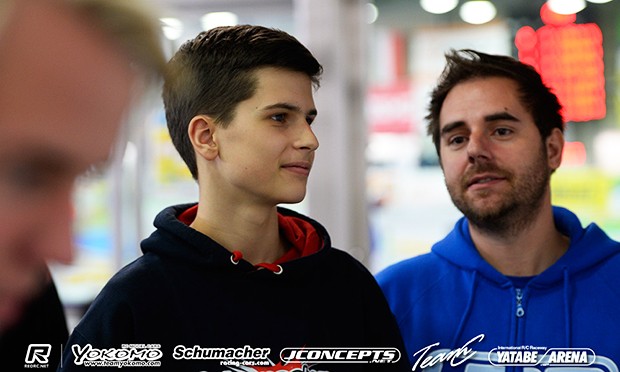 Missing out on the podium, Michal Orlowski said 'it wasn't my day. I made so many crashes in the final but I am happy with 4th'.  The 14-year-old added that leaving Durango last November after they dissolved their race team no one probably expected him to be fighting for the World title but he is very proud of the Schumacher team today showing 'the car and team are perfect'.  Commenting on A3 which he led off the grid as Coelho sat it out, he said he made a good start with the first couple of laps going well but then gave way to Matsukura rather than running close together and risking a crash but after doing that he crashed himself.  A driver well ahead of his age in terms of his maturity he said he was especially pleased that he 'showed the world our new car is very good'.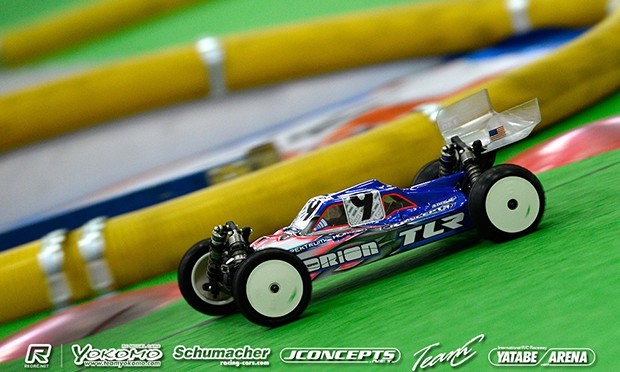 A driver who went into the third main with an outside chance of a podium finish after a great drive from 9th on the grid to 3rd in A2, Maifield would end up 5th and the top American, only two drivers from the powerhouse of offroad to make the final, the other being Jared Tebo.  Getting his TLR22-4 up as high as third in A3 before dropping back to 5th, he said 'I wasn't as fast as the others but was good getting through carnage'.  Describing himself as a 'road block' he said 'eventually they got mad and pushed me out of the way'.  His first Electric World Championship's with TLR he said, 'I'm not happy we weren't competitive but I'm happy to start 9th and finish 5th'.  With many feeling that the European's would have the advantage on the astro turf track, that not proving the case as Tebo TQ'd and Maifield's protege Rivkin took the win in 2WD, the Arizona driver said 'it all about car set-up, if you have that you don't have to be the best driver to be fast'.  He added with a good set-up, 'the track is good to drive but its not good for racing'.  Saying 'its not what I have grown up to enjoy as racing but I do think it has a time and place in racing but not at the World Championships.  Behind Maifield, making his first World Championship final, Tom Cockerill would complete the Top 6 for Yokomo on what was overall a disappointing performance for them on their home race but they can take some satisfaction from their efforts in putting on a very well organised event.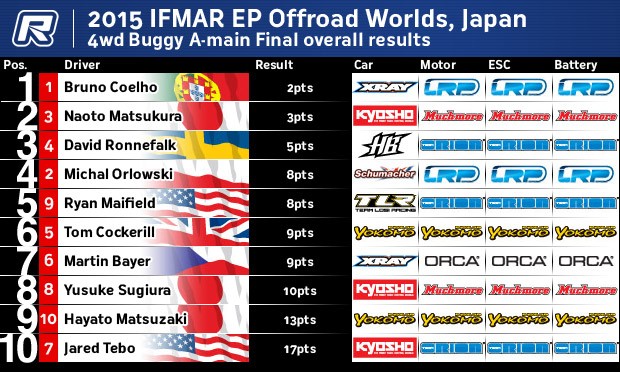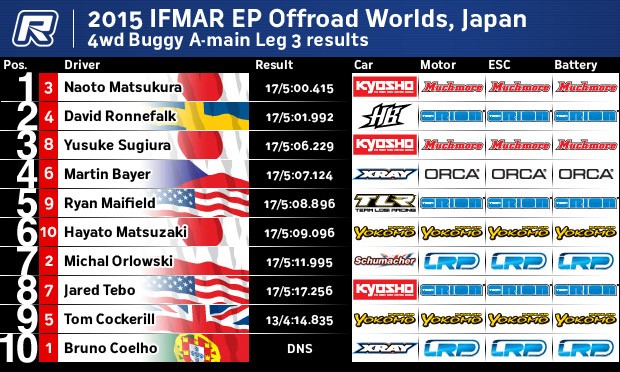 View the complete final overall results here (PDF).
View our full event image gallery here.
---