October 6, 2016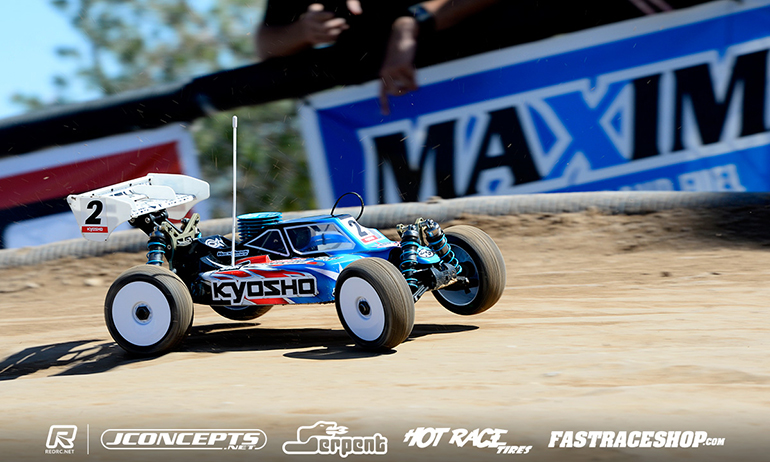 Jared Tebo fuelled his way to the honour of 1:8 Offroad World Championship Top Qualifier after taking the penultimate round of qualifying in Las Vegas.   Having TQ'd the first of yesterday's two Day 2 qualifiers, the Kyosho driver again kicked off the final day of qualifying with another TQ run thanks to going the full 10-minutes without stopping for fuel.  With two P2 finishes also to his credit he wraps up the overall TQ that counts the best 4 of 6 with one round remaining. Behind Tebo, last night's Q4 pace setter David Ronnefalk posted second for the round with the gap just 1.4-seconds despite the HB Racing driver stopping for fuel.  Running in the same heat as Ronnefalk, team-mate Ty Tessmann would complete the Top 3.  Former World Champion Cody King would be the only other driver to manage a 17-lap run on the increasingly difficult track as he showed further improvement in his package.  Justing missing out on 17-laps, Davide Ongaro would get a P5 ahead of overnight TQ holder Elliott Boots.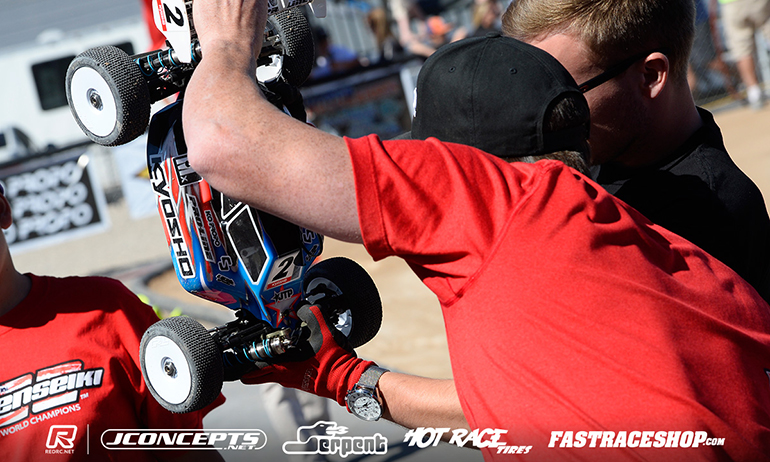 'It was all going to plan and I planned not stopping for fuel but I hit a car, I didn't see, so I was a bit nervous after that but I'm happy, we got the TQ', was how Tebo summed up Q5.  He continued, 'I was driving nice & easy and smooth, I wanted a bigger gap (at the end)'.  The 2010 Worlds Top Qualifier added, 'the car is really good but I'm doing some lines not so good and I need to work on that'.  Asked about his choice to not stop for fuel, the MX engines & fuel sponsored driver said, 'It's risky, I didn't come in with a 1/4 of a tank of fuel left. It a long time to run out there its well over 11-minutes'.  The TQ secured, he said for the final qualifier he will ,'try a couple of things I've been wanting to try which where always in our plan to try at the end of qualifying'.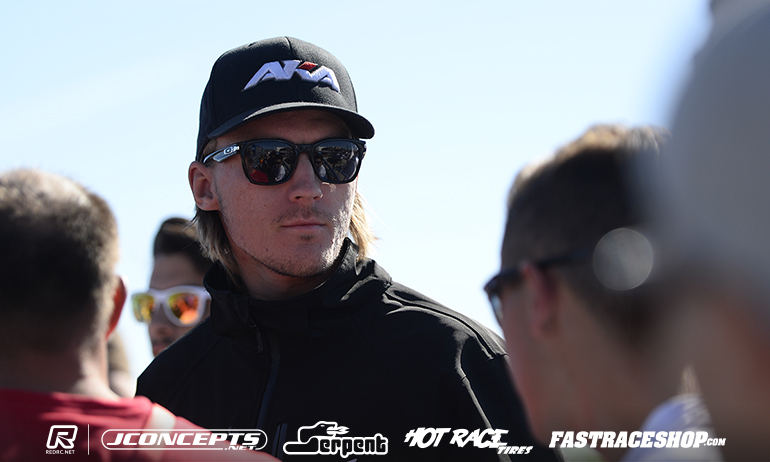 'Another good one' was Ronnefalk's reaction adding 'If it wasn't for Tebo doing 10-minutes it would have been a decent TQ'.  The Swede adding, 'the track changed a lot since last night, we are working hard out there'.  Describing the track as 'more dry this time', he said this left his Orion powered D815V2 'loose at the end' but overall the car 'felt the same (as when he TQ'd Q4)'.  The 20-year-old felt Tebo running with no stop was a positive for him saying, 'I think its a good thing they needed to try that (running 10-minutes) because maybe they are under pressure (in terms of outright pace)'.
Finishing 1.6-seconds back, Tessmann said, 'I had one spin around and I think I could have ran a better tyre but I dropped my 9 so I have four good runs'. Running on Pro-Line Holeshots, the defending World Champion said, 'Electroshot would have been better now'.  Looking to the final qualifier the Canadian said, 'its getting rougher and rougher out there and you need to be a lot more picky where you choose to drive but I think I'll just change tyres for the last one'.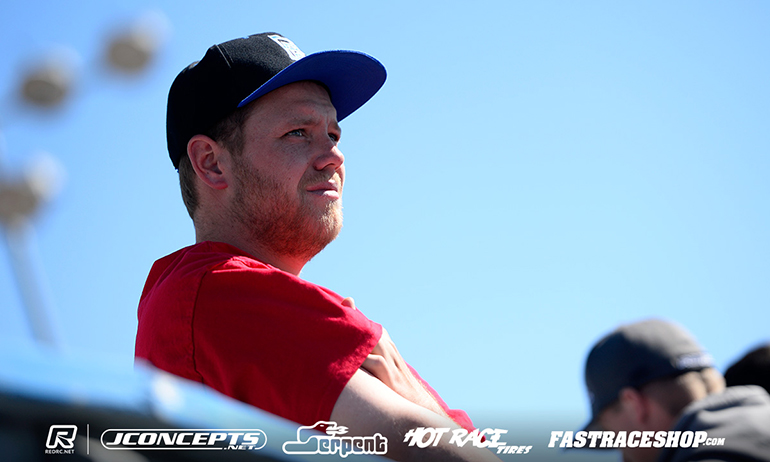 'Car is getting better and better and I'm just trying to find my way around the holes', was how King summed up his best qualifier so far.  A finalist at all the Worlds since his crown in 2010, the Kyosho driver feels there is more time to come from his driving plus the car adding, 'your going to hit bumps wrong once in a while but I got a good combination in my driving and how the car is working.  Also my pit crew are hitting it in the pitlane which is helping too'.  For the final qualifier, the Californian said, 'I don't think I'll change too much because I want to get rid of my 14 (from Q2) so a solid run is what I'm after'.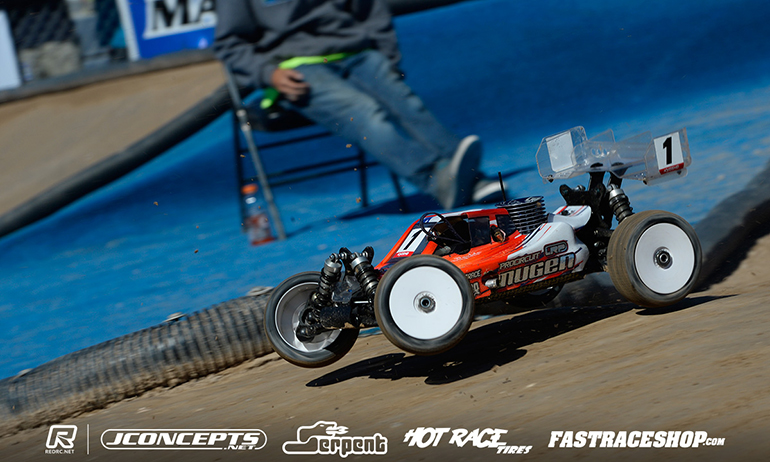 Missing out on 17-laps by 0.069, Ongaro said, 'I just made a mistake and that cost me the 17-lap run but apart from that it was good'.  The Mugen driver continued, 'it was very dry at the end which made the rear end pretty loose which led to my mistake'.  Describing track conditions as a 'disaster' he elaborated, 'I don't want to be negative about the track but the bumps are now extreme'.  Looking to improve rear stability of his LRP powered MBX7R for the final qualifier the 15-year-old Italian talent will run a wider rear hex as well as made a camber link change to try to also get the car to ride the bumps better.
Boots was less than impressed with his ongoing traffic issues saying, 'I had a nightmare with traffic again'.  In the middle of giving his thoughts on his run, the reigning European Champion would walk off after Kyosho team-mate Joao Figueiredo, 17th for the Round, expressing he was less than impressed with the Portuguese driver 'not helping' when he was trying to pass him.  The Brit also put some blame on himself saying, 'I had a couple of mistakes.  I hit one bump and it put me on my roof and no one saw me so that cost a lot of time'.  Describing his Reds Racing powered MP9 as 'good' he continued 'but I might have been on the wrong tyre. I think I need to go up in compound, it was catching the bumps'.  The 2012 Worlds Top Qualifier concluded, 'it's tough out there, everyone is crashing'.  Just outside the Top 6, Ryan Maifield would be the top TLR for the round with a P7 followed by 2012 World Champion Robert Batlle with Ryan Cavalieri and Ryan Lutz completing the Top 10.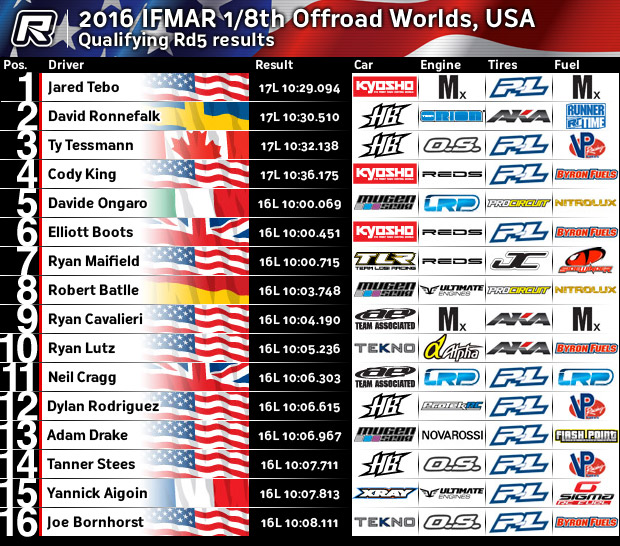 View our event image gallery here.

---