October 2, 2016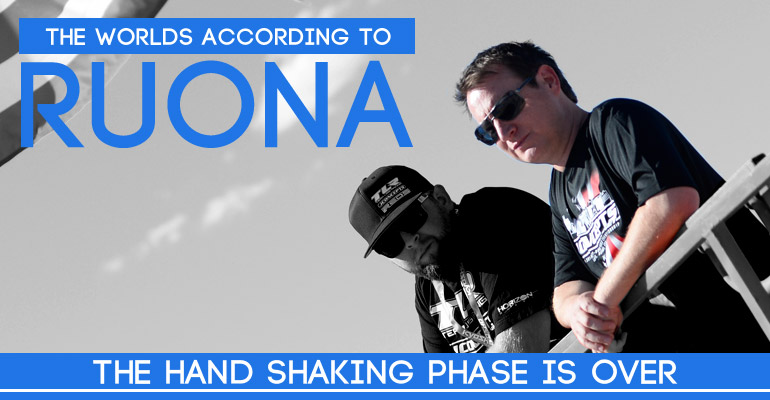 Well, we made it through the hand shaking phase of the worlds. You know, where everyone across teams, countries and pit areas pretend to like each other for a little while. It's always fake, it's always awkward and personally, I look forward to when we all go back to normal. Sure, we all respect the competition, but in all reality, let's race already.
We've been here since Thursday evening and today finally got our first laps starting around 2pm on Saturday. We did have the qualifying "race in" event but let's face it, that wasn't really needed. For the crew that makes the tour, we all know who should and shouldn't be in the race. I would have preferred to give the qualified drivers more practice than to a gimmick race. Oh well, let's move on.
In the era of social media, I don't know what people are more proud of. Actually racing the worlds or just taking a photo showing they were at the worlds. I don't know why we aren't trending yet, everyone says that we should be on ESPN like those cool drones. I just want to trend. Screw ESPN, I want to be trending news on social media someday. Keep pumping those hashtags, track photos and pit shots. We will be there soon.
As heavily posted already, (trending) the track and facility are top notch and well prepared. Chris Tocco has answered the call and I finally signed off on the deal when he showed me the backup water supply unit today. I try to think of everything but man, he thought of the backup water supply unit? Next level! The layout itself is nicely built and I repeat, in a smooth condition a great track for me or my driving style. I told Paul Wynn, this looks like a track we would design for our Clash event which has to work for both 1/10th and 1/8th scale vehicles. Ironically, the 1/8th guys at the Clash would normally complain it's built for 1/10th scale. Well, this one is built for the 1/8th worlds….so there.
In my opinion, the track lacks that signature section. That wow factor that makes someone's driving stand out over another. I've been here multiple times and it's probably my least favorite layout. Knowing that Chris has thought this out quite a bit, I think he believes the conditions and bumps will be more the character we are looking for. Didn't JQ post this already? I'm agreeing with JQ? I'm outta here…
The drama today which was once again made worse on FB was the issue with the wings. Apparently a few years ago the rules were changed and the side-dams need be a certain size for number decals. You know, those things you can't see on the track that indicate a car number which doesn't matter because your transponder has a number which relates to your name. If there was only a way to differentiate cars from one another on the track. In a perfect world, the cars would have different paint schemes and color combinations so an experienced race announcer could look at the vehicles and be able to separate them based on appearance…..I know, I know…race cars have numbers and it does help..I get it.
Going back to the wing, I never really considered looking at minimum size areas or rule changes. I just figured maximum size was all that mattered and for the simple fact, if we used a certain wing at the last several worlds that it would be legal for the next worlds. As Donald Trump says, WRONG! I think I was less worked up about it than anyone…I was like, just put the Kyosho wing on and be done with it. They have 400 in the hobby shop for $30 each. Some got creative and bolted a section to their standard wing. I like it! Let's make some stuff again, too much is available perfectly out of the package. Let's see your skills with scissors, dremel and some hardware. I guess the irritating part of the whole thing was the letter IFMAR wrote to the racers and manufactures telling everyone how stupid they are and were. Jeez, talk about a total bitch slap to the face. I can't wait to write that press release in a few months.. ….Specifically designed with IFMAR rules in mind, the JConcepts Hybrid "IFMAR spec" wing has been carefully crafted of durable polycarbonate and pre-trimmed for that perfect fit and finish.
Overall, today was a good day for practice. There were some surprises and you could already see the affect of the track watering schedule and how it progressed into the day. It's going to be a challenge to keep it completely consistent and also have water on it. I wouldn't completely bet high on guys that win practice because there are going to be highs and lows depending on the water and time of day. The race will be won and lost in dryer conditions because the semi-final and mains are obviously longer. Let's take a look at the top 15, make sure our guys are somewhere to be seen and keep motoring along. Keep an eye out for the guys that will go 10 minutes in qualifying or also in the mains….that will certainly be a factor before it's all said and done.

---