January 23, 2017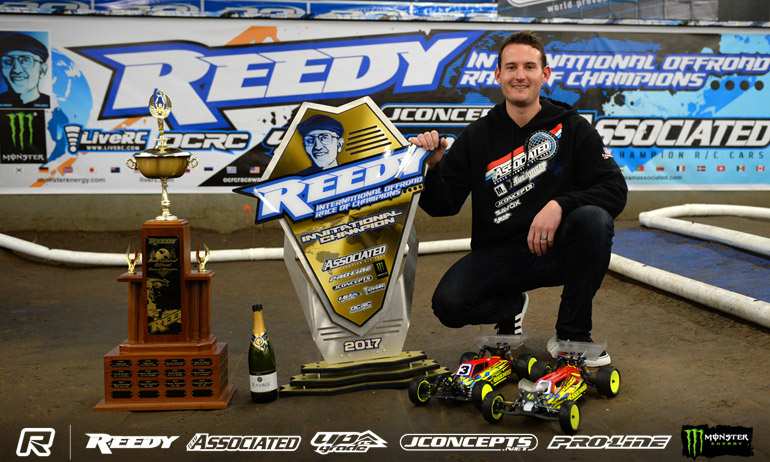 Ryan Cavalieri has claimed a fourth Reedy Race of Champions title, the Team Associated driver winning the title showdown between himself and his great rival Ryan Maifield.  With the pair separated by a single point, Maifield having the advantage going into the 12th and final round of heads up racing, and the two Ryans lining up in the same race that would close the 23rd running of the legendary race the stage set for the ultimate showdown at the OCRC Raceway hosted event. With Cavalieri on pole and Maifield lining up directly behind him, the script was perfect but while Maifield would set chase on Cavalieri getting by the No. 2 starting Spencer Rivkin, the fairytale Yokomo debut was not to be. Struggling to keep up with Cavalieri, something obviously wrong with his car, Maifield would eventually go out with a front shock failure ending his quest for a second Reedy Race title.  With his only threat gone, Cavalieri could cruise to his 6th win of the event to win by a single point, yet another Reedy Race title.  While it was the seasoned package that won, the podium indicated an exciting season lies ahead as another of the new team debutants Ty Tessmann secured 3rd for Xray.
'Pretty awesome' was Cavalieri's reaction to a win that singles him out at the master of what all drivers agree is the worlds toughest race to win.   Commenting on the win that hands him back the Mike Reedy Heritage Trophy which he first held in 2009, when Mike Reedy's Birthday race was resurrected after an 8 year absence from the calendar, he said, 'I was really impressed with my driving and that was the best my car felt for 2WD.  After the start I just put in solid laps and got a cushion'.  Summing up the event, in which Associated debuted their long awaited new 4WD platform, he said, 'We put in a lot work with the new car and had an up & down 4WD part to the race but I knew 2WD was my best class and if we were close after 4WD I had a chance.  I felt more prepared for 2WD'.  Having switched electric sponsor over the winter moving to Muchmore Racing, he said it was good to get a first win with his new sponsor and together with running the new B64D it was 'good to start off the new season in the right direction'.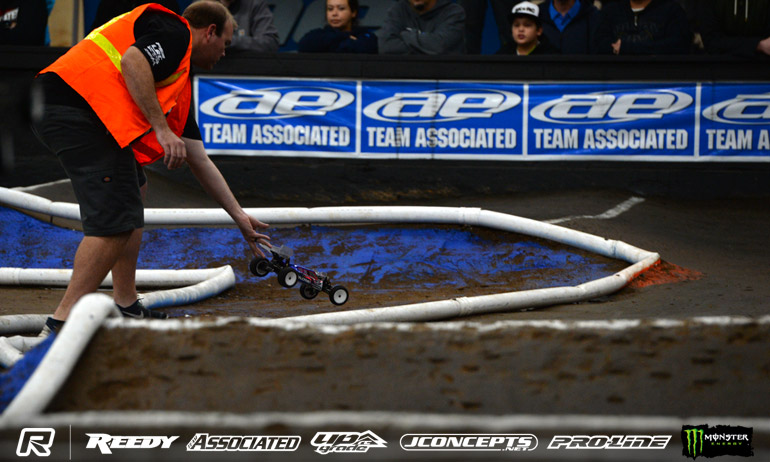 Claiming his fourth consecutive Reedy Race podium finish, Maifield said, 'I had a great week but I'm a little disappointed.  To get this close and not win is tough because you don't know when you'll get that close again.  It's hard when you lose over a 1 cent part but this is my fourth year in a row on the podium which is not bad for such a crazy ass race'.  Asked about the deciding encounter, which was ended by an e-clip coming off his front shock, the Arizona ace said, 'I went into the race excited.  My car was good all week and it was pretty cool how the grid turned out.  Having our team-mates starting alongside worked out good as they let us duke it out but then the e-clip came off.  I tried to keep going hoping something would happen but it wasn't to be'.  He continued, 'I am happy to start off my new deal with a podium finish and really enjoyed working with the team'.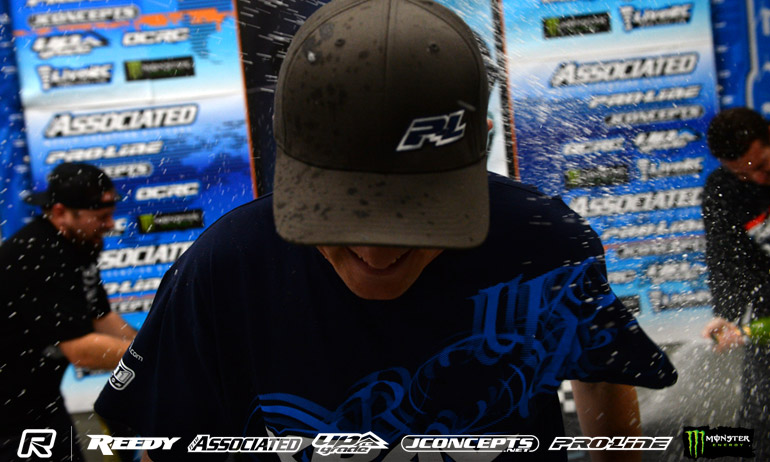 'It didn't look too promising when 2WD started with the finishes I was getting but we kept working on it and it got better in the end' was Tessmann's reaction to beating Rivkin and Dustin Evans to the final podium position.  The Canadian continued, 'the goal is always to win but you can't all the time but for brand new cars third is pretty good'.  His first podium since 2014 and the one big race that still eludes him he said, 'hopefully next year'. Having found himself sharing the lead with outgoing champion Dakotah Phend and Maifield, he said 'in 4-wheel we were more familiar with the geometry and knew what to do but 2-wheel we are still learning'. On the podium last year, Rivkin would end the event 4th followed by Evans with Phend completing the Top 6.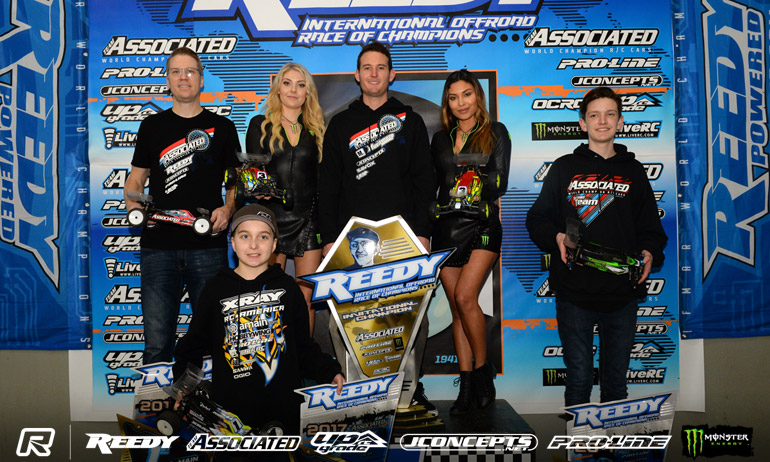 In the open class Brent Thielke took a very popular win of the 2WD Open class to book a place in next year's Invitational class.  The Associated team-manager and man now responsible for putting on the world famous race said afterwards, 'It only took me 20 years to win'.  In addition to his win, Thielke was proud of the fact that this year's the race raised over $2,100 for the Parkinson Foundation bringing the total donated in Mike Reedy's memory to over $5,000.  Also booking a place in the 30 driver Invitation class next year was Broc Champlin, the 17-year-old Associated/Reedy supported driver winning the 4WD Open Class having finished second to Thielke in 2WD.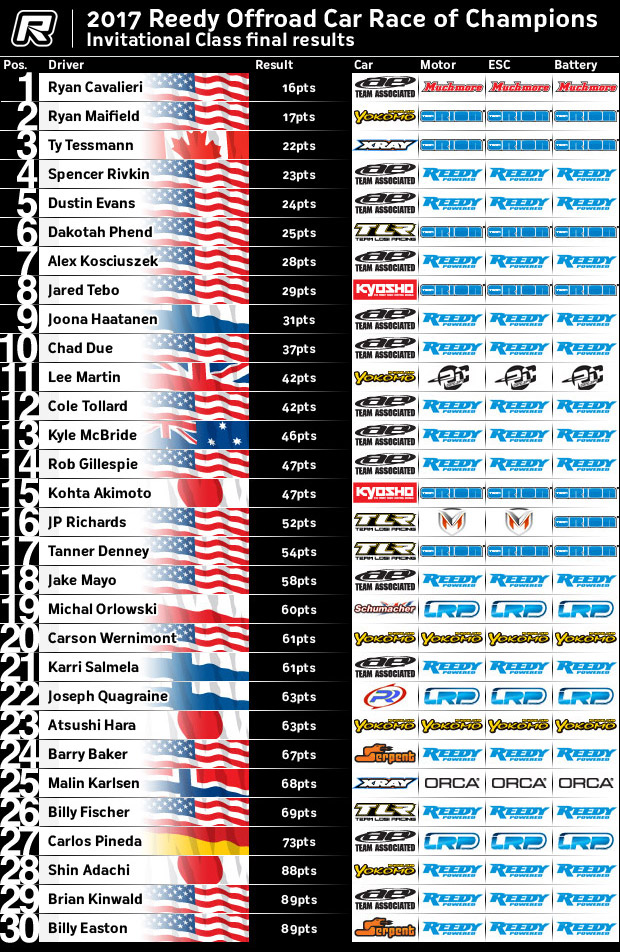 View our event image gallery here.

---