January 21, 2017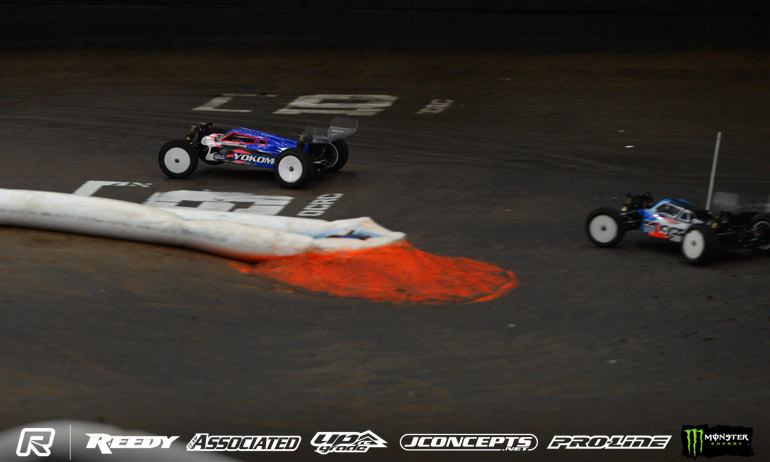 With the 4WD racing complete at the Reedy Race of Champions, things couldn't be closer with defending champion Dakotah Phend, Ty Tessmann and Ryan Maifield all square going into 2WD with each of them sitting on a 9-points tally.  Of the three it was Maifield who had the best result in the sixth and final round of 4WD as he claimed a second in front Kyosho's Jared Tebo and Ryan Cavalieri.  For Cavalieri, that 3rd leaves him sitting on 11 points along with Associated team-mate Alex Kosciuszek, the Invitational class rookie denying Phend the win to notch up an impressive third race win.  The other winner of the round was young Finnish talent Joona Haatanen who also helped create the 3-way points lead by showing no fear when faced with the might of Tessmann, beating the Canadian to become only the second European race winner in 4WD.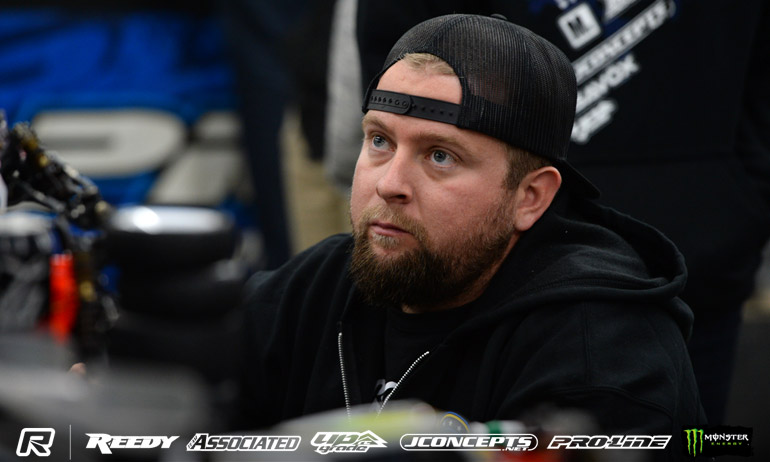 'That was an important one' said Maifield of his win, the new Yokomo signing adding, 'I knew I had Ryan (Cavalieri) and Spencer (Rivkin) starting behind me and Jared (Tebo) in front so I had to get a good start'.  Tangling with the Reedy Race's first ever female competitor Malin Karlsen, who started 2nd, at the end of the straight the 2015 Champion said 'I got into Malin a little. It didn't look good but there was nothing I could do'. Moving to the front after a mistake from leader Tanner Denney, Maifield said changes to his YZ-4 had 'tamed it down' adding 'the car felt good'. As the action crosses over to 2WD, having set the pace in Thursday's practice he said 'my 2WD was a little better (than his 4WD) in practice so we'll see how it goes.  The track has changed and there should be quite a bit of steering but hopefully there will also be enough rear grip to compensate'.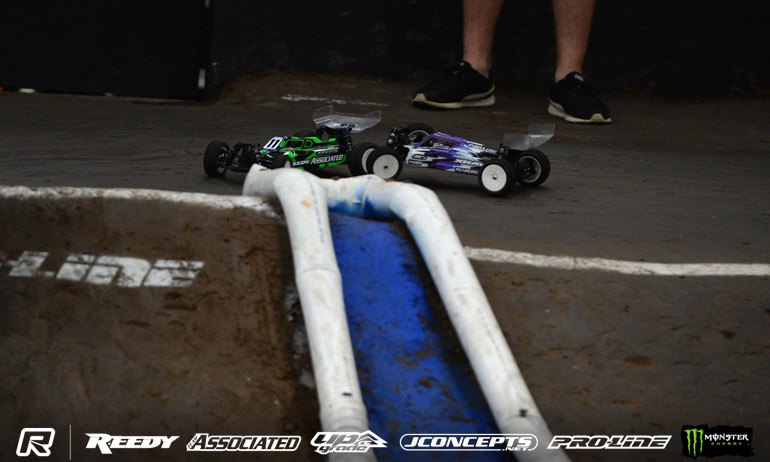 Describing it as 'not a bad debut so far', this his maiden 1:10 outing for Xray, Tessmann was content with his P2 as it got rid of one of his fourths. Commenting on the race, coming from 7th in the grid, he said, 'it started good and I got third on the straightaway.  Then the leader made a mistake and it was me and Joona.  I was just following him and knew I had more speed.  I made a couple of passes but through the next corners couldn't make it stick'. At one point when it looked like Tessmann was on for a fourth win he would getting his XB4 on two wheels handing the lead back to last years 2WD Reedy Race Open Champion. As the event moves to six rounds of 2WD racing, the classes reversed this year from the tradition of opening with 2WD, Tessmann says he 'feel(s) very confident' adding that in terms of his 2WD and 4WDs there is 'not one better than the other'.  While faced with 'quite a different track to practice', when he took his XB2 to the second fastest time, he said, 'we have a practice to make adjustments for the first round'.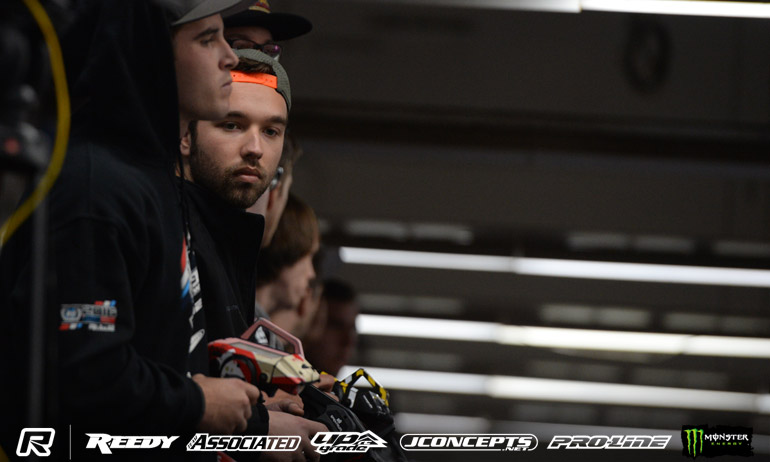 'It worked out well' was how Phend summed up his final 4WD race adding, 'My aim was a Top 3 to get ride of my six (from Round 2).  Starting from 7th, the TLR ace continued, 'I was super patient at the start and actually lost spots but I worked my way up to second' adding 'Alex was fast'.  Declaring himself 'happy to get second', the 19-year-old said 'I'm tied for the lead going into 2WD and my car was really good in practice so I'm going to just keep doing what I'm doing'.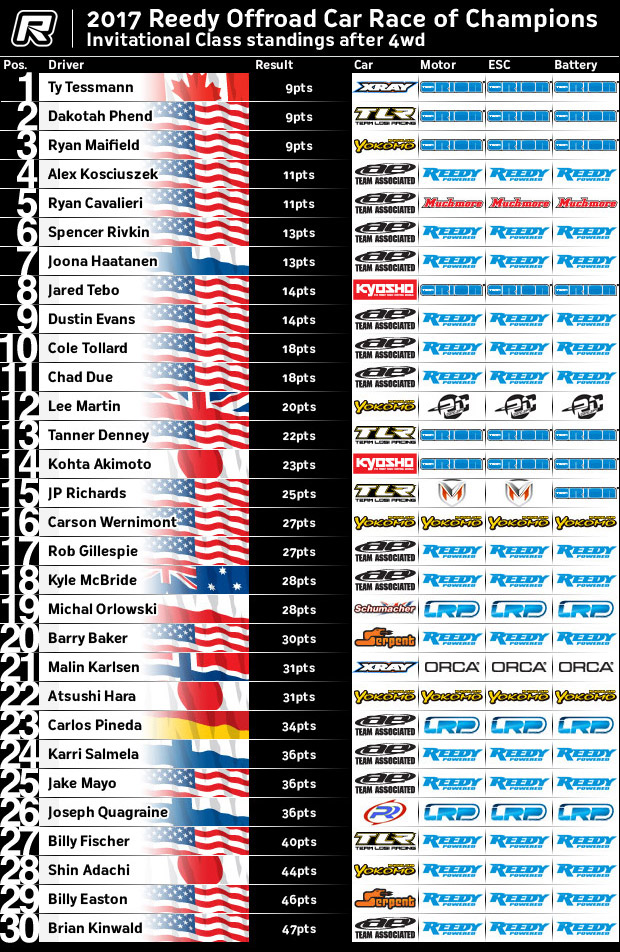 View our event image gallery here.

---