April 29, 2017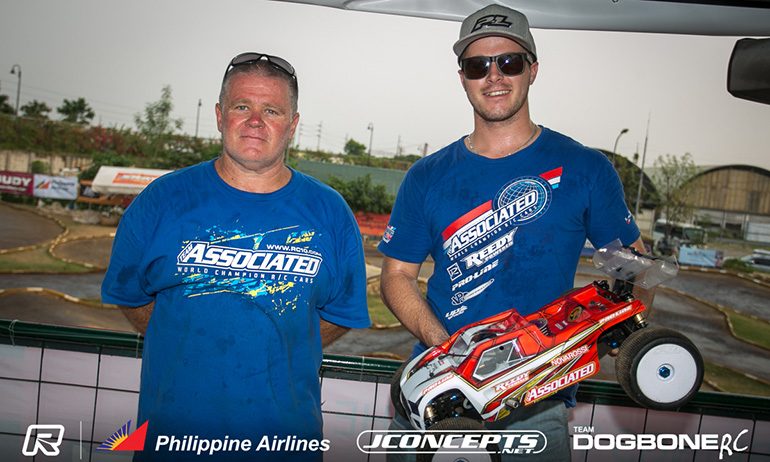 Kyle McBride is the Top Qualifier for Truggy at the Philippine Masters, the Team Associated driving topping the final two qualifiers to deny first time visitor Ty Tessmann pole position for what is expected to be an endurance test 1-hour Main in Manila. Tessmann set the early Truggy pace doing three in a row in the opening rounds of qualifying but in Q4 McBride's would force the decision to got to the final round. Setting a new fastest time this was to work to the advantage of the event's former Buggy Champion. With drops of rain appearing during the fifth & final qualifier, Tessmann struggled with his tyre choice allowing McBride to take the win.  The slowest time of the 5-qualifiers it didn't matter because the Australian had banked the fastest tie breaker time a round early.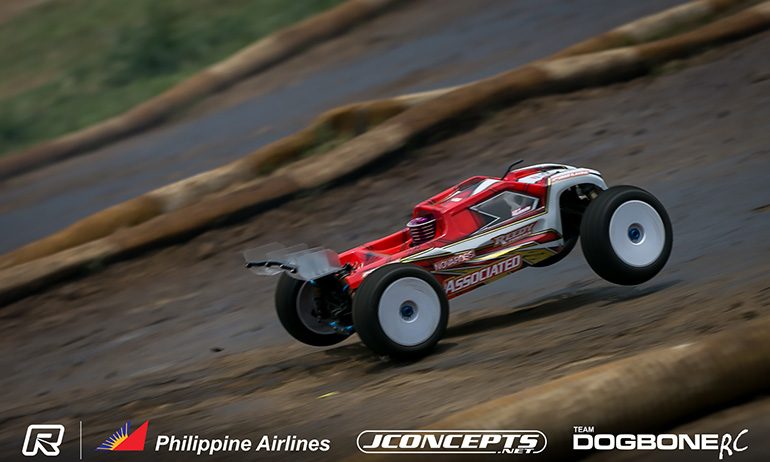 On his second visit to what has become Asia's highest profile annual offroad event, McBride was pleased to get the overall TQ and believes the longer final will suit him.  'I have driven 1-hour finals a couple of times and usually I'm better on longer runs'.  Commenting on the final qualifier, the 21-year-old said, 'my car was really good, then the rain came which made it really interesting but I managed to keep it clean', something which saw him the only driver to complete 10-laps.  Asked about his game plan for tomorrow's main he replied, 'I just going to mount up new tyres, I know my car is good'. In terms of strategy he said, 'I can run a solid nine minutes so I am going to come in (for fuel) comfortable.  It's not possible to make 10-minutes in this weather so no point in taking extra risks'.  He concluded, 'It should be an exciting race'.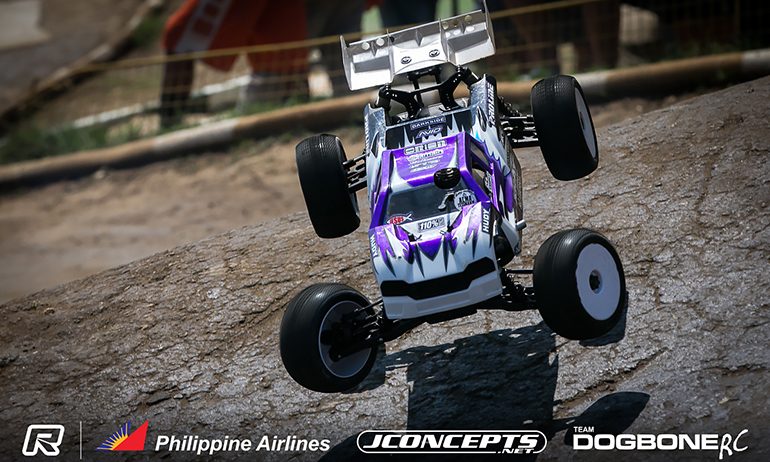 Summing up the final qualifier, Tessmann said, 'It started off ok and I was cruising around but then it started sprinkling big drops which I was surprised to see and after that it got worse and worse.  My tyre compound was super bad in the rain'. Running Silver compound Electro Shots on his XT9 he said for the final 'I'll run X2 Blockades and hope it doesn't rain'.  Expecting tyre wear not to be an issue in the final, adding 'even if they're slicks they'll be fine', he also feels there is no advantage to be gained from stretching his fuel stops.  Like McBride he will stick with his regular 8:40 stops.  Planning to 'pressure (Kyle) early in the race and see what happens', he said, 'it's a long race especially for Truggy and I don't think its something many people have done before in a truck'.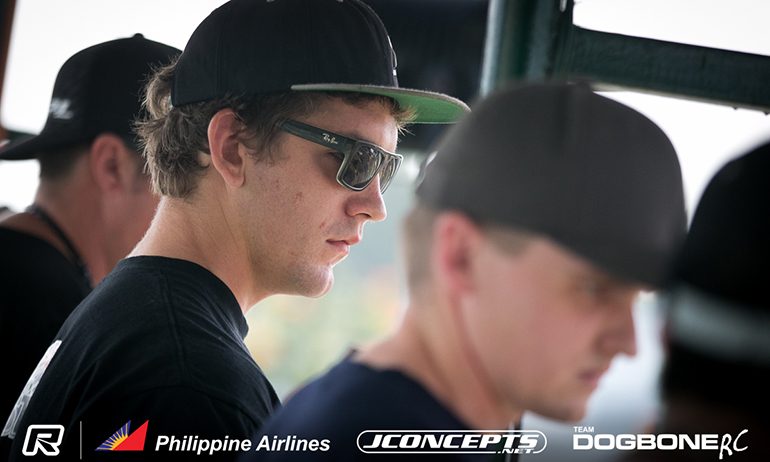 Starting third on the grid, Aaron Stringer said, 'It's going to be a long race but I'll leave my truck as is because its been pretty quick'.  The Australian National Champion, who will run AKA's Impact tyre in the final having run them in the final two qualifiers said his approach to the race is to 'try not to crash at the start and try keep touch with the leaders'.  After that he said the aim is to 'try to finish', adding '60-minutes in this hot weather will be pretty tough'.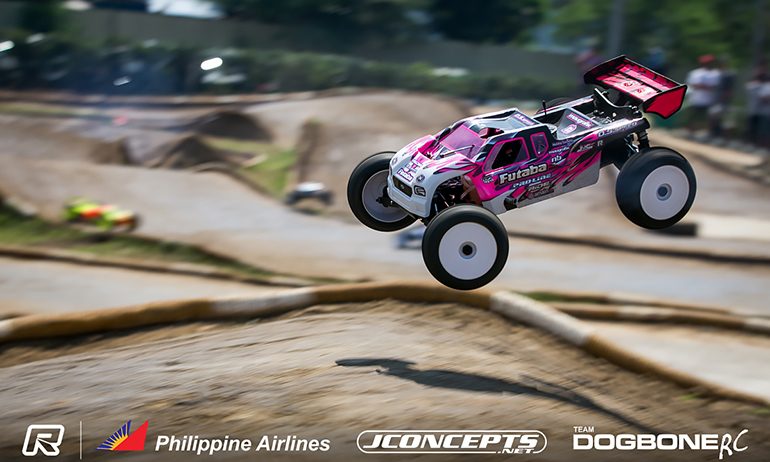 'It a 1-hour final so something is going to happen' was Atsushi Hara outlook for tomorrow.  Putting his OS Speed powered HB Racing truck 4th on the grid, the first time visitor continued, 'it hot so its going to be tough on the cars and the drivers.  It a bit of an endurance test so its going to be interesting'.  In terms of his own race, the former Offroad & Onroad World Champion said, 'my truggy has good speed so I will just put on medium Blockades and just drive'.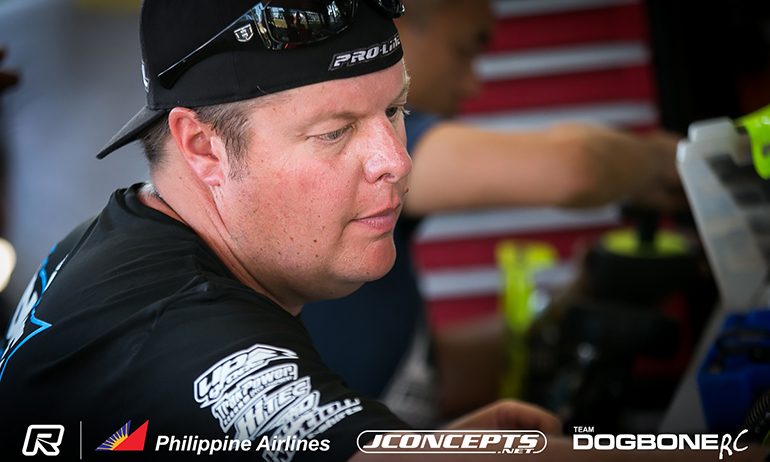 Starting fifth on grid, former winner Adam Drake said, 'the final will be good'.  Having been restricted in his tyre choice for qualifying, the Mugen driver continued, 'we had only one set of the proper tyre we needed but we had to save that for the final'. World famous for his ability to stretch his full mileage to impressive lengths, the American said not having his regular pitman makes long runs a risk.  While he has successfully worked with the pitman he has here in Manila before, Drake said his pitman's limited English is a bit of a communications barrier and so he will run the same fuel stops as Tessmann.
View complete event results here.
View our event image gallery here.

---