April 28, 2017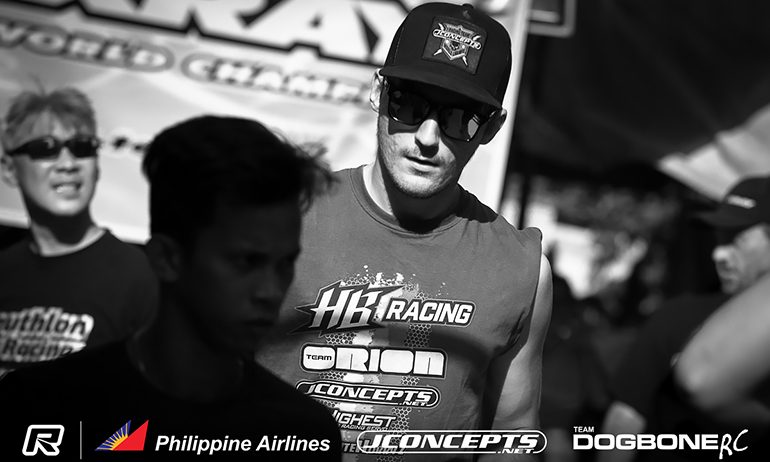 David Ronnefalk has taken the first Buggy qualifier at the Philippine Masters.  Not competing in Truggy which got qualifying at the CV Offroad Track underway, the HB Racing driver took Q1 from Kyle McBride.  Running in the second fastest heat McBride would end up 3.6-second off the TQ pace.  Having TQ'd the first Truggy qualifier, Ty Tessman would complete the Top 3 a further 3/10ths off with the Mugen of Aaron Stringer fourth fastest followed by Atsushi Hara, Richard Saxton and Adam Drake.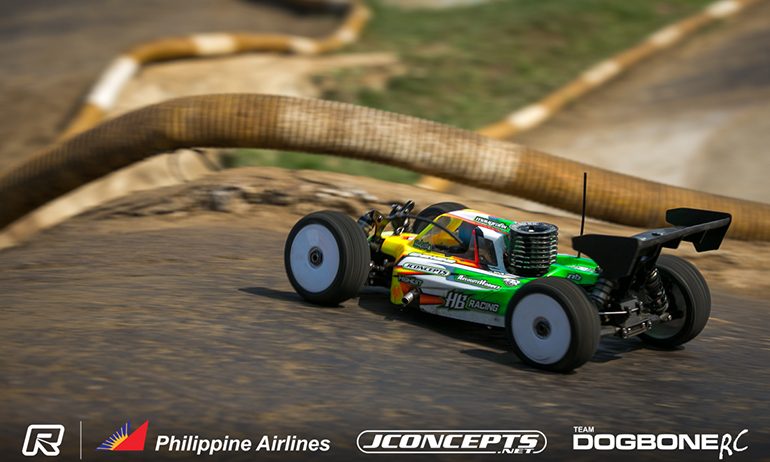 'Pretty good' was how Ronnefalk summed up his first opening run.  The Swede continued, 'I started out with a good lap and Ty was right behind me but I felt pretty confident with my car.  Then Ty crashed which gave me a cushion and I could pace myself'.  The World Champion said the only issue to report was when, late in the heat, he landed on the outside pipe off the double before the left side triple triple saying otherwise it was a clean run. Running JConcepts Detox R2 tyre, he reported them as 'a bit too soft at the end' and for Q2 plans to switch to the O2 compound.  With it 'getting more bumpy out there' and expecting the track surface to 'develop more like that', he also plans to try a different shock set-up on his Orion powered D817 to 'try find a good balance from the shock package'.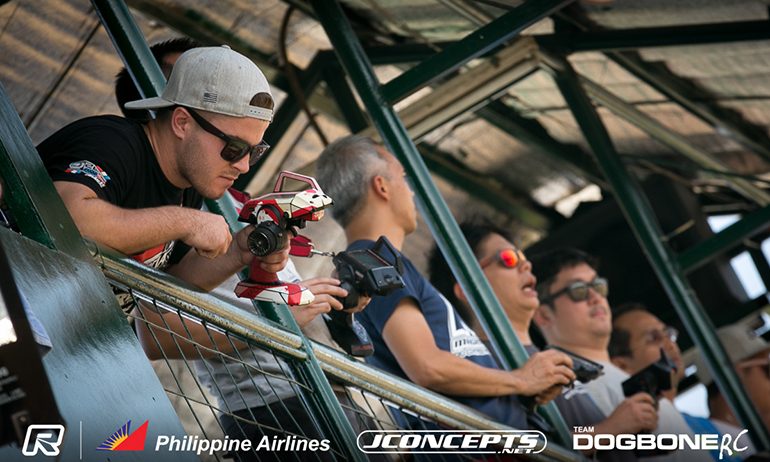 Matching his result of the opening Truggy qualifier, McBride said, 'my car is really good and it's easy to drive'.  In a slower heat than Ronnefalk, the Team Associated driver said, 'I had two or three slow downs with traffic which cost me a couple of seconds but with the regroup I should be able to get a clean run next time'.  Happy with his car, he said his choice of a new set of X2 Blockades where 'slippy' at the start but worked good once broken in and so for Q2 he will start with a worn set so he 'should be fine'.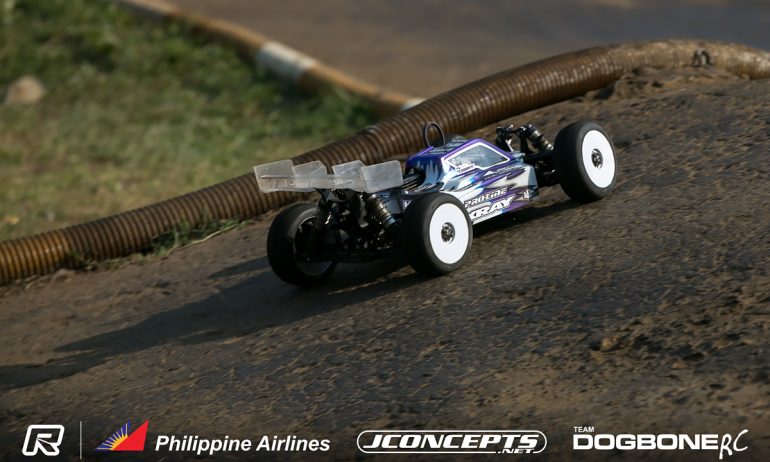 'It was OK, I started out good but then overdrove a little and had a mistake at the triple triple' was Tessmann's summary of the Q1.  The former World Champion continued, 'I just need to drive a clean race next time'. Running with his bodyshell askew for a few laps, he said this was caused by him hitting a tyre on the inside of the corner and it getting caught up on the aerial.  Running X2 Electro Shots on his OS powered XB8, the Canadian said 'I think they were OK but we'll see how the temperature is for Q2 before deciding what to run next'.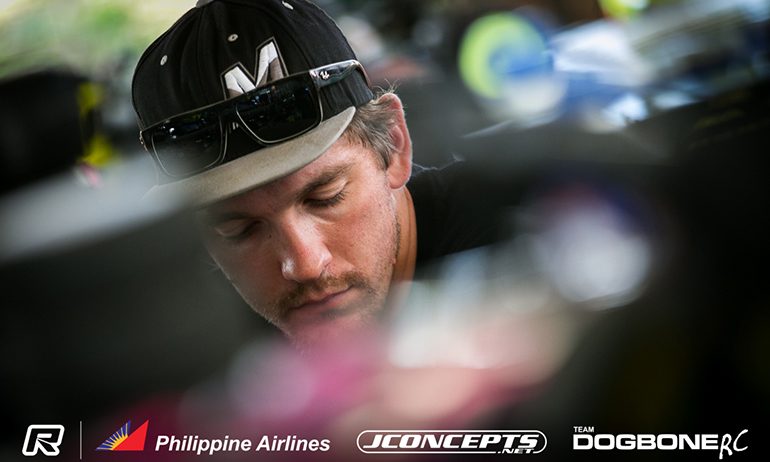 Setting the fourth fastest time, Aaron Stringer declared it a 'good' first buggy run except for a first lap mistake. The 23-year-old Brisbane driver, 'cased the 2nd triple and lost 4-seconds and consequently finished 4-seconds behind Ty'.  Feeling he lacked a little steering from his AKA Grid Iron 2 shod Mugen for Q2, he 'might change something on the car to get a bit more steering' but plans to continue on the same tyre.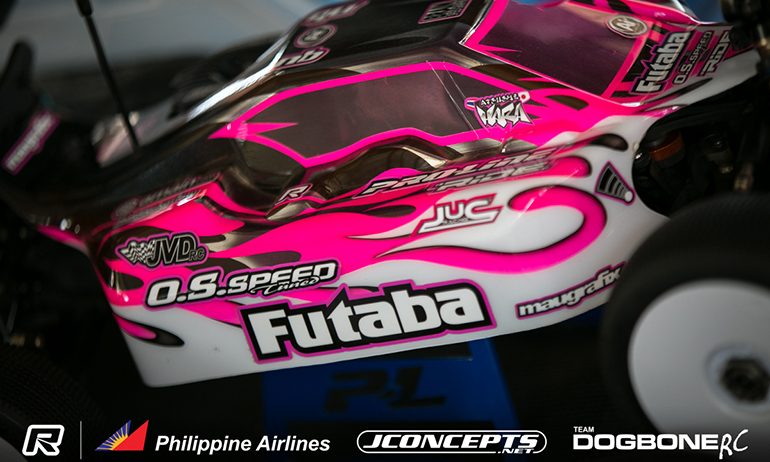 'Good start, shit end' was how Hara summed up his performance as he set the 5th fastest time.  The former World Champion continued, 'the car is good but I made too many mistakes because I overdrove a little'.  With Q2 bringing the first day of the record entry Philippine Masters to a close, in terms of the car he 'don't change anything' but instead 'drive it better'.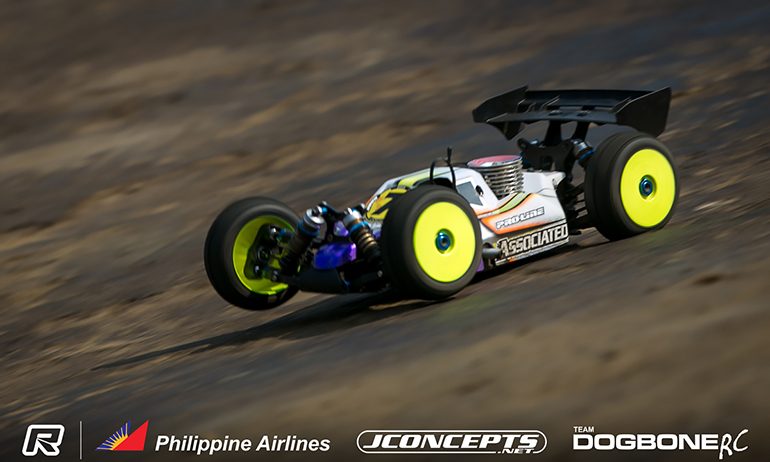 Completing the Top 6 ahead of reigning champion Adam Drake, Team Associated's Richard Saxton said, 'I drove slow and steady like over 40 class'.  The American added, 'I drove within my limits.  I had 2-days of practice which made up for it and I got to test a few things so the car felt good'.  Looking to Q2, he said, 'I wont change anything but with Kyle quick straight out of the blocks I might try his set-up tomorrow'.
View complete event results here.
View our event image gallery here.

---