May 27, 2017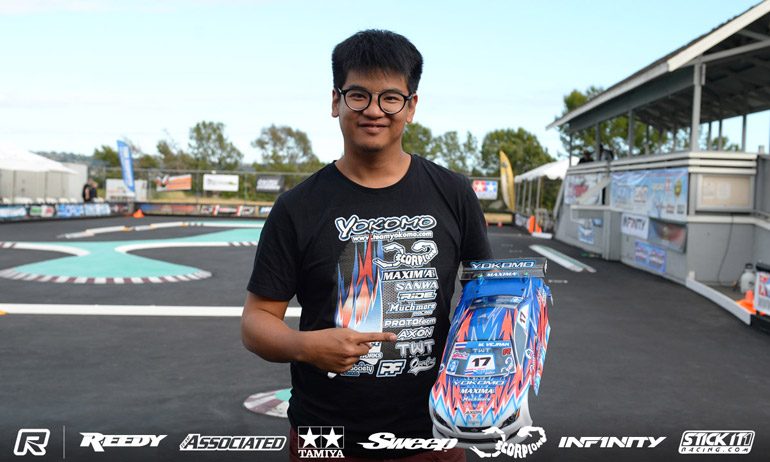 Meen Vejrak leads the points at the end of the opening day of racing at the Reedy Race of Champions, the Yokomo driver notching up his third win in the day's fourth & final round of racing.  Having started out with a fourth place from 6th on the grid, the Thai driver would mark himself as one to watch in Round 2 with victory from the second row before taking easy wins in Rounds 3 & 4 from front row starts.  Ending the day on the same points as Meen but having one less win, Akio Sobue came to within one corner of holding the overnight lead.  Heading into the final corner of the race with his Infinity team-mate Marc Rheinard on his rear bumper, he would roll allowing Rheinard through for a third win however a DNF in Round 3 leaves the 5-time champion fourth going into Day 2 behind Reedy rookie Bruno Coelho.  For defending Champion Ronald Volker a frustrating day for the Yokomo driver would end on somewhat better as he finally registered his first win of the 20th running of the legendary race with victory in the closing race of the day.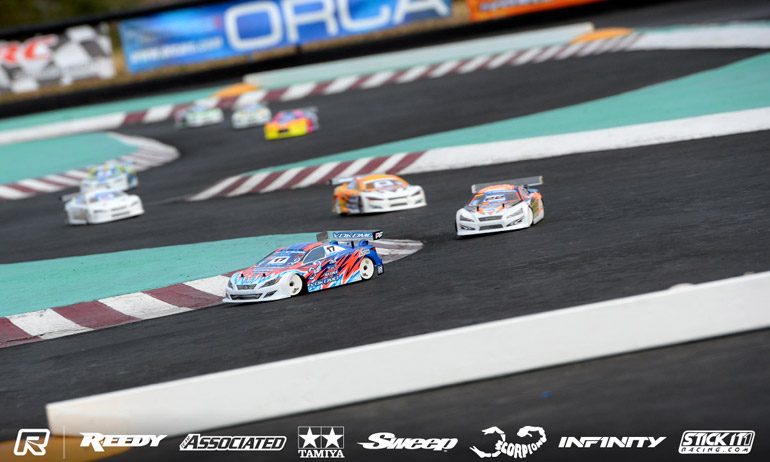 'A good day for me' was how Vejrak summed up Day 1's action.  The 2015 podium finisher continued, 'in the last race my car felt like it had good grip in the warm-up so I decided to try to pass Jan (Rathesky) in the first corner and it worked'.  Once out front he would pull clear as Ratheisky came under attack from Viktor Wilck, the Swede getting by in a last lap dash to the finish line.  Feeling his Scorpion powered BD8 is better on used tyres, he said 'the track cold is completely different than when its warm and for my car the cold is better'.  With another pole position among his grid positions along with last for Round 6, he said, 'I hope tomorrow is a good day for me too'.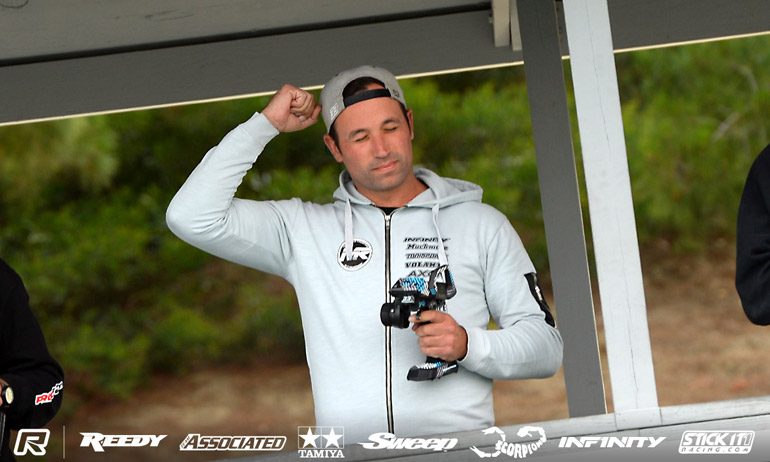 The day's only other triple winner, Rheinard was happy with his performance saying, 'having the one DNF is shit but otherwise it was a really good day'.  On his Round 4 win the Reedy Race's most celebrated winner said, 'This was a hard one. I started 5th behind Bruno and could see he was not so fast but waited and when he made a mistake in the chicane I got on his inside.  Just after I got by Cavalieri and was running with Akio'.  He continued, 'My car was really good but I knew Akio would make no mistake normally and that 2nd would be good.  Luckily for me and bad for him he rolled at the last corner but I'll take it'.  Explaining his error, Sobue said, 'Marc make much pressure but it was all going good until the last corner, I just took it too tight'.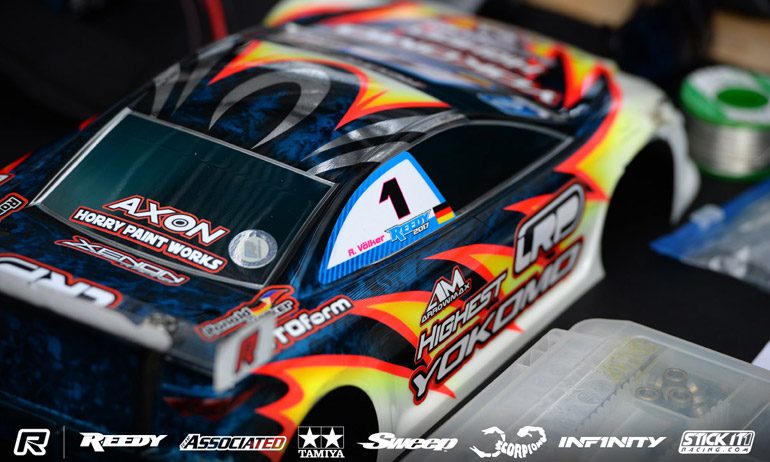 'Finally a clean run and also a front row start, it was a badly needed win', was Volker's reaction to his Round 4 win.  The World Champion continued, 'I benefited from Christopher's mechanical failure and from lap 2 had a clean track so I went flat out for the rest of the race to secure a fast run if needed (as a tie breaker)'.  Winning two of his three Reedy Race titles at Tamiya Raceway, the German said, 'my car is on pace ad I hope we have more luck tomorrow'.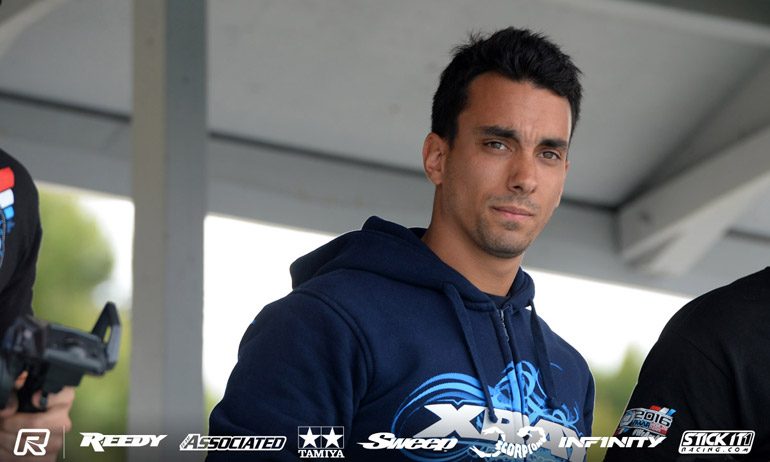 With very high expectation from his huge following, while Coelho didn't manage to win on Day 1, the infamous kink blocking that, the Xray driver finished all his races in the Top 3.  With the unique format of the historic event requiring a different mindset to regular racing, the Portuguese ace will have learned a lot from Day 1 and while not completely comfortable with his car around the small track he is sure to  have a better handle on things for Day 2.  Only 3 points off leader Vejrak, with eight rounds of racing still to run the ETS Champion is still a contender to win what is the most competitive Invitation entry in a decade.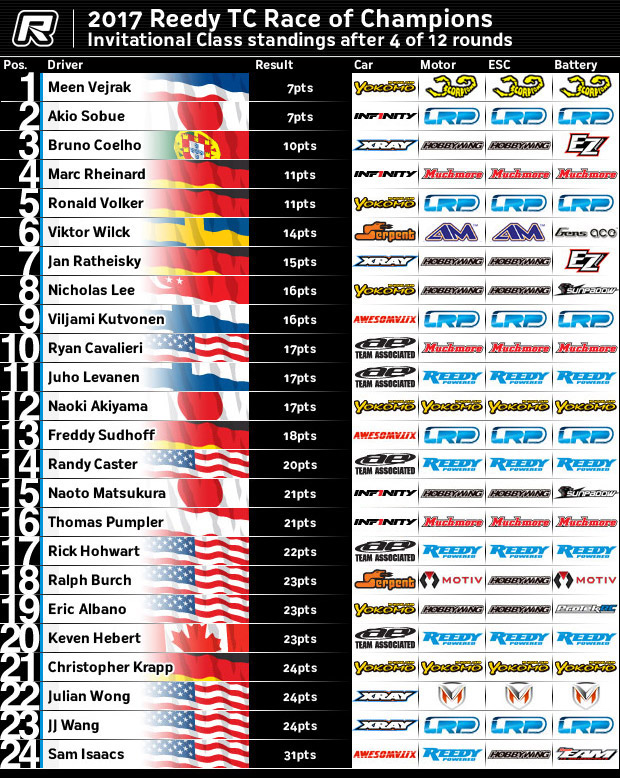 View our event image gallery here.

---