August 4, 2017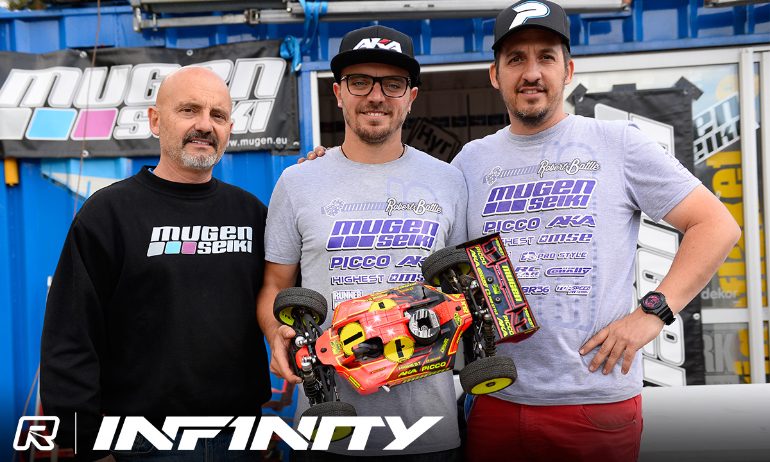 Robert Batlle is Top Qualifier at the 1:8 Offroad European Championships in Sweden, the Mugen driver producing a blistering final qualifier to leave his rivals stunned and deny World Champion David Ronnefalk a home TQ.  Having started out yesterday unable to match Ronnefalk and reigning champion Elliott Boots, the 2-time former champion found his rhythm on Day 2 of qualifying topping both qualifiers to claim only his second ever Euros TQ, the last one being 10 years ago when he took his first title.  With a TQ run in Q3, Ronnefalk would end up second to secure pole for the second of the Semi finals in which Boots, who took Q1, will start directly behind him.  Fastest in the second qualifier, Davide Ongaro ended up 3rd overall and the Italian star will follow Batlle off the line in the first of the 20-min Semi finals. Former Champion Darren Bloomfield joins them while Riccardo Berton will complete the Top 3 starting line-up for the Semi B encounter.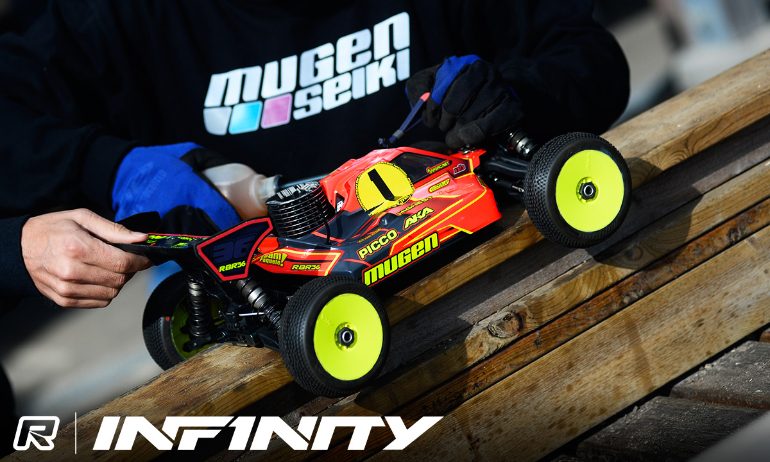 'I think that was the best that was possible', was a very pleased looking Batlle's reaction to his Q5 run – the 8 laps in 5:18.801 the big talking point among drivers as they queued for lunch at the track afterwards.  He continued, 'It felt super good, I had traction, I didn't have too much side bite, I had everything.  We worked all week through our plan and now we are ready for tomorrow'.  Making his MBX6-R comfortable to drive in Q4 with a change to supersoft AKA Impact tyre, he would change to a soft for the final run describing them as 'super nice'.  Asked about his preparations for the Semi Final, drivers getting a 10-minute practice session before hand to reacclimatise with the track after the running of the lower finals,  he said, 'We will think about the tyres and test some things in the Semi practice but the car is super nice so I will keep it like this, if we do change anything it will not be big'.  Giving Picco its first modern day Euros TQ, when asked about fuel run time he said, 'everything is as planned.  We had some issues at the start of the week but we fixed them'.  Interestingly it has been six years since the Top Qualifier didn't go on to become the Champion and on that occasion it was Batlle who took the 2011 win, Jerome Aigoin having taken the TQ.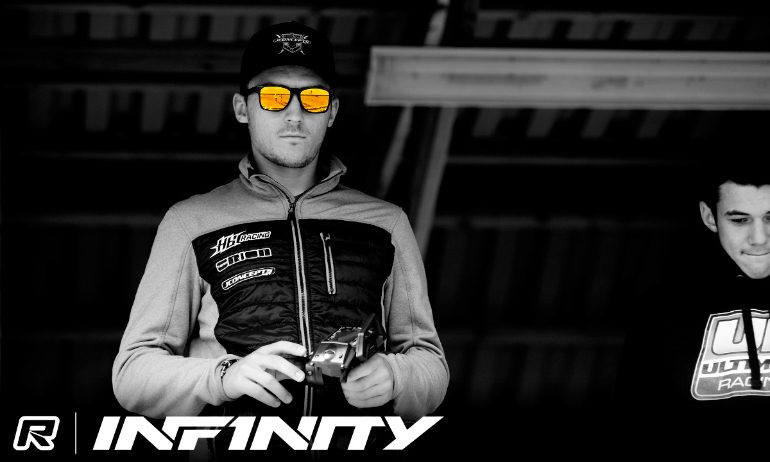 Seeing out qualifying with a P3 run, Ronnefalk said, 'the run was good and consistent but I had traffic at the end  and changed my line coming onto the straight and caught the wall which sent the car fishtailing.  Anyway even without this it was no where near to Robert'.  Choosing JConcepts' Metrix tyre, the HB Racing driver said it wasn't the right tyre as he didn't have enough traction and so he was missing some speed as a result. Asked about his Semi final, he replied, 'We will make the car ready and use the Semi Warm-up to check what tyre works'.  On fuel the Orion team driver said, 'fuel is comfortable, in practice it was good so we will see again in the warm-up'.  Asked if the track presented an opportunity to gain on fuel strategy he said, 'I'm never going to take a risk again.  Too many time before it didn't work.'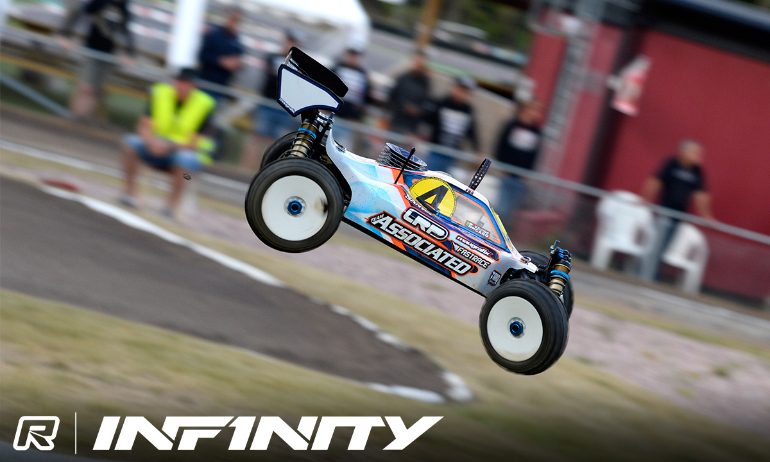 'To get 3rd overall I'm really happy', was Ongaro's reaction at the end of qualifying.  The Team Associated driver continued, 'I am happy with the car, we run it the same all day, and for tomorrow I will leave it the same'.  In terms of the tyres, the 16-year-old Italian talent said, 'I will try in the practice the same tyre as Robert and also the Catapult'.  Chasing his third consecutive A-Main appearance since first making the A-Main at his family's Ongaroring in 2015, he said his approach for the Semi was to drive 'consistent and not crash'.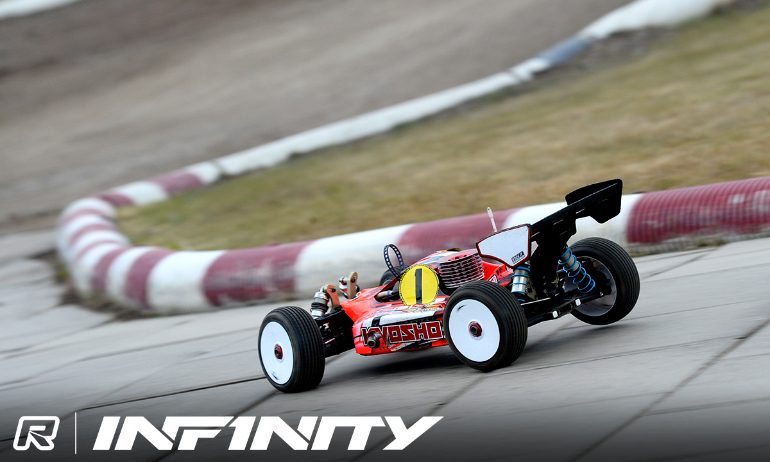 Looking to become only the second driver to ever do three in a row Euros title, Renaud Savoya doing it in 2010, Boots who was second fastest in Q5 said, 'we finished on a high'.  The Kyosho driver continued, 'we got the car better, not as good as Robert's car, but it feels pretty good.  Unfortunately we ended up 4th overall on count back' – himself and Ongaro finishing on the same points.  He added, 'Robert is fast but whether he can go like that for a long time we'll have to see, maybe he can.  In the last one I was driving a bit conservative and not really pushing the car so I'm actually pretty happy'.  Asked about going into the Semi final the British driver said, ' We will change a few things for the Warm-up to try them and I want to run the same set of tyres to see how long they last. So far the don't look to have any wear on them' – his MP9 running on Pro-Line's Big Block in X3 compound.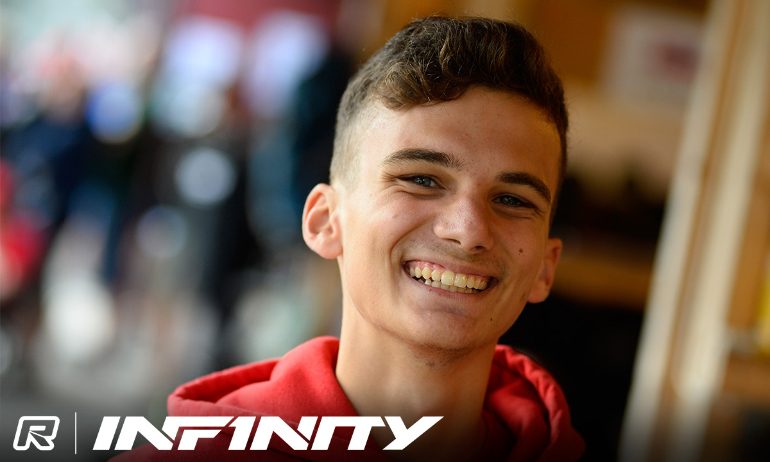 Posting another P6 run in the final qualifier which would count along with his impressive Q4 P2 and third in Q2, 2015 Finalist Berton said, 'I didn't have bad pace but the corner before the straight I had a bad mistake and it was a 44-second lap'.  The 18-year-old Kyosho driver said having started the week good but struggled on Wednesday 'now I'm happy again with the car, it is easy to drive and I can push it.  For the Semi we will just make everything fresh and also continue to run on Bowtie X2'.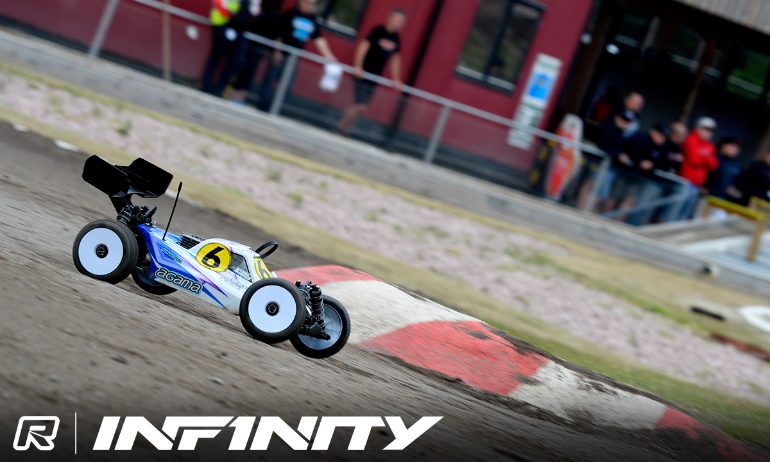 'I drove like a cock, I definitely had the car for it but blew myself out of the water', was how Bloomfield summed up Q5.  The Agama driver added, 'I ruined it for myself but the job was already done to get me into the Semis'.  Fourth at last year's Euros in Spain, in terms of his car he said, 'I'm going to stick with what I have and just learn to drive it.  I need to stiffen the shocks a touch for the practice and just drive a clean fun 10-minutes to check everything for the Semi.' Asked if tyre wear or fuel would be an issue, the Brit replied, 'nothing stands out.  We all thought wear was going to be an issue but it turned out not to be'.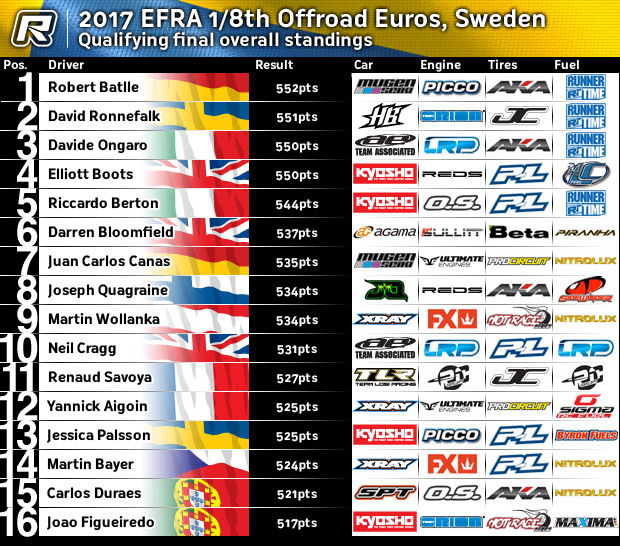 View the complete event results here.
View our event image gallery here.


---